Could Charlote and Jake set GH on fire?
After months of being kept away from her beloved General Hospital Papa (you have to imagine an "h" at the end for the proper pronunciation), Charlotte finally came home to Port Charles, played by AnaSofia Bianchi. Lulu and Valentin's little girl seems pretty grown up now. And you know what that means? Time for romance! We think we have the perfect first love for the Spencer-Cassadine heiress.
General Hospital: Just Jake
With Cameron (William Lipton) off to Stanford, it's time for Elizabeth's (Rebecca Herbst) second son to step into the spotlight. Jake (Hudson West) was born when Liz was married to Lucky (Jonathan Jackson). And even though Lucky considers Jake his son, he and Charlotte aren't biological cousins, only legal ones. Jake's biological father is Jason (Steven Burton), so he's a Quartermaine, not a Spencer.
GH: Personality Plus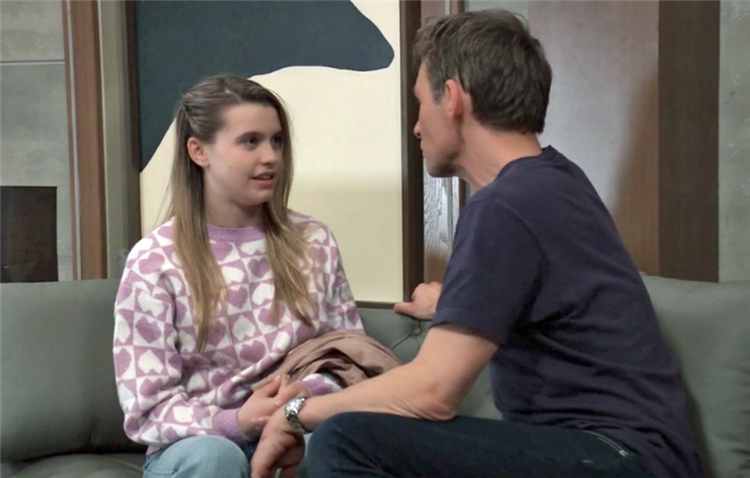 Cam's relationship with Joss (Eden McCoy) wasn't much to get excited about. Mainly because we couldn't really see what they had in common, save a shared childhood. Charlotte and Jake, on the other hand, have completely insane childhoods in common.
Charlotte was hatched from a stolen egg, raised by the woman who gave birth to her but wasn't her biological mother, passed off as an ex-priest's daughter, then revealed to really be Valentin's (James Patrick Stuart) entitled, bully brat. Jake was actually DEAD for multiple years, then brainwashed – by Charlotte's grandma, Helena (Constance Towers). Just sharing those stories ought to bond them.
General Hospital: Age Is Just a Number
Sure, Charlotte used to be in the same grade as Jake's younger brother, Aiden. She was picking on the poor kid. Then stepmother Nina (Cynthia Watros) came to her defense. That was what first put her at odds with Willow (Katelyn MacMullen) — and we all know how that's still playing out. But this new Charlotte looks more like Jake's age. So what's stopping the show from giving this pairing a whirl? Want to see these two in a story together? Let us know in the comments section below.