The CBS show "Blue Bloods" follows a group of law enforcement agents that cover almost every aspect of police work. The family contains a police commissioner, a detective, an assistant district attorney, and a beat cop, so it's safe to say that the Reagans know a thing or two about protecting and serving the general well-being of the public. That being said, the family almost always gets together to have a Sunday dinner that gives them the opportunity to discuss their myriad trials and tribulations when it comes to police work and interpersonal relationships.
The dinner scenes often form the core of the hit television show, and it gives the series a chance to show how close the characters are and how understanding and supportive the family truly is. Tom Selleck acts as the family's patriarch, Police Commissioner Frank Reagan, while Donnie Wahlberg plays Detective Danny Reagan, and it seems like their on-screen closeness is mirrored in real life.
Tom Selleck loves that Donnie Wahlberg improvs lines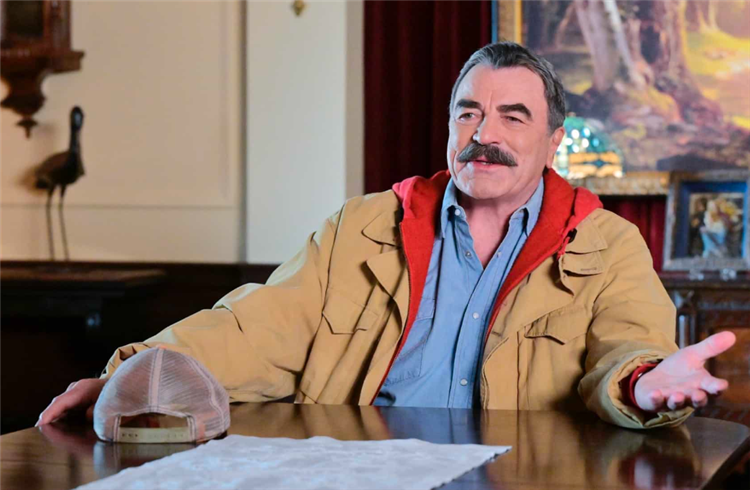 In an interview with Watch, Donnie Wahlberg was asked about the dinner scenes and how they make up some of the greatest moments of "Blue Bloods," to which he replied, "A lot of that's improvised. Someone else might kick me under the table and say, 'Stop adding those improvs,' but Tom doesn't. And six months later he'll say, 'I love the way you fill in all the holes in the dinner scene. It needs you, you keep it alive.' What a great thing that the head of the table just trusts me. It means the world to me."
Wahlberg then elaborated on his relationship with Tom Selleck, saying he's "a real solid individual." For his part, Selleck believes that Wahlberg has an aptitude for enhancing a script and told Wahlberg to never stop what he's doing. Selleck went on to state that he wants Wahlberg to keep improvising lines and moments for the duration of the show because it makes "Blue Bloods" that much better. It seems that this advice has paid off for fans, with the show currently maintaining an 88% audience score across all seasons on Rotten Tomatoes.