Spencer Cassadine did something nobody ever expected him to do.
The General Hospital recap for August 7, 2023, features Spencer deciding to participate in an impromptu photo session.
General Hospital Recap Highlights
In this episode, Valentin paid Esme and Spencer compliments as parents, leading to some odd family bonding. Anna spent her time trying to figure out who tried to shoot her. Sasha ended up drugged once again while Cody did her best to get into Ferncliff to see her. At the pool, Sam had a run-in with Gladys. Finally, Sonny met with Brick to learn more about Austin while Nina and Olivia seemed to become friends. Now let's dig a little deeper into this episode.
Spencer's Family Day
Spencer (Nicholas Alexander Chavez) was surprised to see Valentin (James Patrick Stuart) at the door without his grandmother and Kevin (Jon Lindstrom). Valentin explained that they didn't find Nikolas but that Laura and Kevin decided to stay behind and search Cassadine Island. Esme (Avery Kristen Pohl) then popped into the room with Ace (Joey and Jay Clay) and suggested that Nikolas might be dead and that's why he couldn't be found. Valentin didn't seem to think he was. Spencer just thought his father abandoned everyone again.
When the subject turned to Ace, Spencer complimented her parenting skills and Valentin was impressed with the two young adults taking care of a baby. When Valentin got ready to leave, Spencer thanked him for all his help in Greeland. That prompted Valentin to suggest they re-invent their family now to show the Cassadines in a positive light.
Once they were alone, Esme suggested that she and Spencer take some family photos. He agreed to pose for pics with the young woman who drugged Trina (Tabyana Ali) and recorded Josslyn (Eden McCoy) and Cameron (William Lipton) having sex before blasting it out onto the Internet.
Anna (Finola Hughes) wanted Robert (Tristan Rogers) to help her learn if the WSB might be involved in the pool shooting. She asked him what he knew about Pikeman but Robert didn't have much to tell her. Anna then remembered that when she was in a WSB facility after the Greenland caper, she saw a file labeled for the Pikeman Group. Eventually, Anna realized that Valentin was somehow the common denominator in all that's been going on. She just had to find out why.
Cody Is On A Mission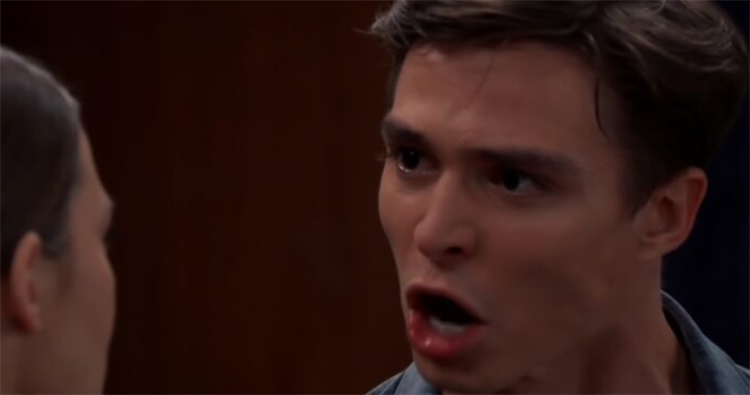 Sam (Kelly Monaco) and Scout spent an afternoon at the pool with Scout missing her dad. Sam tried to comfort her but soon Gladys (Bonnie Burroughs) interrupted. An annoyed Sam tried to ignore her, but Gladys made it hard. Sam warned her to leave Scout alone before asking Gladys what really happened to Sasha (Sofia Mattsson). Gladys went on the defense, which only made Sam more suspicious.
Cody (Josh Kelly) tracked down Diane (Carolyn Hennesy) at the nail salon to tell her he would not be pressing charges against Sasha. He also begged Diane to get him into Ferncliff because he was sure there was something fishy going on with Sasha's relapse. Diane informed Cody that only Gladys could get her on the visitors' list, so Cody tried to find a new way to see Sasha.
Poor Sasha remained in restraints at Ferncliff. She was confused about losing chunks of time and wanted to talk to her guardian. When the nurse couldn't reach Gladys, Sasha asked her to call Cody just as Dr. Montague entered the room. He agreed to remove her restraints but he didn't think she should talk to Cody. Sasha was still confused as to what happened to her because she thought she was doing so well. Montague gaslit Sasha some more by making her believe narcotics were found in her purse. He then shot her up with another drug to make her hallucinate again.
Sonny Learns A Lot
Sonny (Maurice Benard) met with Brick (Stephen A. Smith) while Nina (Cynthia Watros) tried to find a venue for their wedding. Olivia (Lisa LoCicero) was annoyed that Nina was even talking about the wedding when Neddie (Wally Kurth) was out partying all night. She worried that Neddie could end up like Sonny and fall in love with someone else while he didn't have his Ned memories. Nina pointed out that it was a different situation because at least Ned wasn't presumed dead.
The two began talking about Carly (Laura Wright) next and the fracture in Olivia's friendship with her ex-partner. Olivia didn't know if it could be mended, but she clearly needed a friend so she volunteered to help with Nina's wedding and offered the Metro Court as a venue.
Brick informed Sonny that Nanny Betty Rutherford (Ella Lentini) was a receptionist in Pawtuck. He even learned Austin's (Roger Howarth) age (he's 48) and where he went to med school. It turned out Gordon, the man Mason (Nathanyael Grey) just killed, had spent five years in Pentonville before working for a trucking company in Pawtuck. Brick also found info on Mason, who was a trucker for the family company that was bought by a mystery LLC a few years back. Sonny warned Brick to leave all these people alone till he got Ava out of her jam.