NCIS: Hawai'i takes the popular CBS franchise across the ocean as Special Agent in Charge Jane Tennant (Vanessa Lachey) and her team — Jesse Boone (Noah Mills), Kai Holman (Alex Tarrant), Lucy Tara (Yasmine Al-Bustami), Ernie Malik (Jason Antoon), and Commander Chase (Seana Kofoed) — investigate familiar crimes involving naval officers. While this may be the third offshoot of the original series, following NCIS: Los Angeles and NCIS: New Orleans, it certainly doesn't feel that way. Hawai'i brings a refreshing element to the franchise, having new opportunities and beautiful scenery to explore in a unique location. Part of what makes the series refreshing as well is the lead character being a woman, as we have with Lachey's Jane Tennant, which has also opened things up for new stories and allowed this spin-off to escape the otherwise insurmountable shadow of what has come before.
Jane Tennant Is a Natural Leader
As we begin to follow this elite team, with Kai just beginning his work at Pearl and allowing us introductions, it's immediately clear that Jane is the respected leader of this NCIS unit. She takes charge, assigns tasks, and is responsible for bringing her team to victory with each case. Throughout the nearly two seasons of the show now, we've watched Jane make tough calls, even those that have impacted her tremendously. One instance of this is about mid-way through the first season when Jane discovers her best friend and longtime mentor Maggie Shaw (Julie White) is a traitor. We get a glimpse at her internal struggle, but Jane does her job quite magnificently and Maggie is arrested for her crimes. It's heartbreaking, but a good glimpse at Jane's internal monologue and what matters to her. She has worked hard to get this leadership role, which is abundantly clear in everything she does. Her experience is unmatched and her instincts are right just about every time.
At the same time, Jane feels like an equal on her team. Personally, one issue I have always had with the original NCIS is how Gibbs (Mark Harmon) is often treated like a god among men. He gives orders to those that are treated as inferior to him around, creating a major power imbalance on the team and the show as a whole. It became Gibbs' world, and everyone else was just living in it, rarely getting opportunities to shine. However, that's not the case on NCIS: Hawai'i with Jane and her team. While Jane is undeniably the leader, she isn't written as more important or special than the team as a whole. They are all special and bring something to the table for their cases, which Jane is aware of and uses to her advantage. She knows what she is and isn't capable of. This easily allows for each member to shine in the normal course of business — without needing dedicated episodes to prompt it.
Speaking of Gibbs, most of what makes Jane a fantastic leader is what separates her from him. There's the balance on her team, yes, but it's also what comes in her personal life. We're actively seeing Jane grow and struggle in her personal life. With romantic relationships, like her on-and-off-again thing with Captain Milius (Enver Gjokaj), but it is most notable with her son Alex (Kian Talan), whose existence alone brings Jane to another level. Being the leader causes one to make hard decisions and get into questionable situations, and before we would only see the team reacting to this and their concern for their leader. But, with Jane being a mother, we're getting heightened emotion in these stories as 18-year-old Alex is aware of his mother's job and the danger it poses. Their relationship has changed quite a bit since the beginning of the series, as Jane has been more open with Alex about what's going on (to the extent she can be without breaking confidentiality). This is incredibly well done, and it's bringing something entirely new to the franchise, helping to make the series and Jane stand on their own.
Vanessa Lachey Shines on 'NCIS: Hawai'i'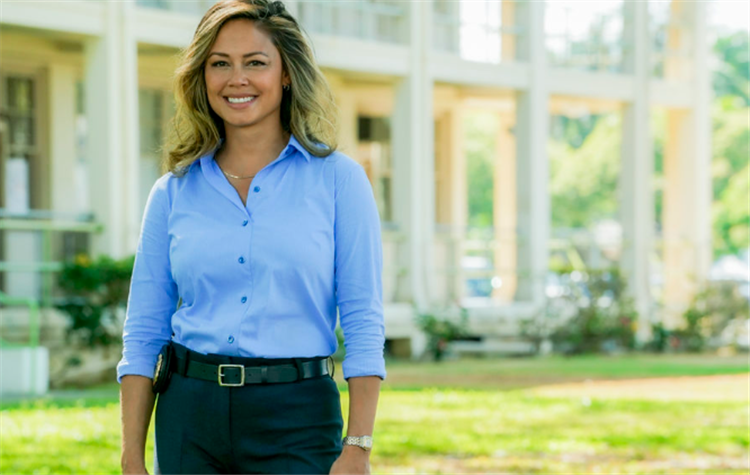 As remarkable as Jane is on NCIS: Hawai'i, it simply wouldn't be possible without Lachey's talent and dedication to the role. Since the very beginning, Lachey has given a perfect performance as Jane, managing to teeter the line between being too serious or too emotional, particularly as the team leader. She doesn't try to imitate any of the leaders that have come before but brings something entirely new that does the show a major favor. A great example of her talent is the Season 2 episode "Bread Crumbs," which sees Jane fighting for her life after a helicopter crash with an escaped criminal on the loose. She's hurt, but Jane is also stepping up to fight for an officer who has been shot and is at risk of bleeding out. They're trapped in a cavern with seemingly no way out, forcing Jane to remain positive and try to find a way out as her team desperately searches for her. Despite being on her own for a fair amount of the episode, Lachey gives an emotional and powerful performance, taking Jane's one-episode struggle to survive to another level.
Far too often, people online have tried to discredit Lachey's performance, usually because of misogyny. But, let's put that to bed now, as Lachey truly shines as Jane Tennant. It's not easy to step into a leading role, especially one on a procedural where you're stepping in as the longstanding boss of several characters. However, she manages to balance Jane out beautifully, allowing her to be a fallible human being and an excellent agent simultaneously. The relationships Jane has, even with her ex-husband, are wonderfully executed. Much of that can be attributed to Lachey, as well. Likewise, she manages to connect with stories and characters that are only around for one episode, giving the show the option to tackle bigger and more emotional stories on a weekly basis because Lachey — and the rest of the fantastic cast — can handle it. In short, Jane Tennant is played perfectly by Lachey, who has an immense well of talent that we are lucky to see used in every episode.