It's hard to believe, but Tom Selleck somehow found a show that has arguably become more successful than his seminal "Magnum P.I." in the long-running "Blue Bloods." More surprising is the fact that the first season of "Blue Bloods" started when Selleck was at the ripe age of 65. While his '80s role as private investigator Magnum kept him on the tropical beaches of Miami, "Blue Bloods" relocated Selleck to the streets of New York City. While the original "Magnum P.I." ran for just over 150 episodes, "Blue Bloods" left behind that marker in its seventh season.
In "Blue Bloods," Selleck portrays New York City Police Commissioner Frank Reagan, the patriarch of a family dedicated to law enforcement and filled to the brim with cops, including Danny Reagan (Donnie Wahlberg) and Jamie Reagan (Will Estes). The New York City setting gives the show a vibrancy, and has allowed famous veteran thespians hailing from the Empire state to make memorable guest appearances, including New York-born Michael Imperioli and Kevin Dillon.
Selleck recognizes how important New York City is to his cop drama, and he even described it as an essential character in the large ensemble. Selleck said he and others sacrificed to give the show the extra value of authentic New York City streets.
Tom Selleck and others relocated for Blue Bloods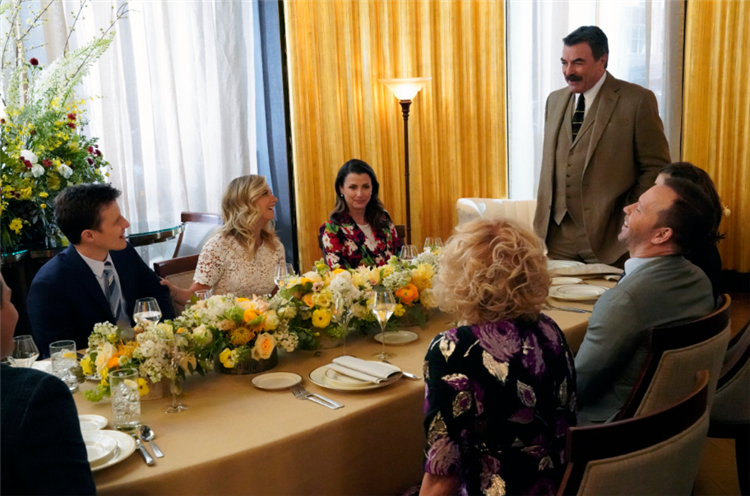 Shooting "Blue Bloods" on the streets of New York is essential to the success of the CBS drama, according to Tom Selleck.
"New York City, I think, is a central character in the show. That we shoot it on the streets of New York is really important. It says a lot about, I think, the kind of actors we have," Selleck said, going on to reveal he and other central cast moved their lives to embrace the New York setting to Sky.
Upon the rare occasion where Selleck is not shooting episodes of "Blue Bloods" — season episode counts typically run at around 20 episodes — he resides on a ranch in Ventura, California, per People. The time required of him in New York City initially made the Selleck hesitant to join "Blue Bloods," but he was eventually convinced to do it because it was an ensemble series, not a mostly one-man show like "Magnum P.I." was. Plus, he loved the script.
"The script was terrific. The idea that it was going to shoot in New York caused a family consideration, but it was too good to pass up," Selleck told Collider.