Or could life at The Invader be GH comedy gold?
Alexis Davis had no qualifications to run a newspaper on General Hospital, so it should come as no surprise that she's hired the equally unqualified Esme Prince to work there, as well. But at least we know The Invader offers daycare, so, yay, more Ace sightings! Esme is happy with her new position now. But will Alexis feel the same down the road a bit?
Alexis Davis: Brilliant General Hospital Mind
This is such a good idea, 18% of the audience cheers. Esme (Avery Kristen Pohl) is a thorn in the side of everyone she comes into contact with, and Alexis (Nancy Lee Grahn) is the queen of the slow, exasperated burn. We anticipate a Laurel and Hardy situation, where Esme keeps screwing up, and Alexis ends every encounter with, "That's another fine mess you've gotten us into!" We could all use the laughs.
GH: Regrets, I've had a Few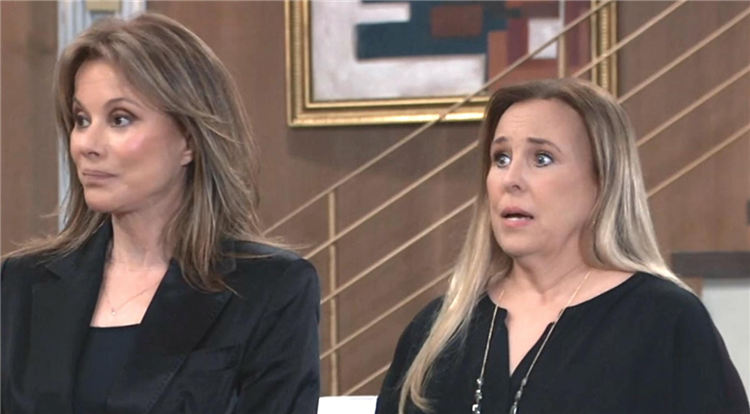 Oh, Alexis, honey, you are going to be so, so sorry, 40% predict. Esme is everything you say you despise in a woman. She uses men, she doesn't take responsibility for her own actions, and, when things don't go her way, she bats her big, beautiful eyes to get out of trouble. That won't work on you, so you're just going to get more and more frustrated. Plus, what happens when Esme takes some sensitive information and uses it for her own benefit? You'll be responsible. And you don't need the liability.
General Hospital: Laugh Out Loud
But, it will be funny, 42% reiterate. Alexis has proven that she's not capable of an interesting romantic relationship. Her children don't listen to her. She's lost her license to practice law. Cringe comedy is all she's got left to work with, and if anyone can bring that out in her, it's Esme. Throw Ace into the mix, and this is a trio that can bring all the chuckles to Port Charles.