Arriving on CBS on September 24, 2010, the police procedural Blue Bloods has firmly established itself as one of the station's hallmark programs over the past decade. Centering on the Reagans — a family comprised largely of law enforcement officials — the program has received plenty of well-deserved recognition from fans and critics alike. Its depiction of a family dynamic intertwined with the stressors of public service as well as its handling of morally complex issues are common points of praise for the show, in addition to the solid performances series regular Tom Selleck churns out season after season.
Selleck plays the stern yet caring New York City Police Commissioner Frank Reagan, patriarch of the family and one of Blue Bloods' main characters alongside Donnie Wahlberg's Danny Reagan and Bridget Moynahan's Erin Reagan. From the second he arrived on screen in season 1, fans immediately took to the fictional cop, just as Selleck did, as evidenced by his enduring commitment to the part. As a result, much like the audience did, he grew attached to his on-screen alter-ego and the show as a whole, making a special, history-making moment for the program even more memorable for the legendary actor.
Blue Bloods is the first show to film at the 9./11 memorial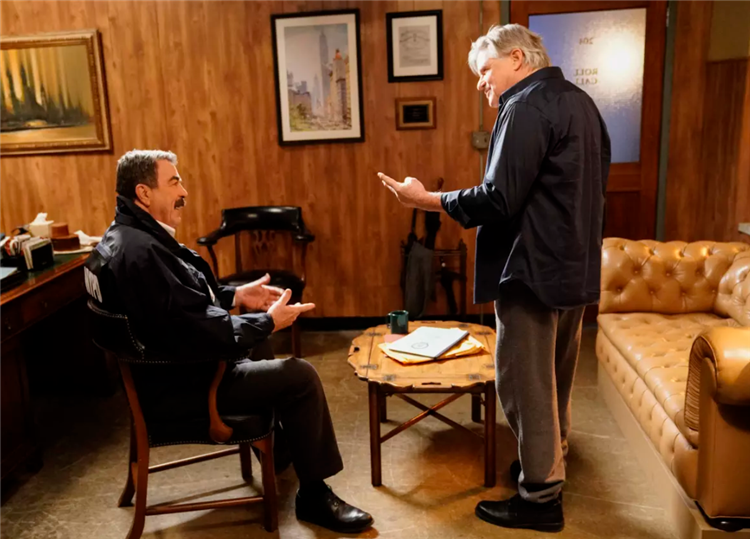 In an interview with CBS for the official Blue Bloods Twitter page, Tom Selleck received a question concerning which episode of the program stood out as his favorite. While he admits that he doesn't have one specific installment to refer back to, citing that he's "fond of so many," he does bring up an example that's especially close to his heart. "Special for me was being able to shoot at the 9/11 memorial," the former Magnum P.I. star said, going on to mention how that 2012 scene made television history as well.
As Selleck points out in the November 2020 interview, "We were the first film company to ever be able to do that," adding that the episode in question — season 2's "The Job" — was incredibly important and emotionally resonant for the Frank Reagan character. The story features the police commissioner finding out that one of his ex-partners succumbed to a fatal illness brought on by exposure to the World Trade Center wreckage. Suffering from survivor's guilt, Frank mourns the loss by visiting the historic site to pay his respects and find closure.
Tom Selleck concludes by saying that he's very proud of the show's unique achievement, in addition to everything the cast and crew of Blue Bloods have accomplished over the years. With such a poignant and respectful tribute for those who lost their lives on 9/11, and a major TV milestone in their corner, it's hard to argue how significant the program has become in the annals of small-screen history.