Blue Bloods, which has been renewed for a Season 14, follows the life of the Reagan family as more than one generation has spent their careers dedicated to law enforcement. Some of the members of the family have become police officers, growing within the ranks of the force, and some of them have become attorneys or practice law.
With 13 seasons under its belt, Blue Bloods has introduced a long list of characters that have either become fan-favorite or have been disliked (and even hated) by the audience. Some of those characters have been a part of the show from the beginning, others joined for a while, and a few came in during more recent seasons.
10
Nicky Reagan-Boyle
Two different actors have played the character of Nicky Reagan-Boyle. During the pilot, Marlene Lawston portrayed the daughter of Erin Reagan and Jack Boyle. After Season 1, Episode 4, Sami Gayle took on the role, and she has continued to play her to this day.
Although the Reagan family are the show's main characters and should all be well-liked, Nicky seems to be one of the least-liked characters on the show. Most of her dislike may come from the fact that Nicky comes off as a know-it-all character who may frustrate the audience from time to time.
9
Henry Reagan
The pilot of Blue Bloods introduced the audience to Henry Reagan (Len Cariou), and since then, he has been portraying the grandfather of the family. Just like his son, Henry used to work as an NYC Police Commissioner and has also lost his wife, Betty Reagan.
For some fans, Henry is a source of wisdom for cases that some of his family members may be trying to solve. However, this same wisdom is the one that upsets certain fans who may believe Henry always thinks he is right and his interference in cases isn't always for the best.
8
Danny Reagan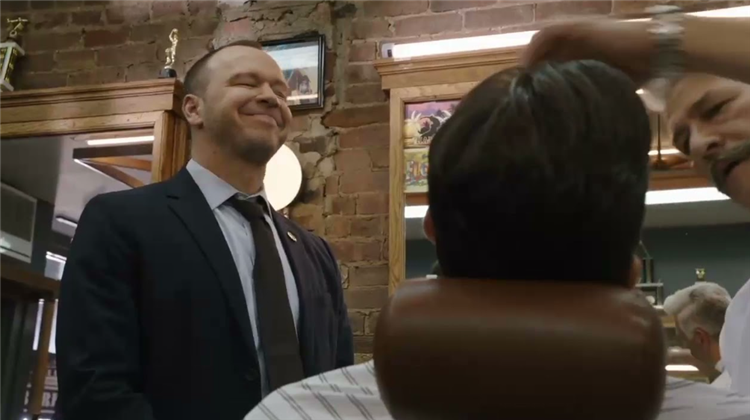 Danny Reagan (Donnie Wahlberg) plays one of the four children of Frank Reagan — the main focus of Blue Bloods. He followed his father and grandfather's steps by becoming a police officer. Danny is currently working as a Detective for the Major Case Squad. Like his father and grandfather, he also lost his wife and raises his sons alone.
Although the audience may find it appealing that Danny does everything for his family and to protect his sons, there is a downside to his attitude. On more than one occasion, Danny has lost his temper and has become aggressive. In his role as a cop and as a father, this has been frowned upon.
7
Jack Boyle
Peter Hermann became a guest star on Blue Bloods and Jack Boyle for the first time during Season 3, Episode 3, "Old Wounds." Ever since he has been on the show ten times as Erin's ex-husband and Nicky's father; just like his ex-wife, he is a lawyer and a defense lawyer.
On the show, Jack's father-in-law and the rest of the family don't like him quite much. This sentiment can also be felt in the audience because of his attitude. During most of his appearances, except when he was shot, Jack comes off as cocky and selfish, making him a dislikable character.
6
Erin Reagan
Since the pilot of Blue Bloods, Bridget Moynahan (who some may remember from when she joined Michelle Rodriguez in BATTLE: LOS ANGELES) has been playing Frank Reagan's only daughter, Erin. Although she grew up surrounded by cops and her brothers took that route, she chose another side to law enforcement by becoming a lawyer. In more recent seasons, Erin has been working as Bureau Chief of the Trial Bureau in the New York County District Attorney's Office.
Erin's role may sometimes cause issues with the work of the rest of the family, which may make her less liked by the fans. Probably because of her job, she is often seen as cold and rigid — this helps win cases but not the hearts of fans.
5
Jackie Curatola
Jackie Curatola (Jennifer Esposito) was a regular cast member of Blue Bloods as a detective for the NYPD for the first three seasons. She first appeared in Season 1, Episode 4, "Officer Down." After a vacation, Jackie realizes she needs to take a leave of absence to find her people and be surrounded by good folks.
Although she has been gone for many years, fans remember Jackie fondly. A lot of them loved who Jackie was as a detective and what she brought to the scene. She seemed to be a good balance for Danny, making people happy.
4
Jamie Reagan
Will Estes plays another one of Frank's children, Jamie. It seemed like Jamie would find his career path just like his sister for a while, but he gave up his law career to follow his father and grandfather. Throughout the seasons, he has been seen on different tasks and in different precincts. He has recently worked as a field intelligence sergeant for the Field Intelligence Unit.
Jamie is seen by many as the golden son. Most of the audience seems to like him because he is a character who sticks to his morals and dedicates his life to protecting and serving. Unlike his brother Danny, he doesn't react in aggressive ways.
3
Eddie Janko
Eddie Janko (Vanessa Ray) joined Blue Bloods during Season 4 and has stayed on to become a member of the Reagan family. Although Jamie Reagan was her partner, he later became her husband. Even though she is proud to be a Reagan, she still uses her last name at work.
Eddie has a funny and passionate personality that makes her stand out from the rest of the characters. Even though she has had her ups and downs, fans have always found her a captivating character they never wanted to see leave.
2
Frank Reagan
Even though his father is still alive, Frank Reagan is seen by his children and grandchildren as the patriarch of the family. Frank has experience as a police officer for the NYPD, but throughout the show has always been seen as Police Commissioner. Tom Selleck joined the show in 2010 when he announced he wanted to reunite with Ted Danson and Steve Guttenberg for Three Men and a Bride.
Frank has always been respected by the audience for how he manages to keep his family together (and get them together for dinner) even when things aren't going right. His modesty, ethics, and strong sense of duty make him such a memorable character.
1
Abigail Baker
Abigail Hawk plays Abigail Baker, who is a detective for the NYPD. Her current role is the Primary Aide to the Commissioner, which means she is part of Frank's security detail. As such, she prepares his official schedule and works closely with him and his office.
Throughout the different seasons of Blue Bloods, Baker has been one of the few characters who has ever stood up to Frank and told him she disagrees with him on different occasions. She has zero fear of speaking her mind, making her one of the show's most genuine and likable characters.