For over a decade now, Blue Bloods has made protecting New York City a family affair. The series follows the Reagan family, nearly all members of which are involved with law enforcement. Patriarch Frank Reagan (Tom Selleck) is the police commissioner, while his children work as a sergeant, detective, and assistant district attorney. The Reagans manage to cover a lot of ground, but they still receive plenty of assistance from their colleagues, who are pretty much like family at this point.
For much of the show's run, the Reagans have benefitted immensely from the hard work and dedication of Detective Abigail Baker, played by Abigail Hawk. While some fans find a few of her actions puzzling, she remains a loyal ally to Frank and the rest of the Reagans. Detective Abigail Baker could definitely be considered an honorary Reagan at this point, and that compassion also extends into the real world. Many of the actors on Blue Bloods have been on the show from the very beginning, and a real bond has formed within the cast — so much so that when Abigail Hawk was unable to shoot a scene, Tom Selleck was more than happy to lend an assist.
Tom Selleck rewrote a scene to work around the delivery of Abigail Hawk's son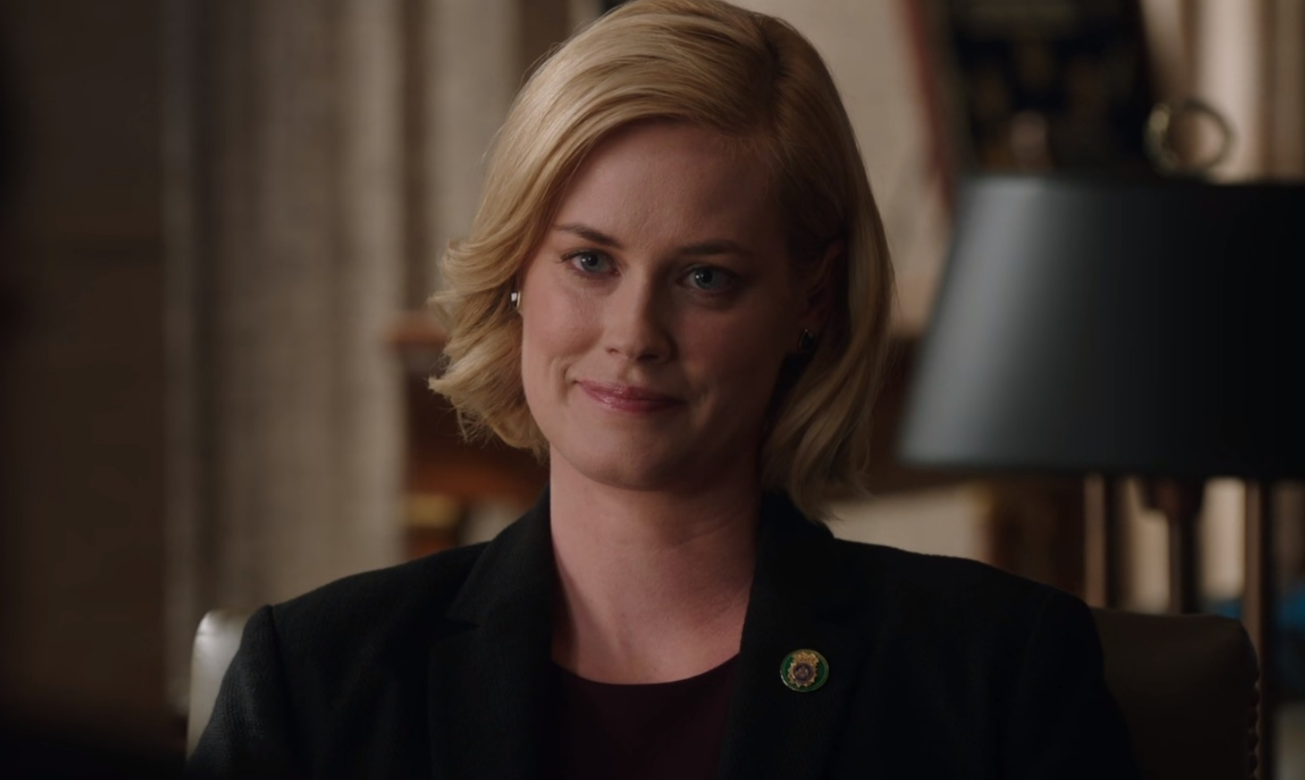 In an interview with Hamptons.com, Hawk was asked about standout moments in her life from the past ten years. She naturally started by saying there have been many over the years, but then she transitioned to discussing when she was pregnant while filming Blue Bloods. "We really are a big family, and just having other moms understanding how fatigued I was, making sure that the bags underneath my eyes were taken care of, just little things like that — making sure that I had good Spanx so that I felt supported," Hawk shared. "It's been a wonderful, wonderful time."
Not only was Hawk pregnant during production, but she also ended up going into labor in the middle of filming. Naturally, she couldn't be on the set thereafter, but the cast and crew didn't miss a beat. As Hawk told the outlet, "Tom Selleck literally rewrote a scene around the delivery of my son, which is a pretty awesome legacy." No doubt everyone was happy to chip in and make the scene work with Hawk going to give birth to her second son.
While filming around a birth is one thing, Blue Bloods season 11 has gone through a massive undertaking shooting around COVID-19 restrictions. Season 11 will feel different from any other season of Blue Bloods, but just like adjusting things to accommodate an actor going into labor, the cast and crew have just had to make the new season work for the time being.