Tom Selleck's breadth of work on television began with the actor spending years portraying smaller roles on TV shows like "The Young and the Restless," "Mannix," and "The Streets of San Francisco," but Selleck hit it big when he landed the titular role in "Magnum, P.I." However, despite his enormous success playing the private eye in the 1980s, today's audiences are more accustomed to seeing Selleck in the role of New York City Police Commissioner Frank Reagan on "Blue Bloods."
The CBS police procedural boasts 13 seasons, and "Blue Bloods" has accumulated a number of memorable episodes in that time. And while Season 8's finale, "My Aim is True," is arguably the crème de la crème of the saga (per IMDb), Selleck's most treasured installment came in Season 2. "The one that will always be my favorite is 'The Job,' in which you found out that Frank was in the World Trade Center's North Tower on 9/11," Selleck said in an interview with TV Insider.
"It was quite stirring because 9/11 was still fresh in people's minds," Selleck continued. "It was hard for me to be strong as an actor, not to break down because Frank is tougher than that." "Blue Bloods" continues to make indelible memories season after season, but did you know that Selleck loves it when the Reagans fight during their trademark family dinners?
Selleck likes to see the Reagans mix it up at the dinner table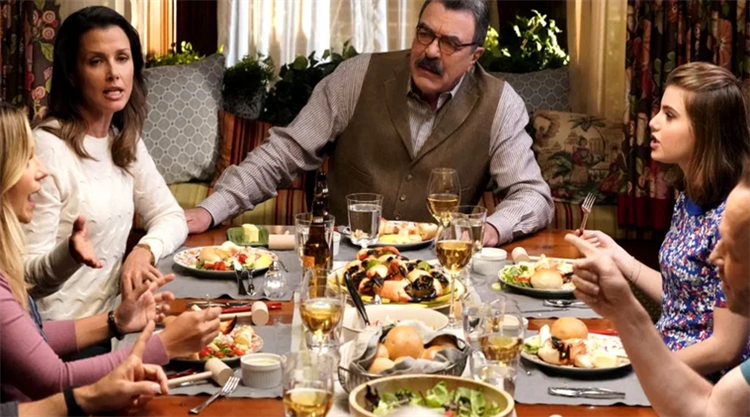 Tom Selleck concedes there's plenty of action dispensed in every episode of "Blue Bloods," but at the core of the show is the Reagan clan — the straw stirring the drink. And some of the most intriguing moments come during the drama's vaunted dinner table scenes. However, Selleck seems to enjoy it when his character Frank and the Reagan familial unit quarrel over repast.
"The best family dinners are when we argue," Selleck said in an interview with TV Insider. "When the family gets together, the audience usually knows the characters' problems, so, they're going, 'Boy, if he brings that up, that's not going to sit well with Erin [Bridget Moynahan].' They want the Reagans happy, that's the key." Selleck went on to tell TV Insider that he firmly believes "Blue Bloods" continues to resonate with fans of the series thanks to the well-rounded characters who are essential to the police procedural's success.
Selleck then pointed out that the police elements, which laden the series, take a backseat to the five main characters. Selleck insists that enthusiasts of "Blue Bloods" are highly invested in the Reagan family, and, as such, it's the perils threatening the family circle that keeps viewers devoted. "The biggest jeopardy in our show is often when one of the relationships in the Irish Catholic family looks like it's going south," Selleck continued. And that is the precariousness preoccupying the Reagans that Selleck believes keeps viewers coming back.