The GH recap for April 26, 2023, has Victor reaching his underground bunker.
The General Hospital recap features Victor Cassdine finding a long-buried pathogen that could save the Earth — with a price.
General Hospital Recap Highlights
In this episode, Victor and his captives made their way to a Greenlandic underground facility and prayed for the best. Anna was the one who essentially guessed what Victor was up to back in Port Charles. Nevertheless, despite having stage 4 cancer, Willow still had a wedding to prepare for. When left alone with Ava, Nina tried to conceal her hurt but hinted that Carly will soon suffer the consequences of her actions. Let's now delve a little more deeply into the specifics.
General Hospital Recap: Victor Cassadine Finds The Pathogen
Somewhere in Greenland, Victor (Charles Shaughnessy) was so thrilled to find his underground pathogen-filled bunker that he hugged the door with glee. When he finally made it to the other side of the door, he was thrilled to see a lab ready for his big plan to save the world while killing off half of humanity. When his goons brought Spencer (Nicholas Alexander Chavez), Trina (Tabyana Ali), and Liesl (Kathleen Gati) into the lab, he told them this was the future. Too bad Liesl said she could not work in such an old, cold lab, but Victor didn't care because this was the dawning of a new age.
Right there, sitting on ice, was his pathogen, and Victor looked like he could jump for joy. Victor was proud to show off the pathogen to his hostages, but Liesl still seemed hesitant to do Victor's dirty work. He needed her to make sure the pathogen would still work. He insisted the pathogen wasn't active, only activated by UV light. Liesl asked for protective clothing and a controlled environment.
Liesl told him the pathogen was no longer effective, so he said she would take it to the surface to test it, so Liesl was forced to admit she had been lying. Victor told her if she was quick with her scientific work, he would send her back to Port Charles so she could save her niece's life.
General Hospital Recap: Figuring Out Victor Cassadine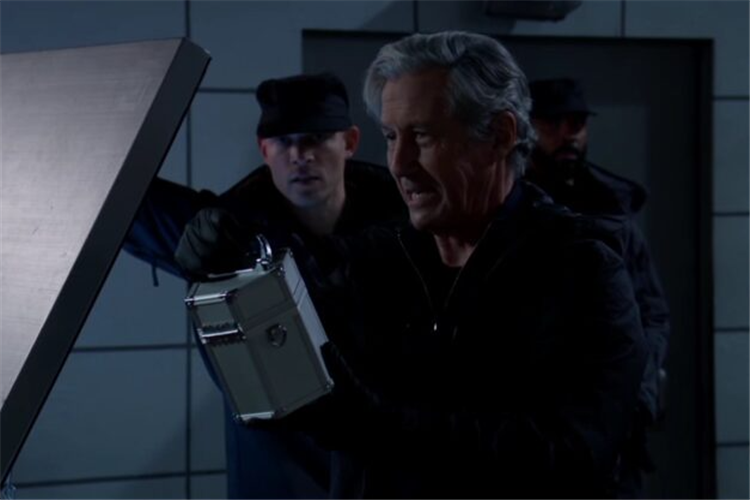 Back in Port Charles, Anna (Finola Hughes) was worried that Laura (Genie Francis), Valentin (James Patrick Stuart), Drew (Cameron Mathison), and Curtis (Donnell Turner) were walking into a trap, knowing that Victor was using technology he and Mikkos developed back in the 1980s. Holly elaborated on Ethan's (James Ryan) info and told Anna and Robert that the only people who would be safe from Victor's plan are the ones closest to him, meaning his loved ones.
Holly theorized that Victor may have had a bomb, but nobody could figure out why Victor took Liesl. They certainly didn't think Liesl was considered someone Victor now loves. All Holly could remember was the kind of person that Liesl was 10 years ago, but Robert (Tristan Rogers) acknowledged that she now changed. Finally, it hit them that Victor might have a bio-weapon and that is why he needed Liesl — he wanted her scientific expertise. All Anna could do was hope the WSB would now step in.
GH Recap: Willow Is A Blushing Dying Bride
Carly (Laura Wright) gushed over the bride and groom as they sat on the couch looking into one another's eyes. Joss soon arrived with her dress, and everyone just smiled and hugged one another. Michael (Chad Duell) left for the main house, where he happily had a drink with Dante (Dominic Zamprogna) and Chase (Josh Swickard), but it was hard to look too far into the future with a dying bride. When Sonny (Maurice Benard) arrived, things got awkward as Michael didn't even look like he wanted his father there.
Back at the gatehouse, Maxie (Kirsten Storms), Brook Lynn (Amanda Setton), and Sasha (Sofia Mattsson) got Willow (Katelyn MacMullen) all made up, and she looked less like she was dying of cancer than ever before, which is a hard feat for someone who already looks so good when at stage four for months with almost no treatment. They all assured her that Drew would find Liesl so they could get her hands on that prized bone marrow. When Bobbie (Jacklyn Zeman) showed up, she told Willow that the allegedly late Luke (Tony Geary) would have liked Willow, and she was touched.
General Hospital Recap: Nina Wants Carly To Face Consequences
Nina (Cynthia Watros) covered for herself when Sonny asked why she was talking to Martin (Michael E. Knight) on the phone, saying she wanted to open a trust for Amelia and Wiley. Soon, Ava arrived with flower girl Avery (Ava and Grace Scarola) so Sonny could take her to the wedding. Sonny took her into the kitchen for a snack, leaving Ava and Nina alone to talk. Nina had a gift for Willow in her hands, but Ava warned her that giving her daughter a beautiful bracelet like that would cross the boundaries Willow had set up between them.
Ava insisted on remaining after Sonny and Avery left to make sure Nina was okay. Ava mentioned Nina and Carly's visits to Wyndemere and advised her to get used to Carly's presence because she wouldn't be leaving. The two women quickly came to the conclusion to simply relax with a drink, but Nina found it to be easier said than done. Nina was shocked that after lying to both of them for nine months, Carly is allowed to maintain a close relationship with Willow. She acknowledged that she had done bad things as well, but unlike Carly, she had to deal with the repercussions. Well, Nina promised to balance the balances, and Ava was aware that her BFF had acted foolishly.