As Mauricio Umansky and his Dancing with the Stars partner Emma Slater were recently photographed holding hands, Teddi Mellencamp, a close friend of Kyle Richards, seemed to imply that she and Kyle had both been duped by their husbands in the past.
Even though Mauricio insisted he and Emma are simply friends, the pictures became public when Kyle and Mauricio discussed their breakup.
On her Two T's In A Pod podcast, Teddi and her co-host Tamra Judge spoke of how Kyle came off angry while Mauricio appeared calm during their cringy scene on the RHOBH season 13 premiere. During a conversation, Kyle shut down Mauricio's suggestions that she stop getting tattoos and also called out Mauricio for not knowing the number of tattoos she had on her body.
Teddi seemed to suggest that Mauricio was the one who 'effed up' and that Kyle was simply reacting.
"Most of the time, the person that effs up isn't the angry one," said Teddi.
"So you think he's the one that effed up?" asked Tamra.
"I think that it's clear by watching this that Kyle is hiding how she's feeling about things with Mauricio," responded Teddi.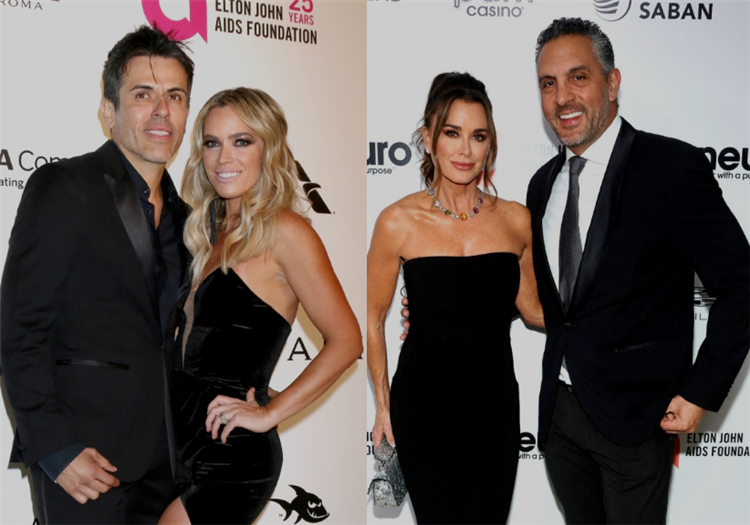 Later, Teddi added: "I think it's clear at this point Kyle's not ready to open up fully and it looks to me like she's protecting Mauricio but she's freaking pissed."
And in a clip shared by @breakingtherules_podcast on TikTok, Teddi seemingly suggested that both she and Kyle were formerly cheated on.
Teddi addressed the matter, saying, "I think we're just gonna keep seeing more and I think it's really, I think it's also jarring to us because [Kyle and Mauricio] always come off as such a united front." "I apologize for what happens when traumatic things happen; you know you've always seen them as this couple."
Teddi went on to compare the circumstances to her own, saying, "I was so resentful of Edwin for years that I couldn't even look at him." And it's been a big help that we were able to resolve it.
She continued, "But like once you've been burned, it's really hard to come back."
"Wait, are you saying he cheated on you?" asked her co-host Tamra Judge.
Teddi replied, "Um … I'm saying, I'm saying that the photographs that, um, Kyle just had to see online from TMZ were very triggering for me."
The Real Housewives of Beverly Hills season 13 airs on Wednesdays at 8/7c on Bravo.