On Tuesday, October 31, Kelly Clarkson's Halloween-themed daytime talk show included Kyle Richards, star of Real Housewives of Beverly Hills. To the Grammy winner's pleasure, Kyle confessed her home is haunted, which immediately forged a bond between the two.
Do you think there is anything supernatural? Have you ever had paranormal experiences? The Bravolebrity extended an invitation for Kelly, 41, to visit her house in the Los Angeles region after she said, "I haven't but I want to." Kyle, 54, said to Kelly, acknowledging that she had seen ghostly presences, "Oh, come over to my house."
"Thank God they haven't shown themselves cause I don't know if I would be here right now," the reality star continued while Kelly excitedly responded, "I would want to see it. I one hundred percent think it would be cool."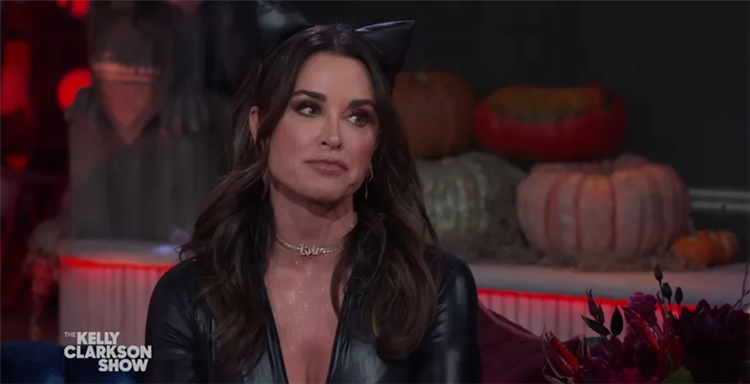 Kyle went on to recount her experiences with the supernatural. "I've had some things happen. I've lost both my parents, and I had a lot of things happen especially after my mom passed away. Like lights going on when they weren't even plugged in — really weird things — so I have no doubt I believe in that," she explained about ghosts.
"My house that I live in now was built in 1882 and moved by a trolley in 1912 and I hear footsteps a lot. Everyone in my family has heard the footsteps," the Hollywood native revealed about the 10,600-square-foot mansion in Encino, California, which has been featured on RHOBH.
Kyle discovered that a famous former owner also had the same experiences with a ghost in the house.
"My house was once owned by Smokey Robinson. This past Oscar season, I was attending an Oscar party when he said, 'Oh, have you heard the footsteps yet?'" With a terrified voice, she said, "I wanted to believe I was imagining it, but the funny thing is I feel safe though. I did not need to hear that."
For the Halloween episode, Kelly and Kyle got dressed up. The singer of the song "Stronger" wore a slinky vampire costume with a black dress that hugged her figure and flaunted her recent weight loss. The Kyle x Shahida businesswoman showed off her amazing physique while dressing like a cat in a skin-tight catsuit and black ears.
Kyle attributes her improved physical appearance to her regular exercise routine and decision to abstain from alcohol in July 2022. In January, she refuted reports that she utilized the weight loss medication Ozempic to accomplish her transformation. However, in June, she had to address followers about it after sharing a picture of herself in the gym.In response to accusations made by Instagram users that she was using the medication, Kyle wrote, "I have never tried Ozempic or any of those medicines so stop spreading lies." I'm sorry, but you don't get muscles from that. You don't know me.