"NCIS" costars Mark Harmon and Pauley Perrette worked together for 16 years until her exit. However, she revealed the real reason she left the show a few years later.
Pauley Perrette played forensic analyst Abby Sciuto, alongside Mark Harmon, who played Special Agent Leroy Jethro Gibbs on the beloved CBS crime drama, "NCIS."
However, Perrette's time on the show ended in 2018, after joining in 2003. She later spoke out, revealing that she left the show because of conflict between herself and Harmon.
The conflict started after an apparent dog attack. In October 2016, Harmon brought his three-year-old pitbull mix, Dave, to the "NCIS" set. This is something the actor frequently did as the workplace was dog-friendly.
Harmon, other cast members, and crew would regularly bring their beloved pups to work without incident. However, that changed when Dave bit a production member so severely he had to get 16 stitches.
According to TMZ, it was not the dog's fault, sharing a solid defense for its behavior. The outlet reported that the production member was roughhousing with the dog, which consequently got scared and bit in defense.
Fortunately, the man was fine and returned to set after getting his wounds treated. He also did not blame Harmon for the attack and understood he was partially responsible.
Although the dog-bite victim was not upset about the incident, Harmon was not spared judgment from his colleagues, particularly his costar, Perrette.
According to The Wrap, a few of the production crew felt nervous around Dave after the biting incident, but they were afraid to speak up in fear that they might be fired.
However, because of Perrette's status on the set, she raised her concerns, objecting to the dog being allowed on set after the incident.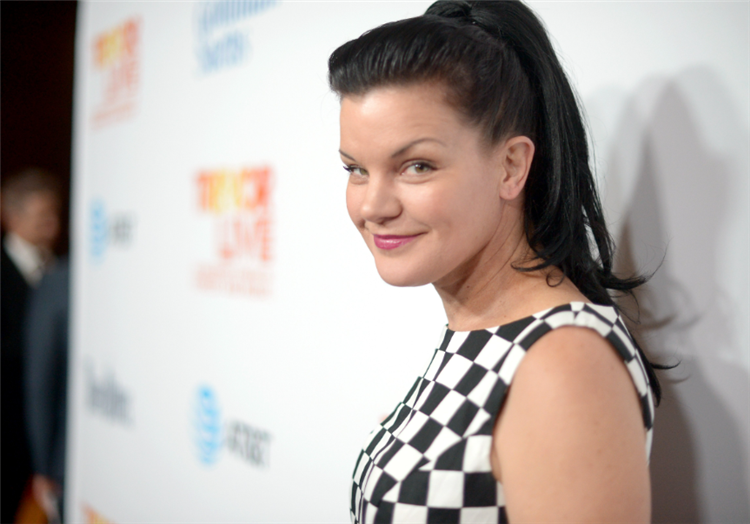 According to various sources, Harmon was told Dave had to stay in his trailer or be on a leash if the actor wanted to bring his beloved canine to set.
Although it seems Harmon obeyed instructions. Outlets reported Harmon, an executive producer of the show, would purposely bring the dog out to set when Perrette was there.
Of course, this only caused more tension between the two stars, eventually leading to them not filming together. In consequence, Harmon and Perrette did not share a stage for her last episode on the show.
An insider told The Wrap that the production scheduled the shooting, so they did not work on the same days. Thankfully, the feuding colleagues were still able to produce a great show under the circumstances.
The dog-biting situation and the Perrette VS. Harmon feud seemed to cool off for almost two years until 2018 when Perrette took to Twitter to share about multiple physical assaults she experienced on set.
The actress wrote that she was sitting on a secret that could hurt the "NCIS" crews members' jobs. She also expressed that the media was writing articles filled with "total lies," which she believed only people who didn't know her would accept.
In the lengthy Twitter thread, she publicly expressed her uncertainty about whether sharing the truth would be hurtful or helpful as she tried to decide how to protect her crew and their jobs best.
At first, it seemed as though Perrette was hinting that some onset drama led to her exit. However, her subsequent tweets hinted at a far more physical and complicated situation.
I refused to go low, that's why I've never told publicly what happened. But there are tabloid articles out there that are telling total lies about me. If you believe them? Please leave me alone. You clearly don't know me. (Sorry guys, had to be said)

— Pauley Perrette (@PauleyP) May 13, 2018
Then she posted an ominous message about a rich and powerful "machine" keeping her silent and sharing false information about her.
Perrette explained that she had always been a supporter of anti-pulling programs, and now it seems she and others were victims of bullying and physical assault.
The actress claimed the physical assaults were the reason for her exit as she said, "It's horrifying. I left. Multiple Physical Assaults. I REALLY get it now. Stay Safe. Nothing is worth your safety. Tell someone."
There is a "machine' keeping me silent, and feeding FALSE stories about me. A very rich, very powerful publicity "machine". No morals, no obligation to truth, and I'm just left here, reading the lies, trying to protect my crew. Trying to remain calm. He did it.

— Pauley Perrette (@PauleyP) May 13, 2018
Fox News reported on her mysterious and threatening tweets and revealed that neither CBS nor Perrette responded to the outlet's request for comment about the alleged assaults.
Later, in 2019, Perrette stated she was "terrified of Harmon and him attacking" her. She noted she had nightmares about the situation, so she would never return to the show.
The claim seemed very serious. However, TMZ later reported that an inside source stated that the alleged assault by Harmon against Perrette was a body check, which allegedly occurred onset in 2017.
It seems that besides the dog biting situation and the alleged body-check, there has not been further confirmation about more assaults. Furthermore, no outlets have reported that Perrette took any legal action.
Although Perrette seemed to cite the physical assault (and possibly the dog bite) as the reason she left "NCIS" after 16 years, a year before her suggestive tweets, she indicated another reason for her exit.
According to Fox News, Perrette stated she left the show and her iconic character Abby because it was the right time to focus on new things and opportunities.
Despite her reason for leaving the hit show, Perrette and CBS's relationship seem remarkably intact. Following her exit, Perrette tweeted her thanks for the network and the "NCIS" production crew.
At the same time, CBS told Fox News that Perrette had "a terrific run" on the show. The network also acknowledged the allegations in a statement confirming that Perrette approached CBS with a workplace concern.
Furthermore, the network stated it took the matter seriously and worked with the actress to resolve it. The statement emphasized CBS's commitment to providing a safe working environment for all of their shows.