Family is key to the Reagan family's success on the hit crime drama "Blue Bloods." Those now-iconic dinner scenes help set the show's tone, and it's all thanks to a painting from an artist known for art that depicts everyday moments in America. In an interview with Talks at Google, Tom Selleck said that executive producer Leonard Goldberg was inspired by Norman Rockwell's "Freedom from Want." "Famous painting of a family sitting around a turkey, and he thought, 'What if that family were a family, all of them were in law enforcement, and that was the family business?'" said Selleck.
"Freedom from Want" was painted in 1943 and is one of four paintings that represent the four basic human freedoms mentioned in President Franklin D. Roosevelt's January 1941 address to Congress. The paintings were printed in "The Saturday Evening Post" and are kept in the Norman Rockwell Museum in Stockbridge, Massachusetts.
Selleck told Talks at Google that Goldberg wanted the Reagan family to have dinner during each episode, but Selleck had one concern. "And I said, "But it's eight pages long, you know. The network isn't going to go for that. You're gonna cut it [down], aren't you? … Because I wish you wouldn't.' And Leonard said, 'No. We're not cutting that scene.'" Goldberg died in December 2019, but the family dinners he was so passionate about still bring smiles to fans. And those dinners are the reason one big star wanted to join "Blue Bloods."
How the Reagan family dinners have inspired cast members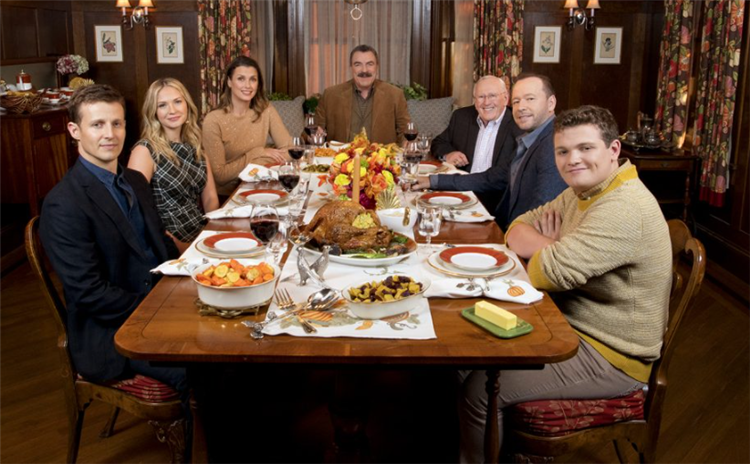 The Reagan family would be nothing without New York City Police Commissioner Frank Reagan (Tom Selleck), the father who does everything he can to keep his family together. While he's the glue, his son Danny (Donnie Wahlberg) is the one sharing his unfiltered thoughts, especially around the family dinner table. Wahlberg has been a cast member since the show's first episode, and those dinner scenes convinced him to join "Blue Bloods." He told Entertainment Tonight, "The number one thing obviously that people say is that they love the family dinner scene. And that's great for me because when I first read the script, that's why I wanted to do the show."
Wahlberg and Selleck are not the only cast members who enjoy these onscreen get-togethers. Bridget Moynahan, who plays Danny's sister Erin, even wrote "The Blue Bloods Cookbook." Released in 2015, the book contains 120 recipes inspired by New York City and the Reagan family. Moynahan told CBS This Morning that the dinner scenes add another side to these characters while also offering nostalgia. "But I also think it's a moment that they reflect and think, 'gosh, I wish we were able to do that' or looking back on memories," she said.