GH spoilers for June 30, 2023, have Austin and Ava sparring some more.
General Hospital spoilers reveal angry women, an angry child, mother-daughter talks, and so much more. You won't want to miss a moment of this emotional new episode.
General Hospital Spoilers Highlights
Ava (Maura West) was taken aback when Austin (Roger Howarth) suddenly kissed her. They had both accused each other of horrible things and seemed to be having a squabble rather than a love match, but apparently, Ava didn't like the kiss.
She shoves Austin off her and demands that he never do something like that again. She doesn't like his secrets, lies, and cocky attitude and is not about to get further into his messy life. She has enough of her own mess to think about when it comes to Nikolas and his fate that she doesn't even know about. Will Austin be able to change her mind?
GH Spoilers: Trina Wants Answers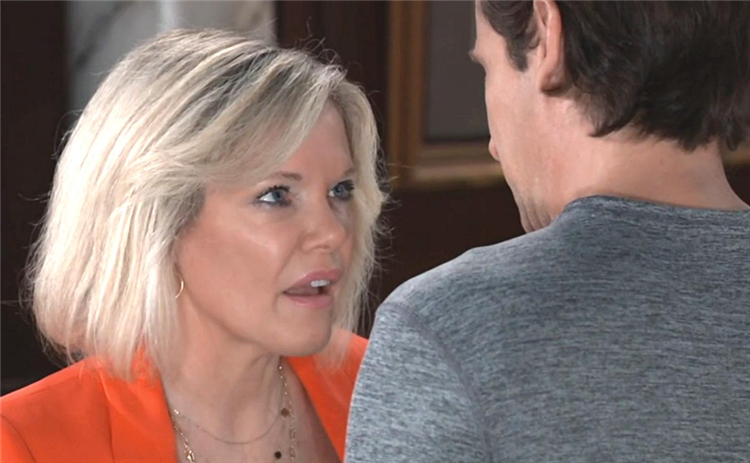 While Zeke (Gavin Houston) tries to get Jordan (Tanisha Harper) to meet him for a drink, Trina (Tabyana Ali) wants to talk to her mother about that kiss between Curtis (Donnell Turner) and Jordan, which Zeke told her mother about. Trina is shocked that Portia (Brook Kerr) seems to want to forgive Curtis and doesn't understand how her mother could do that so easily.
Meanwhile, Spencer (Tabyana Ali) is still one angry young man. He remains shirtless, snapping at Esme (Avery Kristen Pohl) while telling her just to leave him alone. Will Esme listen?
General Hospital Spoilers: Sasha's Future, Violet's Fury
Sasha (Sofia Mattsson) is surprised when Sonny (Maurice Benard) calls her so they can have a late-night meal. She is curious about what he wants to discuss and is especially intrigued when he says that he wants to talk about her future.
Finally, Violet (Jophielle Love) is alarmed when she sees that Aunt Elizabeth (Rebecca Herbst) is leaving. She runs into Finn's (Michael Easton) arms and angrily demands that Liz stay. Will Finn and Liz listen to a child, or will they do what they planned and part ways for the night?
In case you missed it, every Sunday, Soap Hub's very own in-house critic offers his (sometimes) curt, and heartfelt critique about the General Hospital week that was. If you missed their latest review, click here, get caught up, and then add your opinion to the comments section.