Chris O'Donnell is soon to make his final appearance playing Agent G. Callen as NCIS: Los Angeles draws to a close in May after 14 seasons.
The actor has starred in the beloved drama since its inception in 2009. But did you know he's not the only member of his family who has appeared on the show?
Who is Chris O'Donnell's wife?
Chris O'Donnell is married to elementary school teacher Caroline Fentress. The couple met in the early 1990s and went on to tie the knot in April 1997 at St. Patrick's Church in Washington D.C.
Speaking about his first encounter with his now-wife, Chris previously told Redbook Magazine: "The first time I kissed her, I was like, Wow.
"But she was the sister of a good friend, so my next thought was, 'Oh, God—Andrew's going to be really [expletive] off!'"
Chris O'Donnell with his wife Caroline Fentress and their children on the Hollywood Walk of Fame in Los Angeles in 2015
Chris, who is the youngest of seven children and grew up in a Catholic household, went on to welcome five kids with Caroline: Lily, 23, Christopher Jr., 22, Charlie, 19, Finley, 17, and Maeve, 15.
Having starred in NCIS: Los Angeles for over a decade, Chris has brought his family members onto the show on various occasions.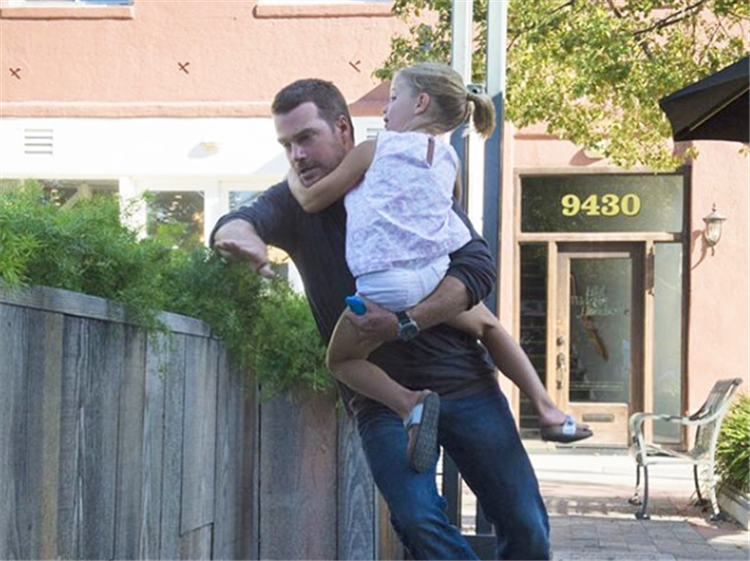 Caroline appeared in the drama back in 2015 during season seven. Speaking about his wife's cameo during an interview with The Late Show host Stephen Colbert, Chris explained how Caroline and her friends, who also joined her for an episode Chris directed, began laughing during a dramatic gunfire scene.
Chris O'Donnell and his daughter Maeve at the 74th Primetime Emmy Awards in 2022
"So they have a scene where there's this guy who comes into a restaurant and he starts shooting up the place," said Chris. "And everyone freaks out and panics and they're running away.
"I'm watching the playback after we've done the take because there's hundreds of people there… and this one group of girls start coming through and they're all laughing hysterically. And they're still carrying their real champagne that they'd ordered themselves.
"And I look back and the DP comes over and says, 'You know, Chris, they're all laughing.'
Chris has starred on the show since 2009
"I go, 'Yeah, I know… that's my wife. We're gonna handle that,'" he added.
Four of Chris' five children have appeared on NCIS: Los Angeles. His eldest son Christopher was due to cameo in an episode but his appearance was delayed due to Covid. "My oldest son had a nice part he was supposed to do, but somebody got Covid and that didn't happen," Chris explained in an interview from last year.
Don't want to miss a story? Sign up to our What to Watch newsletter and get the heads-up on the shows and films everyone's talking about.