The General Hospital recap features Laura Collins gearing up for action so she can rescue her grandsons.
General Hospital Recap Highlights
In this episode, Laura and her friends touched down in Greenland as Anna and her friends realized what Victor was really up to. Then, the wrong person overheard a conversation about it. Carly was questioned at the Port Charles Police Department, but the feds let her go thanks to Sonny and Diane's help. Willow wondered why her mother-in-law was hauled away from her wedding by the SEC as Michael made accusations and worried about the Pikeman shipment all at the same time. Now, let's dig a little deeper into the details.
General Hospital Recap: Laura Collins Is Back Where She Started
Laura (Genie Francis), Drew (Cameron Mathison), Curtis (Donnell Turner), and Valentin (James Patrick Stuart) arrived on some snowy terrain in Greenland and tried to figure out where to find Victor's (Charles Shaughnessy) underground bunker. Curtis insisted that their goal should not be to bring down Victor, only to rescue his hostages.
When alone for a few minutes, Laura tried to recall her life before the Cassadines when she was barely out of her teens. She pointed out she was Trina's (Tabyana Ali) age and now Trina was involved in another Cassadine destruction of humanity mess. Laura even informed Curtis about the curse Helena (Constance Towers) put on The Haunted Star and her life the day she married Luke. Thinking about all this made Laura more determined than ever to rescue her grandsons.
The foursome then had to brace themselves when Victor's goons were in the area. Of course, Valentin dropped his gun, and the guards were suspicious when they heard a phone start to ring. It was Holly (Emma Samms) calling at the exact wrong time with a warning.
GH Recap: Port Charles Spies Figure It Out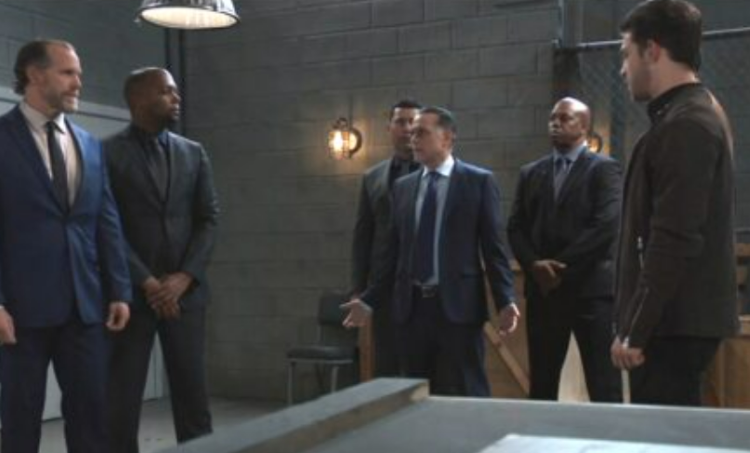 Apparently, nobody looped Jordan (Tanisha Harper) into what was going on once again with The Haunted Star case. She kept calling Curtis and couldn't reach him, which left her wondering what was really going on. She couldn't manage to reach Laura either, making her all the more suspicious. When Dante mentioned that Drew was missing, Jordan knew she'd been sidestepped again.
At General Hospital, Holly paid another visit to Anna's (Finola Hughes) hospital room as they worried that the WSB would not believe them that Victor is going to use a bioweapon. Anna told Holly she called in a favor for that, and the next thing we knew, Andre Maddox (Anthony Montgomery) was standing in front of them. He had some files with him that detailed the weather machine caper back in 1981.
Jordan then popped in and was surprised to see Andre. She knew immediately something was up, and it had to do with Laura, Curtis, Drew, and Valentin's little disappearing act. Anna apologized for not telling her what was going on, and Jordan was livid. Anna did her best to convince Jordan that they needed to rely on Laura and her team and was forced to tell her about Victor's weapon of mass destruction. Holly then realized Victor was planning to end civilization.
As everyone read the WSB files on the Cassasdines, they realized Holly was right and finally figured out what Victor was up to. Anna and Holly explained who the Cassadine brothers were as individuals, pointing out that Victor truly believed he could fix the world. Andre hit the nail on the head when he decided that Victor was trying to reverse climate change. Upon a further look at the files, Anna discovered that Victor had a virus that could wipe out 80% of humanity. An alarmed Andre insisted the WSB should not be called lest the WSB blow up the entire island to contain Victor's weapon, thus killing their loved ones.
When Jordan and Anna were alone, Jordan mentioned how people would panic if they learned Victor had a bioweapon. Her timing was great because Scott (Kin Shriner) was right outside the door and heard everything.
Before Scott made it to Anna's room, he spent some time with Portia (Brook Kerr) as they worried about their loved ones. Portia once again vowed to never let Trina near Spencer (Nicholas Alexander Chavez) again once she was rescued.
General Hospital Recap: Carly's SEC Problem And The Pikeman Shipment
At the PCPD, Diane (Carolyn Hennesy) was on hand as the SEC agents questioned Carly (Laura Wright) about her close relationship with Drew. The agents had a photo of Drew and Carly hugging, and Diane claimed that a hug was innocent for two extended family members. Carly refused to tell them anything about Drew's whereabouts, so the feds promised to keep her for 24 hours without charging her. They at least let Carly get some coffee, so she was able to see Sonny (Maurice Benard) and Joss (Eden McCoy), both of whom were worried sick about her.
Carly was later told she could go home when the SEC located information about Drew boarding a flight to Maui. Carly and Joss soon figured out Sonny was behind that setup. When she questioned him, he said they were still family, making both Joss and Carly look a little uncomfortable and guilty for the way they have been treating this man.
Earlier, back at the Q house, Willow (Katelyn MacMullen) still looked fantastic for a dying woman but worried about her new mother-in-law. Sonny explained that the SEC got a tip that Carly and Drew engaged in insider trading. Willow smartly wondered if Michael was also in trouble. Sonny explained that the SEC didn't think Michael knew about Carly's stock purchase, so Michael lied when Willow asked him if that was true. When Sonny left for the police station, Michael gave a confused Ned (Wally Kurth) a very dirty look.
Willow then felt dizzy to remind us that she had stage 4 cancer, so Michael sent his unsteady bride upstairs to lie down by herself. Once Willow was out of the room, Michael accused Ned of being the one who called in the tip. Ned denied Michael's accusations, telling Michael that he didn't know him at all if he thought he could send his mother to jail while his wife was dying. Ned had a good point, but Michael wasn't buying it. Brook Lynn broke up the argument, and Willow wondered why Ned and Michael were fighting at all but didn't question Michael. After Carly called to tell him what Sonny did, Willow tried to point out to her new husband that Sonny stepped up for him.
Finally, Dex (Evan Hofer) spent his time in the warehouse getting ready for the Pikeman shipment when Brick (Stephen A. Smith) showed up to have a talk. Brick let him know he was right there watching and questioned Dex about Sonny's recent shootout. When Sonny called to ask Brick for a favor concerning Carly's plight, Dex took the opportunity to discreetly plant a small camera in the room. Just as the Pikeman goons arrived, so did multi-tasking Sonny.