GH spoilers for May 1, 2023, have the Pikeman shipment about to go down.
General Hospital spoilers reveal dangerous meetings, one bad move, peril in the snow, and so much more. You won't want to miss a moment of this action-packed episode.
General Hospital Spoilers Highlights
Sonny (Maurice Benard) managed to make it to a wedding, throw the feds off Drew's (Cameron Mathison) trail, and make it to the warehouse so the Pikeman shipment can go down. He is cool and confident as he negotiates this deal not knowing Dex (Evan Hofer) has a camera hidden per Michael's (Chad Duell) orders.
Back at the Quartermaine house, Michael and Willow (Katelyn MacMullen) discuss Sonny's help in getting Carly (Laura Wright) sprung and getting the SEC to believe Drew is in Hawaii. Willow points out that his father may not be so bad after all, and that should mean something. Will Michael feel enough guilt over what is about to happen that he tries to call off Dex?
GH Spoilers: Nina Tries To Do Damage Control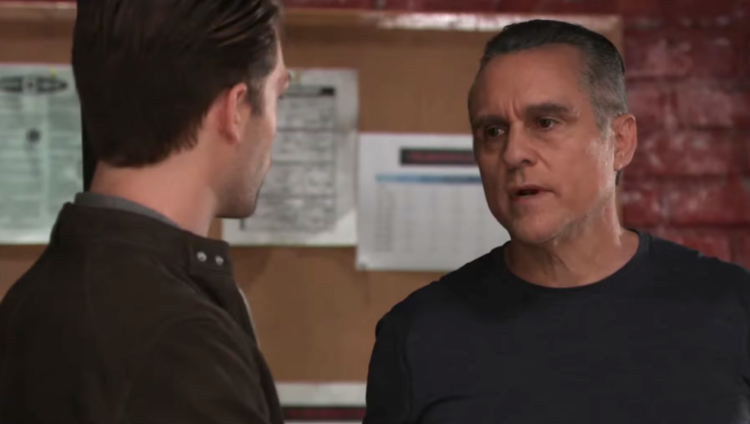 Michael will soon learn he was wrong to try to send Sonny to jail, but Nina (Cynthia Watros) already knows that she was wrong to try to send Carly to jail. After Ava (Maura West) pointed out some important and obvious things to her, Nina finally realized that tipping off the SEC to Carly and Drew's insider trading mess would backfire on her.
To that end, she meets with Martin to try to fix things and finds out that she's too late. Perhaps she should have checked with Sonny about how Willow's deathbed wedding went.
General Hospital Spoilers: Victor's Plans Could Go Awry
Liesl (Kathleen Gati) is still doing her best to make Victor (Charles Shaughnessy) believe that she is really on his side and doing his bidding — even if he thinks it is just so she can go through. However, she is not about to let Victor win, and he grows suspicious that she is up to something. What will he do when Liesl stands her ground?
Elsewhere on this strange snowy island, Victor's goons are suspicious when they hear a phone ringing and find a gun. Laura knows they might be in trouble and tells her friends they need to give Victor exactly what he's looking for.
Back in Port Charles, Holly (Emma Samms), Anna (Finola Hughes), and Robert (Tristan Rogers) are on the case. Anna is determined to get out of that hospital bed and into the action, while Holly takes some drastic measures to make sure the right people reach Victor before it's too late. Too bad Scott (Kin Shriner) might get in the way, prompting Anna to lecture Liesl's boyfriend.
In case you missed it, mornings on Soap Hub are for commentary or wild speculation about General Hospital's current stories — where they're going, how they're doing, and sometimes just what we're hoping we will see in the near future in Port Charles. We're particularly fond of this one, so please click here to read it.