The GH recap for May 30, 2023, has Josslyn and Michael jumping at their chance.
The General Hospital recap features Josslyn Jacks and Michael learning new news that they believe can help their cause.
General Hospital Recap Highlights
In this episode, Josslyn and Michael wanted Carly to do something she didn't want to do. Sam offered to help Drew dig up dirt to smear Ned while Olivia did Nina's bidding with Robert. Laura hosted the reading of Victor's will in her apartment and he left some pretty interesting objects. Finally, Curtis moved back in with Portia as Stella made her presence known — and the DNA results came in. Now, let's dig a little deeper into the details.
General Hospital Recap: Josslyn Jacks And Michael Get Excited
Sonny (Maurice Benard) arrived at the hospital to be there for Michael (Chad Duell) while Willow (Katelyn MacMullen) had her bone marrow transplant. Sonny asked Josslyn (Eden McCoy), Carly (Laura Wright), and Michael to put all their differences with him aside for Willow's sake during this time and Michael agreed. After Josslyn and Michael walked away, Carly and Sonny had some time alone and once again discussed her insider trading case. Sonny was sure she would be hearing from the Justice Department about him soon, so they decided to just wait and see what happens.
Josslyn soon met with Trina (Tabyana Ali) in another part of the hospital. Josslyn worried about Willow, while Trina stressed about what the DNA results would say. Trina had to admit that she still was not as close to her mother as she wanted to be and didn't even know where to live when the dorms soon close for the summer. Joss suggested that Trina move in with her and Carly, but Trina worried about Spencer visiting when Josslyn claimed to dislike him so much.
General Hospital: Josslyn Jacks Is Thrilled
When Michael returned to his parents' side after checking on Willow, Sonny decided it was time to tell him that he and Nina were engaged. Michael admitted the news didn't surprise him. However, he reminded Sonny that he was not allowed to advocate for Nina if he wanted Michael and Willow to be nice to him.
Once alone, Carly informed Michael that the government might offer her a deal if she turned against Sonny. Michael had no problem with this idea, and when Josslyn heard, she thought this was Dex's (Evan Hofer) ticket out of the mob despite Sonny telling her all Dex had to do was ask. They both wanted to know what Carly was waiting for. Sonny could go to jail, Carly would be free, and everyone (meaning Michael and Josslyn) would be happy.
GH Recap: Nina Intrigues Olivia, Curtis Moves Back In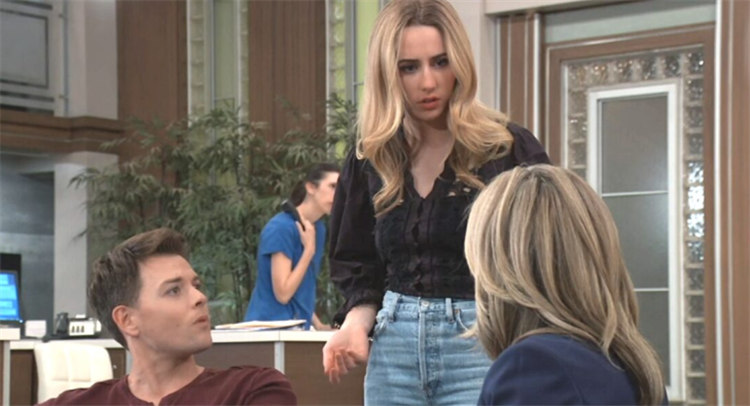 Diane (Carolyn Hennesy) and Robert (Tristan Rogers) met up at the Metro Court, and Diane saw her opportunity to get information about the SEC case as per Sonny's request. Robert couldn't wait to tell Diane that Holly (Emma Samms) left town, and that distracted her from the task at hand.
Olivia (Lisa LoCicero) was shocked when Nina (Cynthia Watros) conveniently let her know that the government was going after Carly to get to Sonny. Nina knew that wasn't true but also knew it would throw the scent off her and maybe get Ned (Wally Kurth) off the hook. She also figured she'd see if Olivia believed Carly or Drew would turn against each other to save themselves. Olivia was convinced that they would never do that, but the seed was still planted in her mind.
Nina then proved she thinks like Sonny and suggested that Olivia try to glean information from Robert regarding the government's next move against Carly and/or Sonny. Olivia immediately walked over to Robert and Diane's table and bluntly asked him for the info she wanted. Diane told Robert if he stayed silent, they would know if their Sonny theory was correct, so Robert silently got up from the table and walked away mid-sentence.
Drew (Cameron Mathison) did his best to stay away from Carly to try to make their defense against the SEC easier, but at least he had time for a visit with Sam (Kelly Monaco) and Scout. Drew randomly decided to give Scout a harmonica that belonged to Oscar (Garren Stitt), and they shared a tender moment.
When Scout went to play outside, she gave Sam and Drew some alone time, and he lamented about his troubles with the SEC. Sam even volunteered to help smear Ned and Tracy just so that Drew would not have to pay for Carly stupidly and illegally buying Aurora stock. Drew turned down her offer because he didn't want Sam to get in trouble. After Sam left, Olivia arrived home and promptly told him what she learned from Nina.
At the Upstate New York beach house, Marshall (Robert Gossett) and Portia (Brook Kerr) reminisced about her February wedding day just as Curtis (Donnell Turner) walked in with his bags. Marshall left them alone for some awkward moments. Soon, Stella (Vernee Watson) showed up and surprised them all, and nobody knew quite what to say. Stella still felt funny about missing the wedding due to the paternity secret she was hiding, but everyone welcomed her with open arms.
Marshall was the happiest in the room, trying to wine and dine everyone as Stella did her best to convince Curtis that love is worth fighting for. Just then, Trina called Curtis to tell him that the DNA results were ready.
General Hospital Recap: Valentin Gets The Middle Finger
Laura (Genie Francis) played host to Victor's (Charles Shaughnessy) will reading right in her apartment, and Ava (Maura West) and Alexis (Nancy Lee Grahn) were the first to arrive. Martin (Michael E. Knight) then walked in the door as Valentin's (James Patrick Stuart) proxy, but Anna was running late, so the reading started without her there. Finally, Victor's lawyer played his video will, and we learned that Victor left Ava (Maura West) a weird photo of what seemed to be a gargoyle.
Victor bequeathed a Russian nesting doll to Alexis to help represent her daughters, as well as a stack of rare tarot cards to give Sam. How interesting that she was suddenly in scenes with Drew after all these months.
Charlotte was gifted a necklace and pendant engraved with the Cassadine crest, and Valentin got the middle finger — or at least one that came from a statue of Apollo on Cassadine Island. As for Spencer (Nicholas Alexander Chavez)? He got a familiar little white box and seemed to know what it contained.