The last episode before the two-part series finale for NCIS: Los Angeles featured Callen (Chris O'Donnell) getting a file on his life — and learning just how he and Sam (LL Cool J) ended up as partners. (And thankfully they did! Could you imagine the show without their banter? We can't either.)
In "The Reckoning," Callen came face-to-face with Pembrook (Jere Burns), who had been part of the spy program he'd unwittingly been entered into as a kid. And in their last meeting of the episode, during which he got that aforementioned file, Callen also heard more about Hetty's (Linda Hunt) role in his part in (and out of) it. She'd pulled him out of the program because she "was consumed with guilt" for putting him in it, wanting him to fulfill his potential. "That world was all she knew. It's all she had to offer you," as a parent, and while that may not be exactly what Hetty is to Callen, "you mean everything to her," Pembrook stressed.
And before he walked away, Pembrook suggested, "take a look in that file. You'll see who gave Hetty the dossier on Senior Chief Petty Officer Sam Hanna. I thought he'd make a great partner. No, that's not true. I thought he'd make a great friend."
So how did it come about that Pembrook would be the one partly responsible for bringing Callen and Sam together?
"That wasn't 'til recently, to be honest, because the Callen thing has — with any show that's been on for a long time, at least in my experience, you lay in seeds and then you sort of harvest them later sometimes. And sometimes you don't. Sometimes you just leave them and you never go back to them. I think with our show, given enough seasons, we probably would've gone back and reaped a lot of the things that we sowed in earlier," executive producer R. Scott Gemmill told TV Insider. (Read what he said about some of those things here.)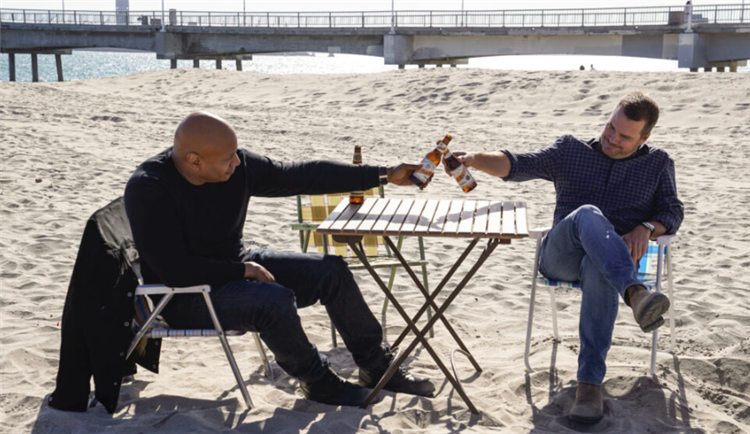 "With Pembrook, we went on this path where Hetty was involved with these kids and then we sort of needed to have a bit of a bad guy so that Hetty wasn't culpable for mistreating Callen and that's where Pembrook came in and Jere Burns was so great in that role and really brought it to life and then we just figured a way to tie it into our partners," he continued.
Something else that they figured out in the process was the trap door in the interrogation room in the boatshed. "I wrote a scene where we had a trap door that went to the ocean and we thought we were going to have to build a replica of that room, our interrogation room, a few feet off the ground and put what looks like water underneath it to do it. And then somebody said, 'I think there's a tank in that stage.' And sure enough, there's a tank in that stage and we had built over it and we just had to essentially cut a hole in the floor of our set," Gemmill explained.
"And that was so serendipitous that we knew we had to do it because what are the chances there's a tank right under your set of where you wanted to put a trap door into the ocean? I mean, it was uncanny. It still gives me goosebumps now when I think about it," he said. "We just added the weapons thing this last year, so that was a nice edition. And that's cool, that we got to add things every now and every season, add a little bit more to the legend of the show, and we even have an upstairs for the boatshed, which we haven't fully explored."
The word "legend" might make you think of the two-part NCIS backdoor pilot that introduced the Office of Special Projects back in 2009. "I still remember when they were shooting that. I came down to talk to Shane [Brennan]. They were shooting down on the boardwalk or the bike path in Santa Monica. Long time ago," Gemmill recalled.
And with LL Cool J bringing Sam Hanna to NCIS: Hawai'i in Season 3, they'll still, in a way, continue to add to the legend of Los Angeles.