The 54-year-old Kyle Richards and 53-year-old Mauricio Umansky of "Real Housewives of Beverly Hills" were long regarded as having one of the most stable and envied partnerships in the Bravoverse. They distinguished themselves from previous "Housewives" pairings, which frequently involve an older, wealthier, more imposing male and a thinner, blonder woman. They were married since 1996.
But, Richards, a raven-haired beauty and former child star, and Umansky, a suave real estate mogul, seemed to be truly in love.
With their three daughters — Alexia, 27, Sophia 23, and Portia, 15 — as well as Richard's daughter from a previous marriage, Farrah Brittany Aldjufrie, 35, they were a beautiful, relatively down-to-earth clan.
However, the marriage has been the subject of divorce rumors for more than a year, which has left many confused and upset. The breakup appears to be taking place on the most recent season of "RHOBH," which debuted on October 25.
Since at least 2022, when Dana Wiley, a former costar of Kyle's on "Real Housewives of Beverly Hills," claimed that Umansky had an affair with cast member Dorit Kemsley, there has been drama on Rodeo Drive. A "fan theory" concerning the purported fling that was making the rounds on Instagram served as the basis for the unverified report.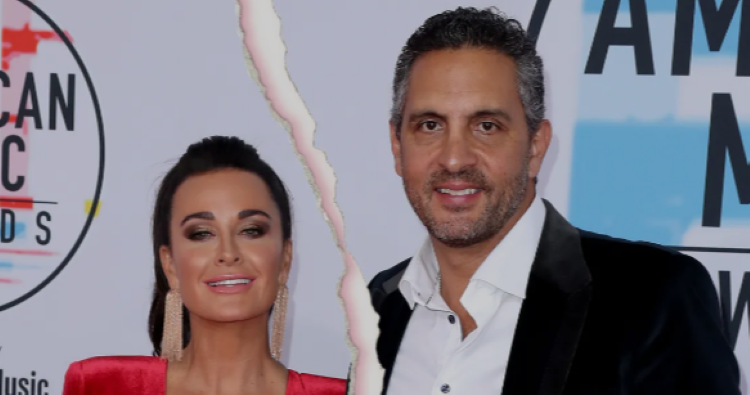 Kemsley quickly shut down the scandal, shading Wiley on Instagram:
"If this is the only way you can make a buck then so be it but at least have some decency and stop trying to peddle false narratives especially when you know there is ZERO truth behind it and your whole motive is to just hurt people for no reason," she wrote.
Then, last February, a glowing Richards revealed she was seven-months sober — and was spotted out and about without her wedding ring. Tongues wagged.
In April, Umansky dismissed the rumors on Teddi Mellencamp Arroyave and Tamra Judge's podcast, "Two T's in a Pod," telling them, "We're not getting divorced."
However, a few months later, a source told "People" that "Kyle and Mauricio have been separated for a while now but are still living under the same roof. They remain amicable as they figure out what's next for them and their family."
The pair quickly denied they were getting divorced — but admitted to troubles — with a joint statement on Instagram.
"In regards to the news that came out about us today … any claims regarding divorcing are untrue. However, yes, we have had a rough year. The most challenging one of our marriage," it read. "But we both love and respect each other tremendously."
In late September, Umansky came clean, telling TMZ, "We are currently separated, we are not talking about divorce and we're trying to deal with this stuff internally with ourselves privately."
Then, last week at BravoCon in Las Vegas, Richards let the "d" word slip on the red carpet.
"I've gone through a lot this last year. That does change you. Losing my best friend to suicide changed me," she said. "Going through my divorce, all that has made me stronger but it definitely changes you as a person. I feel good."
But, later at BravoCon, Richards walked backed her comments, telling Andy Cohen she "misspoke."
"I still consider my marriage to Mauricio a success," the brunette beauty said. "We're still a love story. I love him very much."
The rumors have only increased because to Umansky's strong relationship with Emma Slater, his partner on "Dancing With the Stars." On October 23, after spending three hours together eating sushi, the adorable couple was seen holding hands in photos.
A few days later, Richards—the aunt of Nicky and Paris, as well as the sister of Kathy Hilton—admitted on "Watch What Happens Live" that it was tough to see Umansky and Slater together.
"Yes, that hurt my feelings. I don't know if anything has happened yet, but, obviously, there is something there," she theorized.
Slater and Umansky, who were booted from "DWTS" on October 31, took to Instagram to explain themselves They have a "special bond," they admitted, but "they're not dating."
"When we came out of dinner, we were recapping and I reached out to grab Emma's hand, and she grabbed my hand, and we, you know, walked to the cars just recapping and summarizing and then the paparazzi caught that moment. It's become a blown-out moment," Umansky, who has his own reality show in "Buying Beverly Hills," claimed.
Meanwhile Richards, who co-starred in the original "Halloween" movie, has been linked to a younger woman: Country singer Morgan Wade, 28.
In August, they fanned the flames with Wade's steamy music video, "Fall In Love With Me," which portrays the two flirting in the gym, sharing a bubble bath and almost kissing.
The good friends and travel buddies also have matching "K" tattoos. However, one popular Bravo fan account, @byewighellodrama, isn't so convinced of the sapphic affair. In August, they fanned the flames with Wade's steamy music video, "Fall In Love With Me," which portrays the two flirting in the gym, sharing a bubble bath and almost kissing.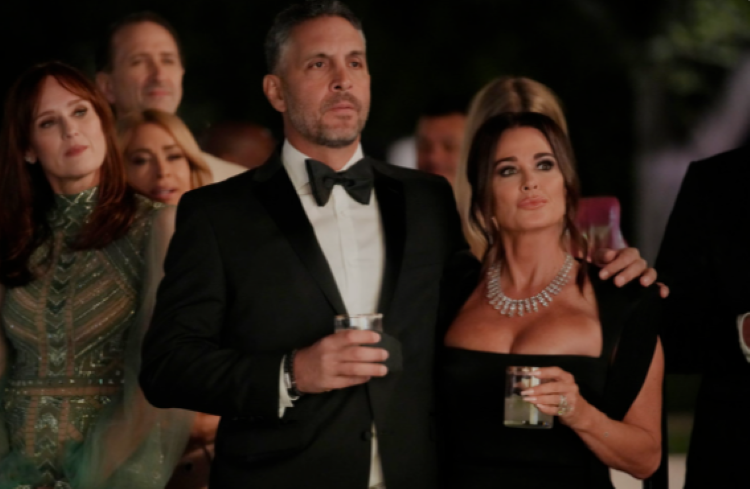 The good friends and travel buddies also have matching "K" tattoos.
However, one popular Bravo fan account, @byewighellodrama, isn't so convinced of the sapphic affair.
"Kyle's relationship with Morgan is up for debate," the anonymous reality TV influencer with 66,000 followers told The Post. "People have been speculating that they are romantically involved since they have been spending so much time together, but I don't know."
Should they divorce, Richards's and Umansky's assets will likely be split 50-50 according to California law. They met in 1994 and never got a prenup.
"My husband and I didn't have two nickels to rub together when we got married, so a prenup was not an option or even talked about," Richards said in 2017 during an appearance on "Watch What Happens Live."
Their fortunes have certainly changed over the years. Umansky presides over The Agency, a high-powered real estate firm that has sold over $5 billion in luxury properties since 2011. The couple's net worth is estimated to be $100 million.
Furthermore, as the only remaining original cast member of RHOBH, Richards is one of the top paid housewives. She's estimated to earn $270,000 per season, on top of her acting work and appearances in RH spinoffs like "The Real Housewives Ultimate Girls Trip" and "The Real Housewives of the North Pole.'
The couple still live together — albeit in separate bedrooms — in a gorgeous 11,000-square-foot mansion in Encino, which was once owned by the singer Smokey Robinson. They purchased it in 2017 for $8.2 million and renovated the sprawling property — including adding a pickleball court.
Additionally, there's a second home in La Quinta, California, which they bought in 2014 for $2.35 million. Located in the Coachella Valley, the desert estate is only a two-hour getaway from Encino.
In September 2022, the savvy couple reportedly scooped up a stunning new vacation home in Aspen, Colorado for $13.6 million, just months after selling their former Aspen abode for $7.75 million.
"Our family is growing, and we simply need more space," the "Little House on the Prairie" star explained in an Instagram Story, adding that she is "never leaving Aspen."
And that's where it looks like Richards and Umansky will spend Christmas, despite the acrimony.
"We'll probably all be together in Aspen," Richards told E! News at BravoCon. "And we did our summer trip together, we were fine."
Indeed, the two, who didn't respond to requests for comment, appeared happy enough in August, when they were photographed on vacation in Italy with their daughters.
"Kyle has made it clear that she and Mauricio are amicable,"said @byewighellodrama. "If there's one thing to know about Kyle and Mauricio it's that they are all about family."