Pluto TV makes it possible to have dinner with the Reagan family whenever you wish. The free streaming platform has a Blue Bloods channel that airs episodes of the long-running CBS police drama 24 hours a day, seven days a week. The platform also has an on-demand channel, where fans can watch a handful of episodes from Season 13.
Pluto TV is a free ad-supported streaming television (FAST) service owned by Paramount Global, which is also CBS' parent company. Since it is ad-supported, Pluto TV is free to consumers. The app, which Paramount Global's predecessor ViacomCBS acquired in October 2020, is available on its own. Pluto TV can also be accessed within Paramount+.
All episodes of Blue Bloods are available through Paramount+ as well. The Essential Paramount+ plan is available for $4.99 per month or $49.99 per year and includes limited commercial interruptions. You can also get the Premium plan for $9.99 per month or $99.99 per year. The Premium plan also includes access to local CBS affiliates, so you could stream Blue Bloods live on Friday nights at 10 p.m. ET without a traditional cable or satellite subscription.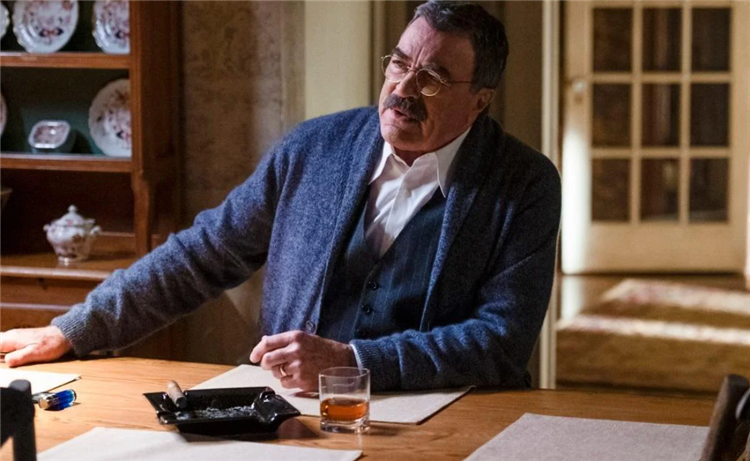 Blue Bloods launched in September 2010 and has been anchoring CBS' Friday night line-up ever since. The series stars Tom Selleck as Commissioner Frank Reagan, the patriarch of a family full of police officers and civil servants. Donnie Wahlberg plays Det. Danny Reagan, Bridget Moynahan plays A.D.A. Erin Reagan, and Will Estes stars as Sgt. Jamie Reagan. Len Cariou plays Frank's father, Retired Commissioner Henry Reagan. Marissa Ramirez plays Danny's partner Det. Maria Baez, while Vanessa Ray plays Jamie's wife, Officer Eddie Janko-Reagan. Robin Green and Mitchell Burgess created the series.
The show was picked up for a 14th season in March, weeks after CBS renewed most of its other shows. Although CBS has a history of renewing Blue Bloods on its own, budget cuts delayed the network's decision this year. After negotiations, the cast reportedly agreed to take pay cuts by as much as 25% to keep the show alive and ensure that the hundreds of production employees keep their jobs. However, it's likely that the Writers Guild of Association's strike could postpone work on Season 14 if it continues.
"Blue Bloods has dominated Friday nights since its premiere and remained an important anchor for CBS' winning lineup," CBS Entertainment President Amy Reisenbach said in March. "Led by the outstanding Tom Selleck and an incredible cast and creative team, viewers continue to embrace the Reagans, their law enforcement family, and the series' dramatic storytelling. We can't wait to pull a chair up to the Reagan family dinner table for another fantastic season."