(GH) Spoilers are ready to get the new week started, and we have plenty of spoilery delights to share to help get things going.
The main topic of the show is interference, as well as a discovery that will generate further problems for a city that doesn't need any more.
We've got the popcorn, so let's get started!
'General Hospital' Spoilers Monday, June 5: Forget free will
As we've seen recently, Spencer Cassadine (Nicholas Chavez) isn't the negative influence on Trina Robinson (Tabyana Ali) her mother thinks he is, and we suspect Portia Robinson (Brook Kerr) will continue ignoring common sense and everyone's advice.
As has become common place lately, her love and desire to protect her daughter will push Portia over the edge, and it looks like she's going to enlist her brother to help her.
"General Hospital" Spoilers think Ezekiel Robinson (Gavin Houston) will stop by Port Charles to visit his sister and see how everything's going, and she won't waste any time in trying to turn him into her weapon against Spencer.
At least, that's how it looks when she'll ask him if he can talk some sense into her. We don't think he'll buy into her line of thinking, but he'll agree to talk to Trina and see where her mind is at.
'General Hospital' Spoilers Monday, June 5: Take a number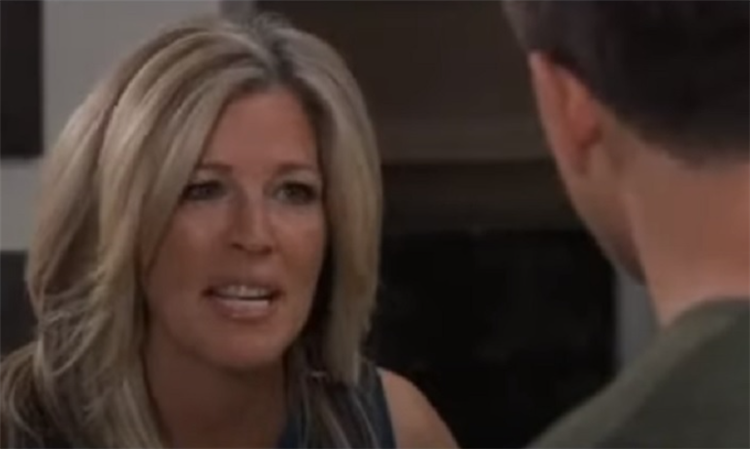 Everything is lining up against Sonny Corinthos (Maurice Benard), but the greatest threat looks like it's going to be Mason Gatlin-Holt (Nathanyael Grey)'s family.
He's going to inform Ava Jerome (Maura West) that her greatest asset to him and his family is her connection to Sonny, and we're excited to see what he expects her to do or find out for him.
It looks like we know who hired the sniper to try to take Sonny out, and now it's just a question of who the new threat really is.
'General Hospital' Spoilers Monday, June 5: Michael redeems Carly
It's been a while and we really missed the Carly Spencer (Laura Wright) that wasn't consumed by blind hate, and now she's going to see what helping nurse that hate in the Cult of Carly has led to as Michael Corinthos (Chad Duell) will continue to press her.
In what could be one of the best scenes of the year, Carly will have enough of Michael and Josslyn Jacks (Eden McCoy)'s games and she'll show Michael what real loyalty means.
Unlike he and Joss being typical spoiled brats and fabricating how horrible a person Sonny is when they didn't get their way, Carly will hold true to the man Sonny was and is.
He's always been there for his family when they needed him, and while they don't like it Nina Reeves (Cynthia Watros) was and is a part of his family. For now.
Will Carly finally get through to Michael or is he a lost cause? Let us know in the comments below and check back with "General Hospital" Spoilers for the latest updates, spoilers, and speculation.