Ned will be pulled to Nina for unexpected reasons during the week of June 26, 2023, and she will act in a supportive manner toward him, according to General Hospital Spoilers For The Next Two Weeks (June 26- July 7, 2023). Trina will attempt to be her mother's sane voice of reason while also dealing with some difficult doubts that will arise. Beginning the following week, on July 3, 2023, Sam and Carly will argue over Drew's choice. Felicia Scorpio will learn something shocking about Martin in the meanwhile. Is there a connection between Nina and the SEC tip-off? To learn more, keep reading TV Season & Spoilers!
Nina Supports Ned, Ava, and Austin Face Some Trouble
Currently, on General Hospital, Ned believes that he is Eddie Maine and feels trapped in Port Charles. He wants to go to Vegas and restart his musical career. During the week of June 26-30, 2023, Ned will bump into Nina and share his feelings about relocating. Nina will try to take advantage of this situation and push him to pursue his dreams by going to Vegas. However, Sonny will make an intervention and try to keep Ned in Port Charles by offering to work with him on a new album. While also offering him a place to crash in for the night. Will Sonny manage to convince Ned to stay back?
General Hospital spoilers tease that in the upcoming episodes, Ava and Austin will receive a startling message which will leave Ava panicking. It could very well be a warning or a threat from Austin and Mason's lady boss. Following the message, Austin will end up making a rather dangerous move, which might make matters worse for them. However, he will have no regrets over his acts. What could these actions be? Stay tuned to General Hospital to find out!
Trina Gives Portia A Reality Check, Trina Voices Her Fears Over Her Future With Spencer
Curtis' kiss with Jordan has certainly not gone down well with Portia. Despite her own betrayal and secret keeping on General Hospital, she is having trouble coming to terms with what Curtis did behind her back. However, Trina will try to show her mother the light during the week of June 26-30, 2023. She will remind Portia that Curtis has already forgiven her for the mistakes she made, so it's only fair that she does the same. Meanwhile, Curtis will connect the dots and realize that Jordan must've told Zeke the truth after a steamy night with him. How will Curtis react to this realization?
Elsewhere, Trina and Spencer will struggle to get some cozy time with each other on General Hospital. Spencer's responsibilities towards Ace will keep coming in between their time together. This will leave Trina a little irate. Later, she will confess to Joss that she isn't sure how long she can have a relationship with Spencer with Ace and Esme constantly in the picture. Is this the first sign of an upcoming storm in Spencer and Trina's relationship?
Carly and Sam Have A Conflict, Felecia Makes A Discovery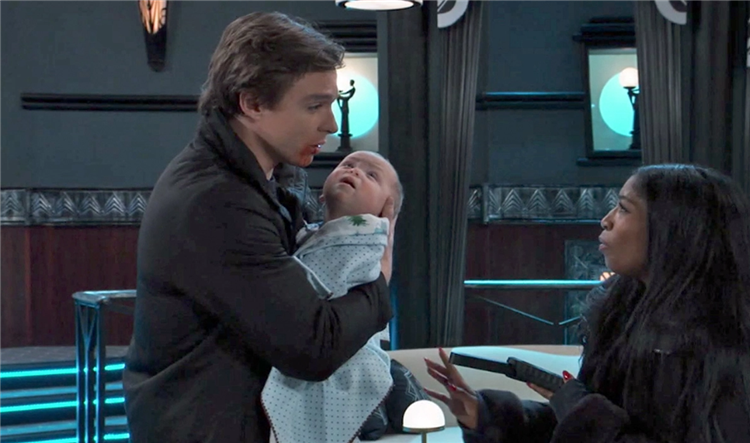 Drew's disastrous sentencing will lead to another tense conversation between Carly and Sam on General Hospital during the week of July 3-7, 2023. When Drew confessed to insider trading in court, he was hoping to get a six months sentence at Spring Ridge as part of the deal Zeke managed to secure for him. However, the judge threw the deal out and awarded him a harsh three years in Pentonville instead. Of course, Sam understands that she can't blame Carly for Drew's decisions, but that won't make it any easier for her to accept the reality. Thus, be prepared for some really heart-wrenching goodbyes in the coming week. It will be especially tough on little Scout.
Later in the week, Felicia will make a startling discovery while looking into Martin's finances on General Hospital. Will she uncover something that links Nina to him? Specifically, in the SEC tip-off matter? Or could it be something entirely different? Find out only on General Hospital. We would also like to bring to your notice that no fresh episode will air on July 4, 2023. But viewers can still tune in to ABC to watch an encore of Epiphany's farewell episode.
Cody Aches To Confess, Molly Opens Up To Kristina
Elsewhere in Port Charles, Cody will struggle with keeping secrets from Sasha on General Hospital. He will constantly feel like he needs to give her a full disclosure about everything he knows about Gladys. But Selena will press him to keep his lips sealed as she does not want anything or anyone to create any troubles for her business. But will Cody really remain under Selena's thumb? Or will his feelings for Sasha make him come clean eventually? Speaking of feelings, there might be some flying between Liz and Finn all over again. Moreover, Randy Randolph might end up giving Finn a necessary nudge toward Liz too!
General Hospital teasers indicate that Molly will finally discuss her medical issues during the week of July 3–7, 2023. She will talk to Kristina about something private as the two sisters share their hearts. Other spoilers hint that Kristina may present Molly with a solution when she confesses how desperately she wants a child despite her fertility problems. It's possible that Kristina will offer to carry Molly's child! Do you believe Molly will accept the offer if this occurs? In the comments, please. Watch General Hospital in the interim to learn the solution!