When it comes to Trina and Spencer, Taggert tells Portia to keep out of it! …Despite their long-ago breakup, parents Portia Robinson (Brook Kerr) and Marcus Taggert (Réal Andrews) are still actively involved in their children's lives. Each of them has continued to play a significant role in Trina Robinson's (Tabyana Ali) life. Simply put, they continue to worry about the decisions their daughter makes and want the best for her.
Over in Greenland, Trina and Spencer Cassadine (Nicholas Alexander Chavez) have a happy reunion. Meanwhile, back home in Port Charles, Trina's mother awaits her own reunion with Trina. Recent General Hospital recaps recall the sensitive nature of Portia and Trina's current relationship. After having betrayed her family, Portia's lies brought forth consequences. Prior to the tragic events on the Haunted Star, relationship with Trina showed signs of strain.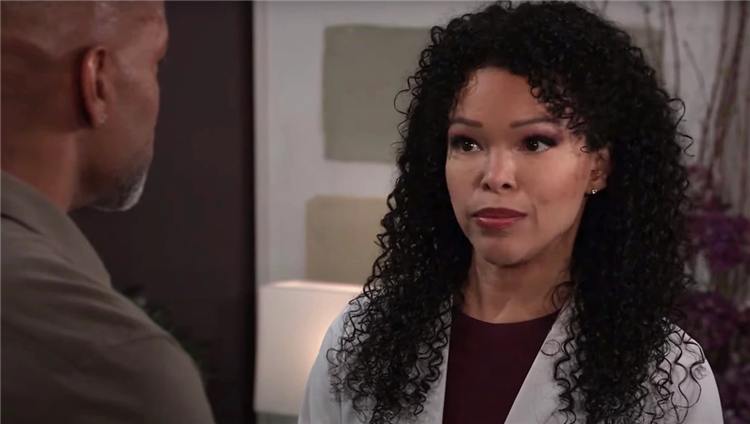 According to General Hospital news reports, Réal Andrews returns to GH as Trina's father, Marcus Taggert. Despite Portia's paternity drama, Taggert raised Trina and will always be her father. Although it's possible that Curtis Ashford (Donnell Turner) is Trina's biological father, that won't stop Taggert from fulfilling his fatherly duties. Thankfully, both Taggert and Curtis love Trina and will do anything to keep her safe.
General Hospital spoilers and previews tease that Portia and Trina's reunion is filled with gratitude for her safe return. However, GH rumors say that their relationship is still on thin ice. Despite almost losing each other, tension between the mother daughter duo could creep back into play if Portia says her piece about Spencer. General Hospital spoilers indicate that when it comes to Trina and Spencer, Taggert warns Portia to stay out of it. In addition, he reminds Portia that putting the blame on Spencer isn't a great idea. If she wants to keep Trina close, telling her adult daughter who she can and cannot see isn't going to fly with this obviously capable and independent young woman. Will Portia take Taggert's advice? Or will she push her limits with Trina during this rocky period in their relationship?