GH spoilers for May 23, 2023, have Sonny insisting that Nina marry him.
General Hospital spoilers reveal old romantic moments, fighting words, family feuds, and so much more. You won't want to miss a moment of this emotional new episode.
General Hospital Spoilers Highlights
Sonny (Maurice Benard) is in love with Nina (Cynthia Watros) and finally realizes it's now or never. He wants to spend the rest of his life with her so he takes the plunge and asks her to marry him. He doesn't want her excluded from his family, so he wants her to be a part of his family. Nina is stunned but also not sure if her SEC secret might come back to haunt her so she is hesitant to say yes.
However, Sonny doesn't want to take no for an answer and lays out every reason why Nina should become his wife. Will his heartfelt and romantic words get her to give in while a big secret is still hanging over them? Will Sonny even care about her big secret when he learns Michael's (Chad Duell) big secret?
At least Carly (Laura Wright) doesn't suspect Nina at all. Instead, she informs Olivia (Lisa LoCicero) about her plan to go after Tracy (Jane Elliot) and make Olivia's mother-in-law look bad. Olivia, ever the not-so-loyal Quartermaine, doesn't seem to care.
GH Spoilers: Tracy Has Other Fish To Fry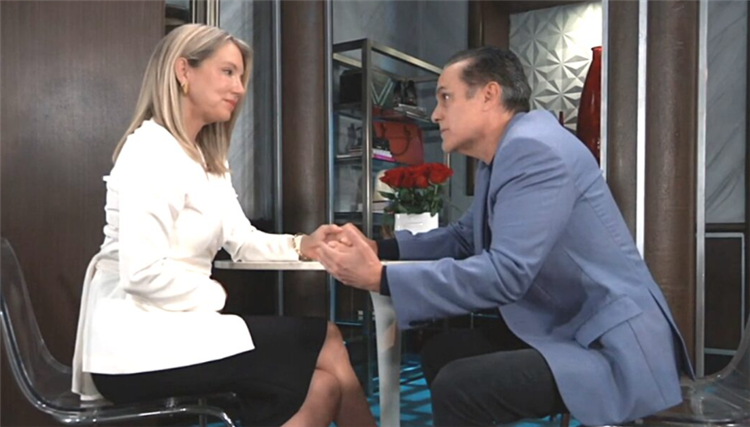 After his lunch with Tracy, Chase (Josh Swickard) finally realizes he either has to cut Brook Lynn (Amanda Setton) loose or re-evaluate how he has been treating her. He still loves her, but he is a stubborn and prideful man and didn't want to admit that he can forgive people if they do the wrong things for the right reasons.
To that end, Chase makes a romantic gesture toward Brook Lynn and she is thrilled. However, she is also apprehensive and wonders how Chase will feel if he learns that she had Tracy use her connections to get him that second civilian review board hearing. Brook Lynn later asks her grandmother why she just couldn't mind her own business.
General Hospital Spoilers: Best Friends And Enemies Reunite
Josslyn (Eden McCoy) and Trina (Tabyana Ali) finally get together after not seeing one another after the Nurses Ball. Josslyn is grateful to have Trina back and learns all about the terror in Greenland, as well as how much things have progressed between Spencer (Nicholas Alexander Chavez) and Trina.
Joss and Dex (Evan Hofer) have taken their relationship public — and now take it into the sauna. Spencer doesn't like what he sees at the boxing gym one bit and picks yet another fight with Dex. Will Trina be able to rein her man in?