Leo turns Eddie into Ned again!?!? GH Shocker! Ned ends Eddie Maine charade?!
…Say what you will about Mama Q., aka, Olivia Falconeri Quartermaine (Lisa LoCicero), but she's passionate about her family! Especially her children. Past and present, Olivia gets a bad rap for her emotional reactions to life's hiccups. But no one worries more than an Italian mother. Ok, maybe an Italian mother from Bensonhurst! Undoubtedly, family comes first and she'll do anything to protect her loved ones.
Olivia is currently going crazy over Ned Ashton's (Wally Kurth) encounter with 90s nostalgia. Leo (Easton Rocket Sweda), Ned's adopted son, is the one who suffers the most. After the passing of Leo's biological father, Julian Jerome (William deVry), Ned reportedly formally adopted Leo. Sadly, when Leo was just a baby, his father was murdered by a mob. Leo was too little to remember losing his father, which was tragic. Sadly, that's not the situation right now. Leo is now old enough to experience this loss on an emotional level. Eddie Maine isn't exactly a suitable parent, despite the fact that Ned is present in person.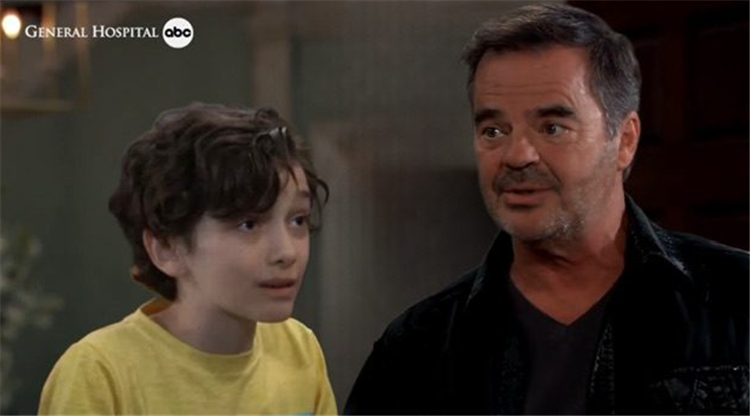 According to General Hospital spoilers, parenting just got a lot more difficult for Olivia. Not only does she suddenly have the responsibility of a single mom, she has to watch her son grieve for a man who is right there. Further, she does this while grieving for Ned herself! Ned's identity crisis affects the entire family, especially their son Leo. Understandably, he's acting out because he's struggling with Eddie Maine replacing his father.
Meanwhile, GH spoilers and rumors tease that Olivia and Ned's son might be the key to unlocking Ned's emergence. If GH rumors are true, and Ned is truly faking, GH fans speculate Leo does a number on Eddie Maine. How can anyone knowingly hurt that sweet child? Exactly, they can't. Or they'd have to be a total psychopath, and Ned is not.
Recent GH spoilers and rumors tease that Eddie won't be pulling on his guitar strings when Leo pulls on Ned's heart strings.