Sonny is led to Nina by Drew. …Nearly all of us may claim to have experienced being falsely accused. On the other hand, how many of us are willing to acknowledge that we have falsely accused someone while ignoring the true offender? Even though it's not always simple to admit when we've made a serious error, Drew Cain (Cameron Mathison) steps up to the plate.
There's so much drama going on in Port Charles right now. As GH recaps recall, Drew returned to port Charles fresh from a rescue mission. And it wasn't just any rescue, but an epic victory in many ways. By helping stop Victor Cassadine (Charles Shaughnessy), the rescue crew saved the world. Most importantly, the rescue also brought Dr. Liesl Obrecht (Kathleen Gati) home so that she can help save Willow Tait's (Katelyn MacMullen) life. As if Willow's situation wasn't enough to keep her family's focus, an unfortunate situation weighs on her loved ones. Carly Corinthos Spencer (Laura Wright) and Drew Cain are under investigation for insider trading.
Drew Leads Sonny to Nina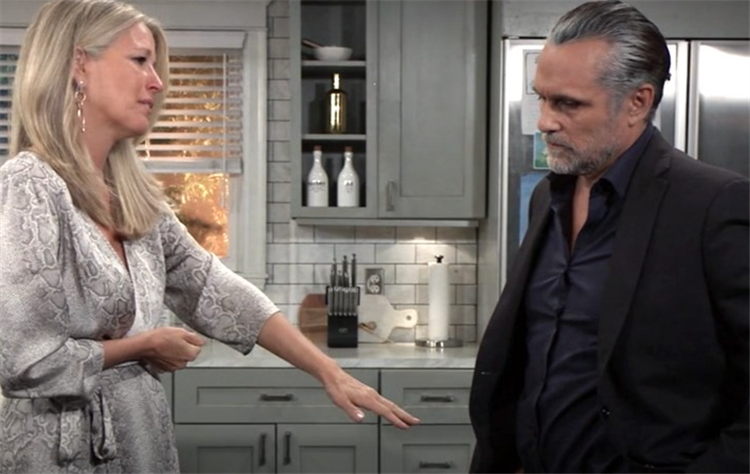 According to General Hospital spoilers, Drew has a revelation. Despite t he fact that he laid into Ned Ashton (Wally Kurth) and accused him of turning him and Carly in, Drew stops to think about things. General Hospital previews and spoilers indicate that things don't quite add up when trying to justify putting the blame on Ned. First of all, the timing was way off. Ned is a cutthroat business man, but he also values family. It's unlikely that he'd turn in the mother of the groom. Even Ned's ELQ dedication wouldn't drive him to spoiler Michael's (Chad Duell) wedding to his dying fiancé. Secondly, Drew wasn't even in town when the sh!t hit the fan. The latest GH spoilers and rumors tease that Drew stops and thinks about the situation at hand and how Ned's involvement makes no sense. As Nina Reeves (Xynthia Watros) continues to weasel her way into Willow's life, she still holds onto her secret. But according to GH rumors, Drew's suspicions lead Sonny to Nina!
Will Sonny be the one to figure out Nina turned Carly and Drew into the SEC?!