Michael Corinthos (Chad Duell) will present Sonny Corinthos (Maurice Benard) with a peace offering, according to General Hospital (GH) teasers for the two weeks from May 15 to May 22. Sonny will unquestionably be surprised when Michael offers a truce over the week of May 15–19.
Meanwhile, Josslyn Jacks (Eden McCoy) will flip out at the thought of Dex Heller (Evan Hofer) vanishing forever.
Although Dex will insist he has to start a new life elsewhere, Josslyn will vow to go with him.
Since Dex won't want Josslyn bailing on all the people she loves, it looks like she'll settle on a risky alternative.
Josslyn will approach Sonny with a special request, so will she ask if Dex can quit the mob?
Maybe Josslyn will remind Sonny of all the losses she's faced and argue that she can't lose Dex, too.
Josslyn might hope she can convince Sonny to let Dex quit before it's too late.
Of course, that could raise Sonny's suspicions, especially considering the timing of Michael's truce.
There's the potential for the wheels to start turning, so we'll see how things play out.
Meanwhile, Sasha Gilmore (Sofia Mattsson) will hope for a better outcome when she goes live on the Home and Heart Channel.
Haven de Havilland (Morgan Fairchild) will object to working with Sasha since she was such a trainwreck last time, but she'll ultimately cave in.
Although there'll be some nerve-wracking moments during Sasha's presentation, it looks like Cody Bell (Josh Kelly) will somehow come to her rescue.
Cody might call in as a fake customer and try to put Sasha at ease.
Next, Robert Scorpio (Tristan Rogers) will wrestle with whether he should choose Holly Sutton (Emma Samms) or Diane Miller (Carolyn Hennesy), but Holly might choose for him if she decides to leave for Australia and meet up with Ethan Lovett (James Ryan).
As for Trina Robinson (Tabyana Ali), she'll move forward with the DNA test and eventually face the moment of truth.
Is Curtis Ashford (Donnell Turner) really Trina's biological father or has all this drama been for nothing?
The week of May 22-26 will bring Kate Mansi's debut as a Kristina Corinthos-Davis recast, so look for her to share scenes with Sam McCall (Kelly Monaco) right off the bat.
Kristina and Sam will have an honest discussion, so they might open up about their worries regarding Molly Lansing-Davis (temporarily played by Holiday Mia Kriegel).
Molly will have a rough time as she deals with her endometriosis diagnosis and the possibility that she won't be able to get pregnant.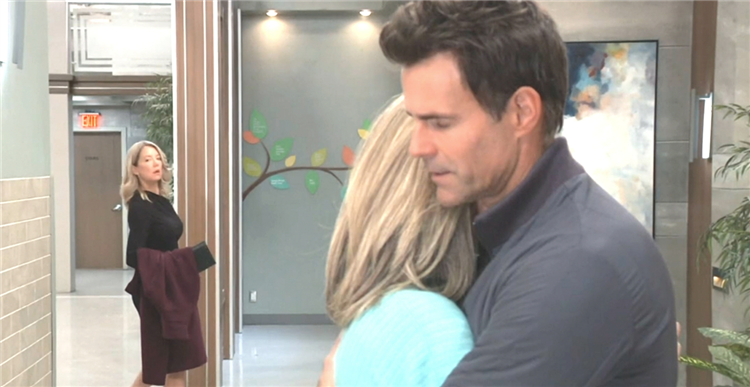 TJ Ashford (Tajh Bellow) will sense that Molly's shutting him out, so he'll do his best to break down her walls and get her to lean on him.
Over with Harrison Chase (Josh Swickard), he'll go out to lunch with Tracy Quartermaine (Jane Elliot) like she recently requested.
That could lead to Tracy giving Chase a push back in Brook Lynn Quartermaine's (Amanda Setton) direction.
GH spoilers say Chase will pull off a grand gesture of some sort, so it looks like Brook Lynn will be surprised by his romantic move.
This could lead to Brook Lynn and Chase getting back together, but more trouble could be brewing since Brook Lynn has even more secrets to juggle – like having Tracy pull strings for Chase's badge and spying at Deception.
After Willow Corinthos (Katelyn MacMullen) has her bone marrow transplant, her loved ones will hope for the best and try to lift her up in support.
Willow is quite weak, but she's also a survivor like Liesl Obrecht (Kathleen Gati) pointed out!
Next, Ned Quartermaine (Wally Kurth) will beg Olivia Quartermaine (Lisa LoCicero) to believe his hands are clean in the SEC mess.
No matter what Olivia believes, Drew Cain (Cameron Mathison) will settle on a new suspect.
Will Drew get a clue that Nina Reeves (Cynthia Watros) was involved or find someone else to wrongfully accuse?
Nina could face some bad news if Drew's hunch points toward her and he gets evidence to back it up.
Carly Spencer (Laura Wright) should find out about Drew's suspicions sooner or later, so that could lead to major hostility with Nina.
Until then, Nina will end up getting into a fight with Diane, so it sounds like Nina could create more problems for herself.
Spencer Cassadine (Nicholas Chavez) will also launch some conflict, so could he drive Esme Prince (Avery Pohl) out of Laura Collins' (Genie Francis) home with Ace Cassadine (Jay and Joey Clay)?
General Hospital spoilers say Esme could reevaluate her living arrangements at some point, so stick with us for updates on her future.