General Hospital spoilers reveal daring adventures, nervous sons, Quartermaine antics, and so much more. You won't want to miss a moment of this action-packed new episode.
General Hospital Spoilers Highlights
Spencer (Nicholas Alexander Chavez) did everything he could to distract the guards so Curtis (Donnell Turner) could make it to Trina's (Tabyana Ali) room and break her free, but all that did was get him beaten to a pulp.
While Curtis brawls with Victor's goons and seems to be on the winning side, Trina runs to her boyfriend and begs him to wake up. Unfortunately, Spencer is in pretty bad shape and is out cold. A worried Trina doesn't know what to do and blames herself for what happened to Spencer.
Elsewhere on the island, Laura (Genie Francis) remains one determined grandma. While Carly (Laura Wright) and Nina (Cynthia Watros) fight it out over their grandchildren with relatively petty grievances in Port Charles, warrior Laura gets into the thick of things in Greenland in her quest to rescue her grandsons from madman Victor (Charles Shaughnessy).
Will Drew (Cameron Mathison) manage to do anything to help her and make her life easier or does Laura have to go about this all on her own? She has been battling the Cassadines for decades and is not about to stop now.
GH Spoilers: Willow Is Down For The Count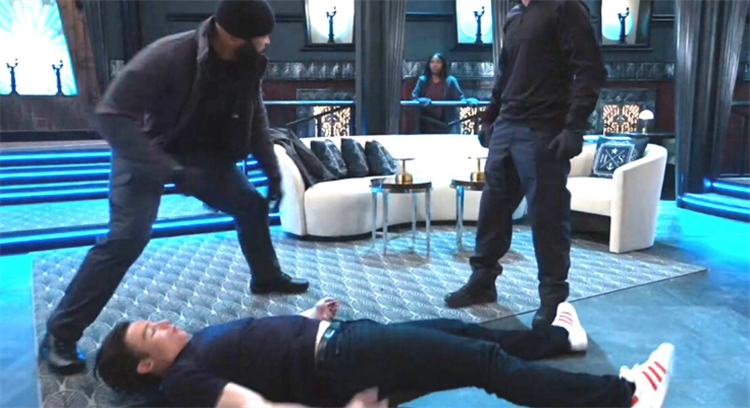 For a newlywed, Michael (Chad Duell) has a lot on his mind. The SEC is looking into his mother on a federal level for a real offense he committed. And now he is aware of the true nature of the parent he is attempting to bring down. Sonny (Maurice Benard) managed to get himself into a sticky situation with explosive trafficking.
All of that pales in comparison to Willow (Katelyn MacMullen), who immediately passed out after he revealed to her what he had been doing with Dex (Evan Hofer). Michael is in a panic over what he has done as a result of this. Could this be Willow's demise before the rescue team was able to return Liesl (Kathleen Gati) to her home?
General Hospital Spoilers: Nina Is A Hot Mess Wreck
Nina (Cynthia Watros) did her best to call off Martin, but the SEC had already gotten their tip and hauled Carly (Laura Wright) in for questioning. Nina knows she can't keep what she did a secret for long and worries that Ava (Maura West) was right. What if she loses both Sonny and Willow? And what if the SEC makes it to Greenland to nab Drew before he can rescue Liesl? While that seems unlikely and far-fetched, that is still a fear.
To that end, Nina confides in Ava, who probably wants to tell her friend, 'I told you so.' Will she be kind enough not to rub it in and be the listening ear Nina needs?