When an actor gets the rare opportunity to lead two hit TV series, it provides the tempting opportunity to gives fans a good old shot of nostalgia. When Don Johnson found a second successful TV run with "Nash Bridges," his "Miami Vice" co-star Philip Michael Thomas popped in for a couple of episodes. Heather Locklear similarly appeared in two episodes of "Boston Legal," the show that gave yet another successful chapter to the storied career of William Shatner, her "T.J. Hooker" co-star.
Tom Selleck stands among TV's most familiar faces, having led "Magnum P.I." as private investigator Thomas Magnum from 1980 to 1988 and nabbing another long-running gig on "Blue Bloods" in 2010. In the latter series, Selleck stars as Frank Reagan, the New York City police commissioner and patriarch of a family of cops and civil servants. The police procedural provides plenty of storylines to work in Selleck's old "Magnum" co-stars, and Larry Manetti — who played bartender and Magnum ally Orville "Rick" Wright — did appear in the 18th episode of the 13th season of "Blue Bloods." The reason for the wait, according to Manetti, was Selleck himself.
"Tom did not want to put me on the show because he thought it would confuse the audience because of 'Magnum,'" Manetti told TV Insider. A little over a year before Manetti would actually appear on the show, however, Selleck told producers to find a way to work his co-star in. Manetti explained that executive producer Kevin Wade was recuperating from a medical issue when he worked his way through some of Manetti's work and had an idea for the guest appearance. But there was still one stipulation.
Tom Selleck and Larry Manetti don't share any scenes in their Blue Bloods episode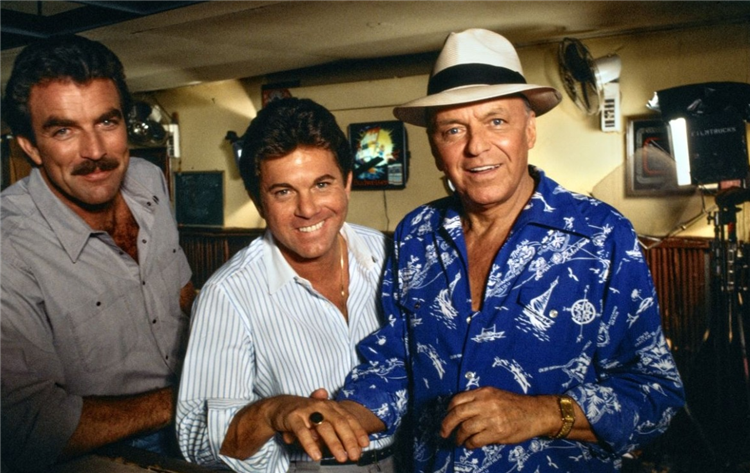 Tom Selleck and Larry Manetti may have reunited on "Blue Bloods" for the first time in decades, but they don't actually share any scenes. Manetti stars as Sam Velucci, a grandfather hellbent on revenge after losing his granddaughter to a fentanyl overdose. It's one of the main stories of the episode, but Velucci mainly deals with Eddie Janko-Reagan (Vanessa Ray), who catches him before he can do something he may regret. Manetti said Selleck wanted their scenes kept separate so as not to confuse the audience with such an obvious wink to "Magnum P.I."
"He thought it might confuse the audience because of our relationship on 'Magnum P.I.' But we've been friends for close to 45 years so we went out to dinner together with my wife Nancy every night for the week I was in New York," Manetti told TV Insider.  The two first worked together a few years before "Magnum P.I." when they both appeared on "The Rockford Files" in 1979, and they've been friends ever since.
"I first met Tom when we were cast on the same episode of James Garner's show 'The Rockford Files' in 1978. Tom's character beat me up at the end of the show. Tom and I are like brothers, we speak once a week," the actor said.