One of General Hospital's most exciting stories is now under progress. Using Mikkos Cassadine's weather machine, Victor Cassadine is about to unleash a devastating disease. 80% of the world's population could be wiped off by this deadly bioweapon! Victor's palm still held the pitiful 20 in the middle. However, Laura and her group are devoted to foiling Victor's evil schemes. The most recent spoilers hint that Laura will have a "spirited" encounter with someone from her past while fighting to defeat Victor. To learn more, keep reading TV Season & Spoilers!
The Curious Case of The Cassadine Curses
Okay, so, no, The Casaadines are not the cursed party on General Hospital. However, a key member of the Cassadine Clan, Helena Cassadine, loved hurling curses! Perhaps just as much as Victor loved kidnapping people! In one of the recent episodes, Laura opened up to Curtis about one such curse Helena had put on The Haunted Star! Which also brings back the memories of Helena putting a curse on Luke and Laura after she held them responsible for the death of her husband, Mikkos Cassadine!
Laura expressed her concerns over the curse on The Haunted Star. However, Curtis assured her that if any such curse existed, they would break it on General Hospital. The latest spoilers tease that Laura will encounter someone from her past, and the two of them will have a massive showdown. Do you see how those dots are connecting? We know that actress Constance Towers (Helena) shot for a few episodes recently. Thus, it seems safe to assume that this blast from Laura's past is none other than, Helena Cassadine!
Laura Battles Helena To Break The Curse On General Hospital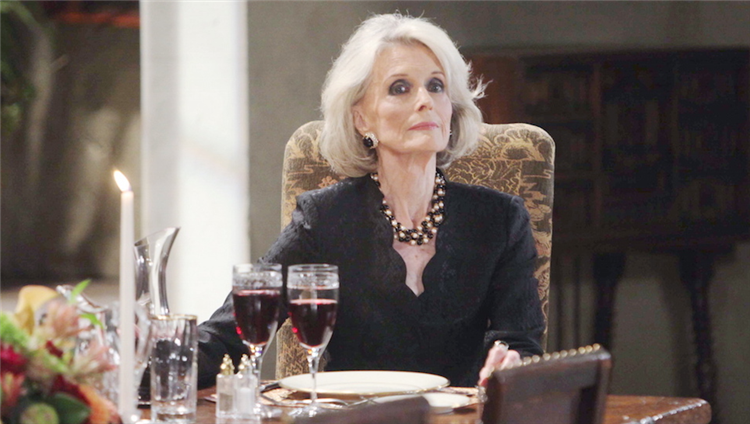 "Oh! but, Helena is dead," you would ask! Well, yes, she is! But when has death ever stopped anyone from coming back on a soap? In fact, it's probably one of the most fascinating aspects of the show. That even something as permanent as death is so temporary in the Soap Universe! However, the General Hospital spoilers tease that Helena won't be back alive in the flesh! In fact, Laura will stumble upon Helena's spirit on The Haunted Star!
The rumors also hint that Laura and Helena's ghost would engage in a fierce battle on General Hospital. This would be a classic good against evil conflict. And, of course, in the end, good will triumph! We can therefore predict that Laura will triumph over Helena and be able to lift The Haunted Star's curse. This would ultimately prove to be a turning moment in the overall conflict with Victor. The advantage will go to Laura's team thanks to her triumph over Helena. To see it all unfold on television, tune in to future episodes of General Hospital! You wouldn't want to miss a single second of the approaching thrill, we can promise you of that!