The GH recap for June 1, 2023, have Valentin and Laura embarking on a new international adventure.
The General Hospital recap features Valentin Cassadine offering to help Laura with an important mission.
General Hospital Recap Highlights
In this episode, Valentin and Laura decided to continue their new partnership as international explorers while Anna got herself out of some treason charges. At the pool, Spencer and Dex played nicely with one another, pleasing Trina and Josslyn. Curtis and Stella had it out over her keeping a secret and skipping his wedding. Finally, Portia asked Jordan for a favor and then dropped a bomb. Now, let's dig a little deeper into the details.
General Hospital: Valentin Cassadine Takes A Redemption Step
Valentin (James Patrick Stuart) arrived at Laura's (Genie Francis) place and told her all about Anna's (Finola Hughes) arrest. He managed to learn that Victor had given a classified copy of her file to the media to try to smear Anna and ruin her life from the grave. When that conversation ended, Laura gave Valentin a necklace Victor left for Charlotte with the Cassadine crest on it. While they both wanted to throw it in the harbor, Valentin was still determined to repair the Cassadine image.
The subject then turned to the property Victor left Nikolas (in care of Spencer) in Chechnya. Valentin knew the property well and was surprised that Laura thought Victor hid Nikolas there after Valentin shot him and he fell out a window. Valentin made sure to tell Laura that it was in self-defense, but Laura still didn't believe that story.
General Hospital Recap: Valentin Cassadine Makes An Offer
At least they allowed bygones to be bygones so they could talk about the matter at hand — is Nikolas there now? Laura was determined to find her son and bring him home, even if he was in Chechnya. As soon as Laura announced she was headed to that property, Valentin offered to go with her. Perhaps he wants to make amends for shooting her son back in 2016.
Anna remained in WSB custody and learned her WSB file made the front page of a tabloid. The agent asked her who would have blown her cover. Soon, Martin (Michael E. Knight) arrived as Anna's lawyer, and she learned she was being charged with treason. Once alone, Anna told Martin the WSB has known for years that she was once a double agent with the DVX. Martin pointed out that now the public knows, so the WSB has to do something about it.
After much arguing, Anna finally agreed to let Martin represent her. The WSB agent explained that she had to be responsible for her crimes now that they were all public knowledge, so an angry Anna vowed to bring the bureau down with her after Robert (Tristan Rogers) was threatened.
Anna said she knew where the bodies were buried, so to speak, and would leak it to the press. The agent agreed not to go after people close to Anna, and she realized right then and there that the charges would be dropped. Instead, she knew that she would have to resign from the WSB for good.
GH Recap: It's Summertime In Port Charles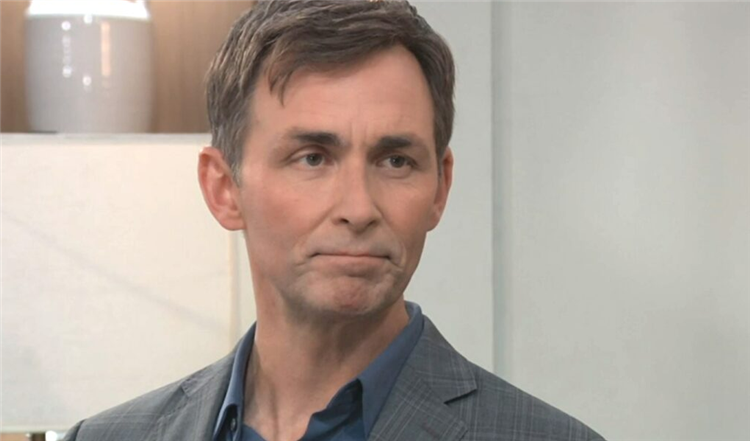 The Metro Court pool was open for business once again, and Josslyn (Eden McCoy), Trina (Tabyana Ali), Dex (Evan Hofer), and Spencer (Nicholas Alexander Chavez) were ready to soak up the sun as soon as possible. Joss and Dex couldn't wait to show some PDA, while Spencer wished Cameron (William Lipton) was there instead of Dex. Trina pointed out that Dex is important to Joss, so Trina just wanted everyone to get along. Surprisingly, Spencer was able to fake it well when Dex tried to be nice to him.
Spencer complained to Trina that he had to spend time with Dex, so she warned her boyfriend not to punch Dex again so he wouldn't lose his chance of getting custody of Ace. Trina also felt Joss just deserved some happiness with Dex and this prompted Spencer to apologize for starting a fight in the sauna. The girls were then thrilled when Spencer accepted Dex's offer to teach him how to block in a fistfight.
When Joss and Dex got some time alone, she told him all about trying to convince Carly to turn on Sonny to get out of her SEC mess. Carly might have refused, but Josslyn was not giving up. In fact, she was willing to do the job for Carly and just use the Pikeman shipment video. In Josslyn's mind, Dex could be free of Sonny (Maurice Benard), and Carly could be free of all charges.
During Spencer and Trina's time alone, they talked about the paternity test results. While she didn't regret taking the DNA test, she wishes that things could just go back to being the way they were. She also asked about Victor's will reading and was so intrigued by the key that Victor left Spencer that she insisted they go to the bank and open the safe deposit box right away.
General Hospital Recap: Ashford Family Problems
Portia (Brook Kerr) and Curtis (Donnell Turner) were living together again, but everything seemed awkward in the morning, especially since Curtis was sleeping in the guest bedroom. When the pair tried to talk, Stella (Vernee Watson) showed up at the door to discuss the paternity test results. Stella asked to speak to Curtis alone, so Portia left.
Unfortunately for Stella, Curtis first made her explain why she didn't tell him the truth about Trina as soon as she knew. Stella just didn't feel that it was her place to interfere. Stella realized she was wrong and apologized for keeping quiet when she should have spoken up.
Jordan (Tanisha Harper) and TJ (Tajh Bellow) met up at the hospital, and Jordan could tell something was very wrong with her son. TJ told her all about Molly's (Holiday Mia Kriegel) fertility issues. TJ was devasted that Molly spent the night at her mother's house, but she soon appeared by TJ and Jordan's side and wanted to talk to her domestic partner. Jordan left them alone so that both Molly and TJ could apologize to one another and forgive. Molly was even open to the possibility of having a baby in a non-traditional way.
Portia was the next person to meet with Jordan as she informed her that the DNA test results showed that Curtis is Trina's biological dad. Portia was worried about Taggert and hoped that Jordan could be there for him. Jordan just wanted to know how Curtis was, and that's when Portia mentioned that Curtis had moved back in with her. Poor Jordan was devastated to hear the news after that kiss with Curtis at The Savoy.