The GH recap for July 5, 2023, has Willow with a request for Nina.
The General Hospital recap features Willow taking a big step with Nina.
General Hospital Recap Highlights
In this episode, Willow asked to see a very surprised Nina while Michael tried to be supportive. Carly gave Sam a surprise as they continued their friendly chat. Lucy started hurling accusations but so did Tracy when she asked Diane to be her lawyer. Finally, Felicia searched through Marty's Metro Court room and discovered something that ties back to a sleepy little Pennsylvania town many of us should be familiar with. Now, let's dig a little deeper into the details.
General Hospital Recap: Weeping Willow Makes Nina Weep
Michael (Chad Duell) was surprised when Willow (Katelyn MacMullen) told him that she wanted Nina to be part of her visiting bubble of friends and family once she was home. She explained that she had been thinking a lot about forgiveness during her time in isolation. She felt she should share her miracle with people who deserve it like Carly (Laura Wright) and also with people who don't deserve it like Nina (Cynthia Reeves).
Willow apparently neglected the fact that Nina delivered the miracle in the form of Aunt Liesl (Kathleen Gati) while Carly kept her family away from her for nearly a year so she almost never got her miracle. Still, she was ready to try to show some sort of grace and forgiveness and didn't want to waste any more time in her life feeling so angry. She even thanked her nurse for getting her to see the world wasn't all about her.
Nina was happy to think about Willow going home soon but was still heartbroken to not be a part of her life. Sonny (Maurice Benard) tried to be optimistic but it didn't do much good. He pointed out the obvious — that Nina gave Willow the gift of life twice, especially most recently with Liesl's bone marrow. Michael disrupted their talk with the news that Willow was given the all-clear but she needed to see Nina before heading home.
Sonny brought Nina to the hospital to see her daughter but Nina got cold feet. She didn't bother mentioning some of it was caused by knowing she was the one who turned in Carly and Drew (Cameron Mathison) to the SEC. Still, Sonny and Willow's kind nurse managed to get her to enter Willow's room so mother and daughter could talk.
The conversation was awkward at first, but when Nina asked what she could do to help, Willow told her that she'd like her to help by visiting once she was home. Willow explained her bubble of friends situation and Nina was overwhelmed with the idea that Willow wanted to include her in it. Still, Willow made it clear that she wanted Nina to be nice to Carly. Nina promised that she would make peace.
GH Recap: Carly's Financial Plight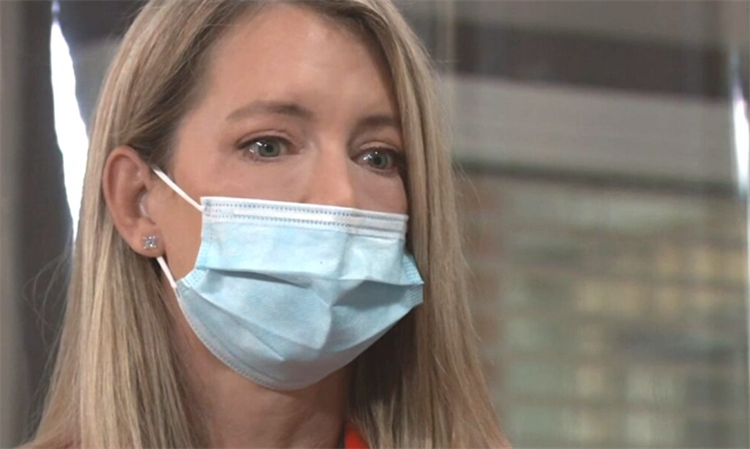 As former enemies Carly and Sam (Kelly Monaco) spent more odd bonding time together, Carly announced she was going to sell her house but Sam pointed out it's a home and tried to talk her out of it. She also worried that Drew would be sad when he eventually found out. Plus, Donna is very important and loves her house, so how can Carly leave her house behind?
Carly pointed out that Sam had some good points as she talked about all her good family memories through the years, but she felt she didn't have a choice but to sell, take the cash, and move on. Sam still wanted Carly to think this through more, but she decided a new home would help create a new version of herself. However, Diane (Carolyn Hennesy) soon showed up and had an idea to help Carly financially that would not involve selling her house.
General Hospital Recap: Deceit At Deception
Earlier, Tracy (Jane Elliot) and Diane met at the Metro Court pool where Tracy handed Diane a check as a legal retainer. Tracy believes the idea for The Deceptor was stolen by Deception and was ready to sue. She also couldn't stop staring at Martin (Michael E. Knight), who was there to take in some rays while wearing a suit. Diane just wanted to know how she got all this confidential info from Deception. Tracy refused to answer that and instead accused the Deception ladies of intellectual theft.
Diane just wanted to know who Deception got the intellectual property from but Tracy didn't say. Diane still took Tracy's check and asked for a third of the cut if they win the case. When Diane left, Tracy approached Marty and told him she had a proposition for him.
Sasha (Sofia Mattsson) was ready to take newly-prescribed addictive benzies just as Brook Lynn (Amanda Setton) and Lucy (Lynn Herring) walked in thrilled that the charges against Cody had been dropped. However, Lucy was more concerned about where Maxie was. When she finally arrived, Lucy announced they had a snake in their midst. She even thought Maxie was that snake as the download came from Maxie's computer. Lucy questioned Brook Lynn next and she wasn't sure what to say.
Felicia (Kristina Wagner) donned a hotel maid disguise and broke into Martin's hotel room in search of info as to why he's been acting strange of late. However, she soon turned up at Maxie's place to babysit and joined James and Mac (John J. York). She hinted about having a new case and then dumped Martin's hotel garbage out on a sheet to look for clues. That's when Felicia noticed that Marty gets a 50K deposit every month. Lo and behold, all the deposits were coming from a town in Pennsylvania called Pine Valley.