The GH recap for July 6, 2023, has Felicia and Lucy planning a caper.
The General Hospital recap features Lucy refusing to give up on figuring out what's going on with Marty.
General Hospital Recap Highlights
In this episode, Felicia told Lucy what she learned in Marty's hotel room while Marty got a generous job offer. Brook Lynn also tried to get the flash drive back from Tracy. Liz and Finn shared some awkward moments before Terry refused to mind her business. Finally, Alexis, Kristina, and Sam learned about Molly's plight. Now, let's dig a little deeper into the details.
General Hospital Recap: Pine Valley Bound?
As Lucy (Lynn Herring) and Maxie (Kirsten Storms) argued over who downloaded the Deceptor file, Brook Lynn (Amanda Setton) couldn't stand listening anymore and admitted she was the culprit. She explained that she was trying to know the business better to be better at her job and create a social media campaign for The Deceptor. Lucy was still furious and worried competitors would get a hold of the info.
Maxie defended Brook Lynn but Lucy remained angry, especially when BLQ explained she took the flash drive with the information home. Maxie was later surprised when Felicia walked in on their argument but she was there to see Lucy so Maxie left and Felicia (Kristina Wagner) relayed what she found in Marty's (Michael E. Knight) garbage.
Lucy was confused about bank deposits from Pennsylvania and wondered if Marty was doing something illegal. Felicia warned Lucy she might want to drop this whole investigation altogether. Lucy refused so Felicia said they should head to Pine Valley to find out more.
Tracy had a business challenge for Martin so he sat and listened to her. She needed someone to step in at ELQ with Valentin (James Patrick Stuart) missing and Neddie (Wally Kurth) being Neddie. Martin didn't think he was qualified but accepted the offer anyway. Tracy even got him to agree to attend the Quatermained GH fundraiser as her guest. After Marty left, Brook Lynn arrived to tell Granny Tracy they have a problem with the Deception file. BLQ eventually got Tracy to give back the flash drive and Sasha witnessed the whole thing.
GH Recap: TJ And Molly Turn To Family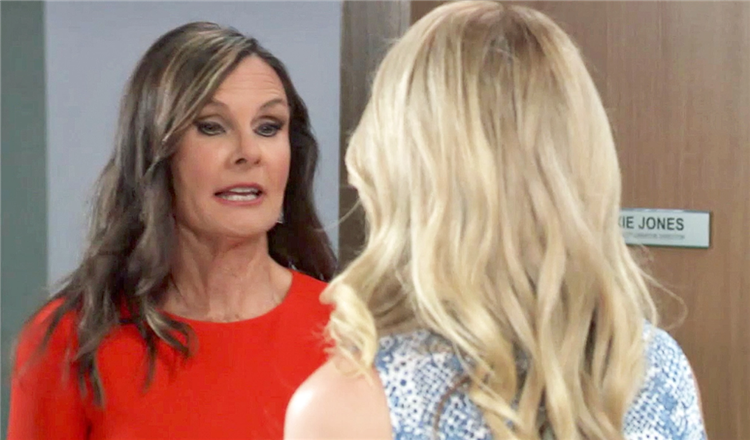 The Davis girls met up at the only Port Charles nail salon, with Molly (Holiday Mia Kriegel) arriving carrying booze. Alexis (Nancy Lee Grahn) thought they had something to celebrate, but it was the opposite. She changed the subject to Scout and how she was coping with Drew (Cameron Mathison) reporting to prison. Kristina (Kate Mansi) could tell there was something very wrong with Molly and confronted her about it.
Molly was just upset being forced to talk about it all but finally told her mother and sisters that she could not have a child with her eggs. After Molly calmed down, Alexis, Kristina, and Sam (Kelly Monaco) offered their support. Sam suggested looking into surrogacy or adoption but Molly couldn't even think about that at the moment.
TJ (Tajh Bellow) stopped by The Savoy to talk to Curtis (Donnell Turner) and Marshall (Robert Gossett). He told them what had been going on with his and Molly's quest to have a baby. Marshall and Curtis were sympathetic as TJ worried about Molly shutting him out. Curtis explained that Molly just needed time to process things and urged TJ to be patient.
General Hospital Recap: Tepid Moments Between Finn And Liz
Elizabeth (Rebecca Herbst) and Finn (Michael Easton) shared some awkward moments in the on-call room where Finn said that he explained to his daughter that she can't keep playing matchmaker. Therefore, there would be no more romantic dinners in their future. Elizabeth then suggested they get together again — but with the kids.
Finn left when Terry (Cassandra James) walked in and Liz's BFF pressed her to talk about the date Violet (Jophielle Love) had set up. Liz insisted she and Finn were better as friends, but Terry refused to buy it. Liz also thought she ruined things with Finn months ago, but Terry encouraged her to try again.
As for Finn, he turned up at the Metro Court pool with Violet so Tracy had a talk with him about his relationship with Liz. She wondered if they were better off as friends but also knew Finn still had feelings for her.