Since the very first season of the hit CBS family cop drama "Blue Bloods," Lieutenant Sidney Gormley, played by Robert Clohessy, has served in an important place in the New York Police Department as Special Assistant to the Commissioner, Frank Reagan (Tom Selleck). Originally a Detective Sergeant and an often exhausted supervisor to the elder Reagan son, Danny (Donnie Wahlberg), in Season 5 Gormley becomes one of Frank's key advisors.
Some of the Special Assistant's duties include discussing the Commissioner's policies with rank and file cops as well as assisting Frank with big decisions. Sidney has a life outside the job, including a wife, Sheila (Cady Huffman), and two children, but he's also a tried and true, dedicated, tough police officer much like the other Reagan family members, and he'd never have it any other way. Dedicated "Blue Bloods" watchers have enjoyed the actor playing this stalwart supporting character for 12 seasons.
The son of a cop, he also started his career playing one on TV
Robert Clohessy is himself the son of a police officer, so it made sense that he's been typecast as law enforcement (via TCM). The Bronx native fell in love with acting in high school before eventually moving to Los Angeles in 1986 to pursue a career.
The actor then immediately started out playing cops with his very first role, in the seminal NBC series "Hill Street Blues." He eventually appeared in 20 episodes of the show's 1986-87 final season as the forthright Officer Patrick Flaherty.
After "Blues" ended, the actor popped up in several short-lived series, including "Ohara" with Pat Morita, as well as "Laurie Hill." When those shows ended, he continued to land roles in films like "Angels in the Outfield" as well as acclaimed dramas, including "Homicide: Life On The Street." The actor told Main Street Magazine that there were setbacks "but, you keep going." It was a key part in a cult HBO drama that set up the next part of his career.
From a supporting role on Oz to Blue Bloods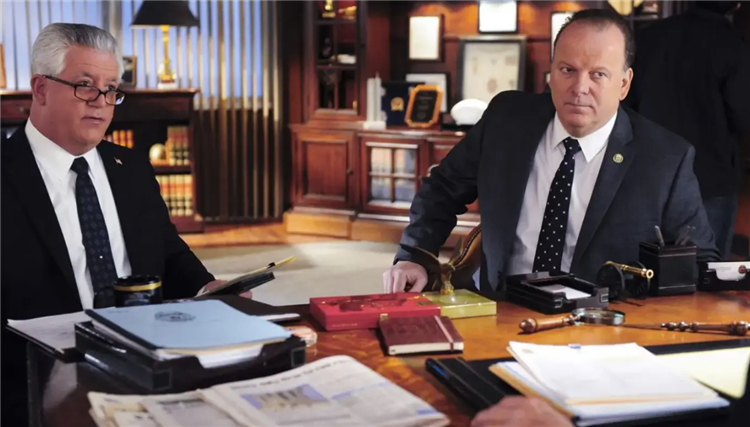 In 1999, the actor was cast in Season 3 the brooding prison series "Oz" as the fair, sympathetic correctional officer Sean Murphy. As one of the few likeable characters on the show, Clohessy's performance helped Clohessy become a go-to actor for prestige dramas and procedurals, including "Damages" and "Without A Trace." His prior connection to HBO also helped him land a part in their 2010 crime series "Boardwalk Empire" (above). He played the corrupt Alderman Jim Neary on the show, a former ally of Nucky Thompson (Steve Buscemi) whose betrayal eventually gets him assassinated in Season 2.
Clohessy was only supposed to be in one "Blue Bloods" episode, but his chemistry with Donnie Wahlberg was so good that he stayed on the show for good (Main Street Magazine). Even though he never wanted to become a cop himself, the character actor acknowledges that he knows how to play them. He told TV Media that ultimately, "You become what you resist, and it rubs off on you."