The General Hospital recap features Cameron Webber being the nice guy he always is — after reading Esme for filth.
General Hospital Recap Highlights
In this episode, Cameron let Esme know how he felt and then he brought her to Charlie's and shocked his family and friends. Marshall gave Spencer his seal of approval, making Spencer and Trina very happy. Maxie did her best to recruit Josslyn and Dex to perform at the Nurses Ball as they pretended they barely knew one another, which is sort of true. Finally, Victor told Eileen all about his plan to save the world while Anna and Valentin wondered what was taking her so long. Now, let's dig a little deeper into the details.
Cameron Webber Is Very Forgiving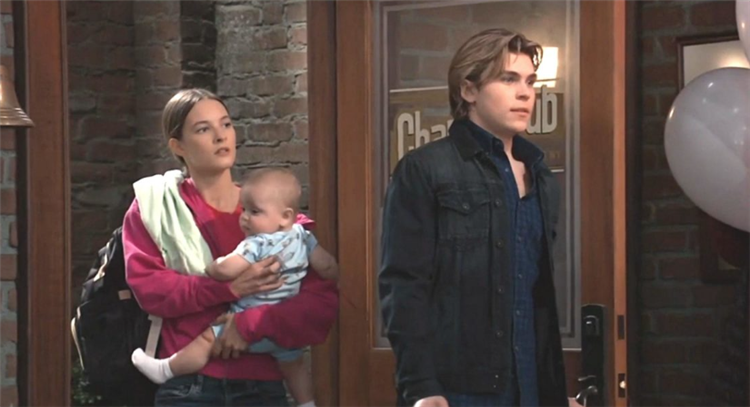 Esme (Avery Kristen Pohl) opened the door to Cameron (William Lipton) who wondered if she was going somewhere. After Esme realized he was one of her "alleged" victims, Cam read her for filth and told her it wasn't alleged at all — she did violate him and Joss sexually and ruin their lives.
So, she invited him to tell her more about what a horrible person she was. She admitted she just didn't remember anything and told him she was sorry. Esme explained that she and Ace were just taking a walk and Cam told her the old Esme was a better liar than the new Esme. Cam admitted he was really there to see Spencer and she realized that Cam might tell him she was trying to leave. Esme was soon surprised when she learned it was Cam, Joss (Eden McCoy), and Trina (Tabyana Ali) who got her out of Spring Ridge, but he warned her once she got her memory back, her cushy new life could change. Esme was just pleased that someone was open and honest with her.
Cam and Esme then had an oddly kind conversation with Esme telling Cam that everything she remembers in life made her feel she couldn't trust anyone. Cam had to remind her that people don't trust her for a good reason because not remembering doesn't mean the deeds were not done. When Esme wondered if she would always be the town pariah, Cam told her about Franco (Roger Howarth) and the new life he eventually made for himself. Esme was surprised to learn that this man was both Cam's stepfather and her own half-brother.
Later, Cameron stunned his friends and family when he walked into Charlie's for his goodbye party with Ace in a baby carrier and Esme by his side. Needless to say, Spencer (Nicholas Alexander Chavez) was not happy.
Before Cameron arrived, Laura (Genie Francis) and Elizabeth (Rebecca Herbst) made some small talk. Then, Laura told Liz that Nikolas never should have put her in the position to make a good decision after getting back from California, and she didn't blame her for falling in deep with Nikolas's little Esme in the tower scheme. Laura admitted she was at her wit's end with Nikolas, and she didn't understand why he ran away again rather than stand with her and his sons.
Liz had her own confession to make. She feared what she did was why Epiphany (Sonya Eddy) was possibly avoiding her. She had no idea why she hadn't heard from her friend for days despite everything that was going on.
GH Recap: Spencer And Trina Kiss Again
Marshall (Robert Gossett) invited Spencer right in and Trina did her best to make a run for it to Cam's party, but Marshall was insistent on having a talk with Spencer. Poor Spencer told Marshall that he lives with regret every day for how he hurt Trina in the past, but said he was never going to hurt her again. Spencer was surprised when Marshall told him he believed him and that he wanted to be a good support for Trina. Marshall was even impressed that Spencer was fighting for his baby brother.
Spencer later told Trina that he appreciated Marshall's talk as he gave him a new perspective on their relationship. He admitted that Marshall told him he needed to focus on what makes him happy. Trina agreed and said that Spencer deserved to be happy, and Spencer told her that she makes him very happy. After Trina said she had no plans to leave his life, they kissed again, but Marshall soon interrupted the moment.
Josslyn and Maxie (Kirsten Storms) had a chat about the Nurses Ball outside Kelly's, and Maxie managed to get Joss to almost commit to performing a number with Trina. When Dex arrived, Maxie tried to get him in the fun as well, telling him Josslyn would be singing as she does every year. Once alone, Dex said had had no idea Josslyn sang, which again brought home the fact that these two hardly know anything about one another.
General Hospital Recap: Victor Noble Climate Change Cause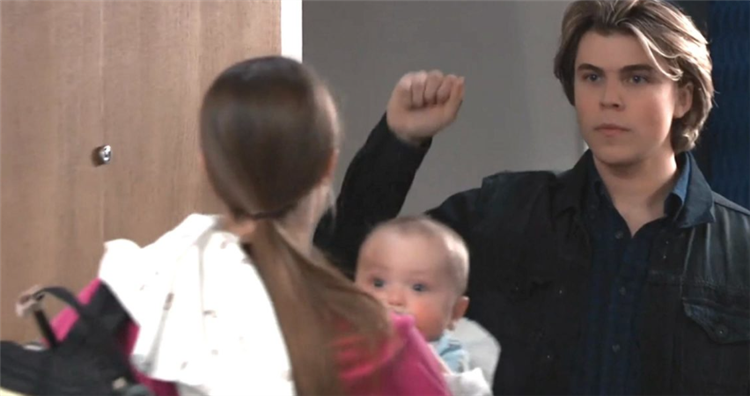 Anna (Finola Hughes) was anxious to hear from Eileen (Heather Mazur) and learn how the necklace delivery went. Valentin (James Patrick Stuart) did his best to reassure her as they discussed their latest plan with Drew (Cameron Mathison) and Carly (Laura Wright) involved. Yes, Lucy (Lynn Herring) was still bothering them, but they had to just keep on their toes and improvise where needed. Valentin soon realized that their entire on-the-run life could be over if all went right with Eileen and Victor (Charles Shaughnessy).
When Valentin asked her what she would do when this was all over, she said she would take the first flight to see Robin (Kimberly McCullough) and her grandchildren. Valentin explained he would take a road trip with Charlotte (Amelie MacLaine) and dive head-first into ELQ. This made Anna realize that once they were out of hiding, they wouldn't spend so much time together anymore.
That made Valentin ask Anna what their future looked like when they resumed their normal lives, and Anna had to wonder how they would work out without Victor as a part of their lives. What if Valentin needed a new adventure and didn't want a stress-free life? Valentin then made fans swoon as he told Anna she was his greatest adventure and the only one he needed.
Over in Victor's hotel room, he examined the necklace with his loop and finally found the numbers he thought he was looking for. Eileen was soon stunned when Victor handed her back the necklace after he wrote down the fake codes. When Eileen asked what was really going on, Victor just told her he was about to save the world from the destruction that man has caused. He cryptically told her the code would unlock a door and alluded to Mikkos's plan decades ago that was motivated by power and money. It seemed Mikkos had code engraved on the back of the diamonds, and now he had just had to crack the code. He also admitted that he might be saving the world, but much of the world's population would have to pay the price for his efforts.
Victor was later alarmed that the codes didn't seem to work, and Eileen did everything she could to cover for herself, but Victor seemed suspicious. Eileen tried to pin the problem on a double cross by Mikkos, and Victor seemed to fall for that until Anna called pretending to be the DA. She told Eileen to get out of there right away, but Eileen had her eye on a flash drive she was determined to get ahold of.