Feels like just yesterday we were learning what the acronym stood for (Naval Criminal Investigative Service, of course!). Now we can't imagine our viewing lives without NCIS, which spun off from two 2003 episodes of JAG into its own juggernaut of twisty mysteries and beloved characters.
To mark the series' 450th episode, airing February 27, we solicited fan questions for the actors and creative team. A fun tidbit we learned: At one point, producers hoped to have all the living presidents make cameo appearances. "I thought I could get them in a card game," says executive producer Steven D. Binder. He had a connection who could ask one POTUS directly, but it didn't work out. "And if you can't get the one, then you get none." But wouldn't that have been amazing! Read on for more fascinating info.
Getting Into Character
Was there something in the waters at Steppenwolf Theatre Company in Chicago that prepared you, Billy Petersen (CSI: Crime Scene Investigation) and Gary Sinise (CSI: NY) to play different but equally memorable crime-fighting leaders? —polleny
Gary Cole (Special Agent Alden Parker): Ha! I know, that seems to be quite a coincidence. You can add Joe Mantegna, another Chicago guy, who does Criminal Minds, to that list. Not sure, but we all did a lot of different kinds of characters on stage back in Chicago. Maybe it helped us with simply making scenes work.
What do you like most about Jess? —Jhos
Katrina Law (Special Agent Jessica Knight): I love how Knight's badass work persona dissolves into awkward quirkiness when she gets nervous. It's so much fun to play an agent with a soft, goofy side to her.
Clocking In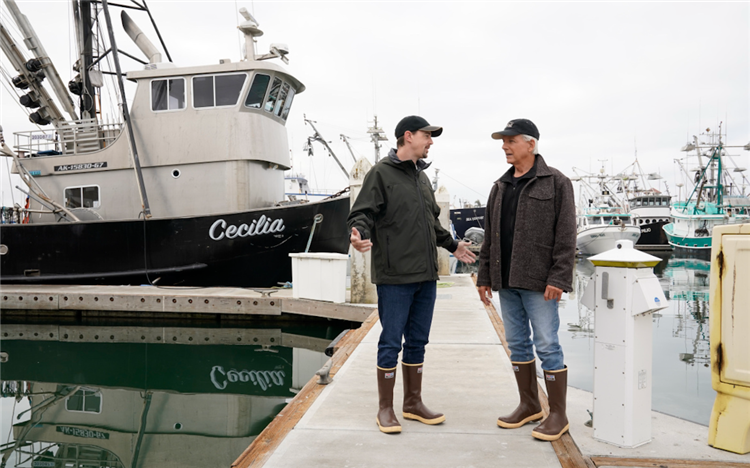 What was the best day on set for you? —Jess From Oz
Rocky Carroll (NCIS Director Leon Vance): When Baseball Hall of Famer Johnny Bench, who played his entire career for my hometown Cincinnati Reds, came to the set as my guest. He was, and still is, a huge fan of our show!
Diona Reasonover (Forensic Scientist Kasie Hines): The day they announced I was a full-time cast member. I cried and they had to redo my makeup.
Brian Dietzen (Dr. Jimmy Palmer): When my son came to visit—I think he was around 4 or 5—there was a full forest set built on the stage, and they could even make it snow on command. I brought him in there and his eyes lit up. My wife said that on the way home, he told her, "Where Daddy works is magic." Agreed.
Sean Murry (Special Agent Timothy McGee): Saying goodbye to Gibbs [played by Mark Harmon] was magical. Being in Alaska with Mark, it was real in that I have had this incredible personal relationship with him for so many years, and then for me as McGee to be having to feel this goodbye and loss—and leave him in Alaska knowing he isn't coming back—it was heavy and beautiful.
Old Friends
Will we see Leroy Jethro Gibbs at least one more time? —BrettsKnight
Binder: I don't see how we don't see him one more time at some point. Gibbs has, in my mind, advanced to a higher plane of existence for now—I don't want to place him in an apartment in Anchorage or anywhere. We left him smiling on a river happy, and that's the image I want people to have until we're really ready to blow that out of the water or truly embrace it in some way.
Office Romances
Could we see a double date between T'n'T [Torres and NCIS: Hawai'i's Jane Tennant, played by Vanessa Lachey] and Knight in Shining Palmer? —Jhos
Wilmer Valderrama (Special Agent Nick Torres) Absolutely! But sadly I think that after dinner when Knight, Tennant, and Torres want to go to the firing range for dessert, Jimmy Palmer would feel like a third wheel.
Are we going to see more personal scenes between Jess and Jimmy? The chemistry between Katrina and Brian has been formidable and the relationship seems so real. What do you guys enjoy about acting together that makes these scenes so powerful? —Zibell
Dietzen: You will see more. When the idea was floated to have these characters come together, Katrina and I were eager to portray a healthy relationship. We haven't had a nonsecretive interoffice romance on this show, which brings its own challenges and stories we haven't told before. Katrina is a good friend and a wonderful actress, so we always have fun with these scenes.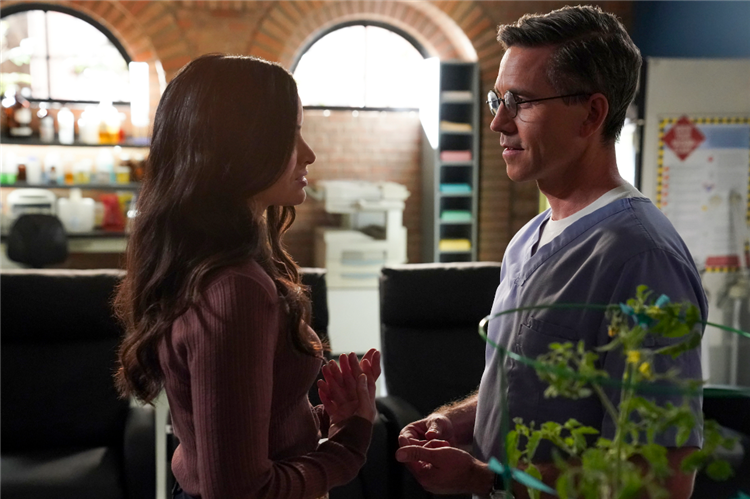 Predicting the Future
When will Jimmy get married? —Tasmanian Devil
Law: May 11, 2028—NCIS likes a slow burn.
Earlier this season McGee had a taste of sitting in the director's chair. Do you think McGee might end up as director of NCIS in the future? —Monique
Murray: That episode was really fun. It would be neat to see what could happen, as we started the very first season with McGee as a rookie. Look how far he's come.
Is there something in Kasie's backstory that you would like to see addressed? —Serena
Reasonover: I want Kasie to date! I can't wait to see her in a full-on palms-sweating crush.
Salutes to Former Roles
Can we get Wilmer to pay homage to his That '70s Show character Fez during an episode? I want to hear Torres with that iconic accent! —Zibell
Valderrama: I can tell you there are a few little Easter eggs this season where I did an homage to a dream sequence from That '70s Show. So the answer is yes! You will have to dig, but you will
That was hilarious when Parker was talking about "TPS" reports, as his Office Space character, Bill Lumbergh, did. Better still, they should have also had him say "That'd be great." —Jerri
Cole: I think the writers handled it just right. Actual quotes from Lumbergh wouldn't have been as funny to me.
Hitting 450
How does the cast feel reaching this milestone? I've been following NCIS since I was 5, so you've been growing with me. I'm so proud of these goals we've reached together. Kisses from Italy. —Emma_ncis
Carroll: When we celebrated the show's 200th episode [in 2012], Michael Weatherly joked that we were halfway to 400 episodes, and that got a big laugh from everybody in the room. Nobody's laughing now!