Ava Jerome gave Austin some news.
The General Hospital recap for August 4, 2023, features Ava and Austin trying to figure out just how much trouble they are really in.
General Hospital Recap Highlights
In this episode, Austin and Ava sparred but ended things with a kiss. Laura and Kevin searched Cassadine Island for Nikolas while Anna and Valentin reunited. Nina paid a visit to Willow, which didn't make Michael happy. And finally, Elizabeth and Finn acted like they were in junior high while on a dinner date. Now, let's dig a little deeper into the details.
General Hospital: Ava And Austin Nearly Panic
Austin (Roger Howarth) was alarmed when he learned that Ava (Maura West) might have told Sonny (Maurice Benard) a little too much. At least Elizabeth (Rebecca Herbst) soon interrupted and asked Ava if she'd heard from Nikolas recently. Ava hadn't seen him, so Liz dropped the subject and brought up Chase (Josh Swickard) looking for Austin. She even let it drop that she had seen Dex (Evan Hofer) lurking outside Austin's office, which immediately worried Austin because Dex works for Sonny.
When Liz was gone, Austin wondered aloud if Sonny had Gordon killed knowing it was Mason (Nathanyael Grey) who did it. Ava was not pleased to also learn that Dex saw Gordon and Mason in Austin's office. In the end, Ava had to finally admit that she told Sonny everything that happened with Nikolas. She left him with a kiss and a vow to just keep moving forward.
On Cassadine Island, Kevin (Jon Lindstrom) and Laura (Genie Francis) arrived at the house where she was held prisoner all those years ago, but the caretaker didn't have much information for them regarding Nik's whereabouts. Still, he allowed them to search around but they had trouble finding clues. Laura finally began to realize Nikolas didn't leave town voluntarily. Kevin tried to convince her otherwise and thought Nikolas was an emotional coward trying to hide from the mistakes that he's made.
Anna (Finola Hughes) was thrilled and surprised to see Valentin (James Patrick Stuart) sitting on her stairs when she got home. She told him all about the Metro Court pool shooting and how the rifle used was traced back to the WSB. She explained how Sonny believed someone inside the WSB had gone rogue and could be after her. Valentin was still convinced that Victor (Charles Shaughnessy) was behind everything from the grave. When the convo turned romantic, Anna finally admitted that she loved Valentin.
General Hospital Recap: Dinner Time For All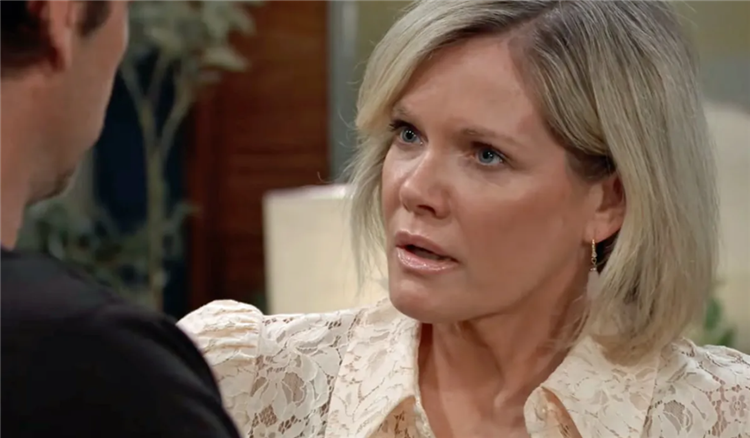 When Michael (Chad Duell) paid a visit to Charlie's, Kristina (Kate Mansi) made sure to warn him he might not want to be there since Josslyn (Eden McCoy) claims the place is nothing but a Sonny/Nina hangout now. She pointed out that Josslyn needed to get over the fact that Sonny and Carly (Laura Wright) are divorced. So, Michael decided to play devil's advocate and asked her how she'd feel if Nina's vendetta allowed Alexis (Nancy Lee Grahn) to mourn Sonny for months. As if Sonny dying would cause Alexis to fall apart and Carly didn't marry Jason (Steve Burton) within months of Sonny's alleged death.
Kristina immediately reminded him that she was right there mourning her own father right alongside Carly morning her husband and she was able to make peace with Nina (Cynthia Watros), so Michael, Carly, and Joss should too. Nina was Kristina's next customer and she thanked her future stepmother for singing her praises about the new LGBTQ youth center. Nina even offered to help in any way she could.
Earlier, Willow (Katelyn MacMullen) spent time trying to learn to knit when Nina dropped by. She invited her in and they made small talk, with Willow admitting she can't wait to get back to the real world. Nina awkwardly asked Willow to tell her more about herself so she can get to know her better. Willow admitted she just wanted to be independent again. When Michael arrived with dinner, that was Nina's cue to leave.
As Michael and Willow got to talking, she told him she couldn't wait to get the all-clear to go back to work, but Michael wanted her to stay home and focus on their family first.
Liz received a dinner invitation from Finn (Michael Easton) on a note they passed back and forth as if they were in the fifth grade. They met at the Metro Court where they enjoyed drinks and a meal. The subject turned to what her parents did to her after Finn's first wife died, something they never really talked about before. They also talked about their lives, and their faults, before finally admitting they were scared. In fact, Finn was so scared of a relationship with Liz that he tried to find a job at another hospital. They then admitted they had feelings for one another and that they wanted to get to know one another better.