Anna Devane know what Marty is hiding, but Lucy still does not.
The General Hospital recap for July 12, 2023, features Anna and Marty having a frank discussion about marriage.
General Hospital Recap Highlights
In this episode, Anna informed Marty that Lucy wanted to get married while Lucy made a date with another man. Sasha had a new outlook on life thanks to her new pills — and Maxie and Willow took notice. Cody tried to help Gladys out with Selina, but it didn't go very well for him. And finally, Brook Lynn finally told Chase the truth. Now, let's dig a little deeper into the details.
General Hospital: Why Marty Is No Longer A Marrying Man
Anna (Finola Hughes) snuck into the Metro Court room that the shooter used to see if she could find any evidence, but she was surprised when Marty (Michael E. Knight) entered the room. It turned out Valentin (James Patrick Stuart) asked Marty to check on Anna, and she was disappointed in herself for not realizing he was following her.
Martin was more interested in seeing if Anna knew why Lucy (Lynn Herring) was suddenly being cold to him than he was in solving a crime. Anna quickly figured out that Lucy really did want to get married, and Martin realized his adamancy about never marrying again may have turned Lucy off.
It also turned out that Anna knew exactly why he didn't want to marry. One of his ex-wives is filthy rich and pays him $50K monthly in alimony. If he got married again, that cash flow would stop.
Over in Pine Valley, Felicia (Kristina Wagner) and Lucy embarked on a caper to learn about Marty's cash flow. They tried to pull one over on Jackson Montgomery (Walt Willey), sometimes husband of the interminable Eric Kane (Susan Lucci). While Lucy told Jack a tall tale, Jack sent the receptionist for some special Lucy coffee. Felicia rummaged through some files but didn't find much. However, Lucy did manage to make a date with Jack at a new Pine Valley haunt.
General Hospital Recap: Sasha's In Trouble Again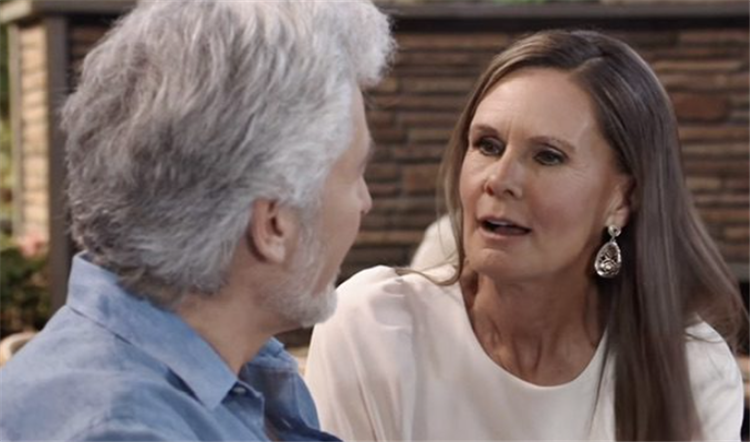 Chase (Josh Swickard) interrupted a serious convo between Brook Lynn (Amanda Setton) and Granny Tracy (Jane Elliot) at the Metro Court pool to talk all about the shooting that should have closed the pool for at least a week. After Chase sent Tracy to the bar, he asked Brook Lynn why Granny makes her so nervous. BLQ finally admitted that it was Tracy who put her up to working at Deception, but Tracy returned before Brook Lynn could tell him why.
Still, BLQ didn't care and told him anyway, going as far as to confess that she had Tracy get him a new civilian review hearing. Chase was called away before Brook Lynn could tell him what she did for Tracy at Deception.
Gladys (Bonnie Burroughs) was thrilled to finally win at poker at The Savoy and Selina (Lydia Look) even offered to buy her champagne. However, Selina also knew that Cody (Josh Kelly) allowed Gladys to win and was not happy. She was upset enough about what happened to Curtis (Donnell Turner), and Cody not doing his job right didn't help. Cody basically asked Selina to just fire him, but she wasn't about to do it. Instead, she found that Cody threw the game with a trick card and had her henchman beat him up.
At the bar, Gladys's psychiatrist friend assured her that the meds he gave Sasha (Sofia Mattsson) would interact with her anti-depressants in such a way that everyone would notice her new personality.
Sasha was clearly high on whatever the doc gave her as Sasha 2.0 shopped with Maxie (Kirsten Storms). She was even shopping for comfy Mommy Gear for Willow. However, Maxie was concerned when Sasha mentioned she was on a new prescription that had changed her life. When Maxie's kids called, Sasha took the time to pop even more pills.
Her next happy stop was a visit to Willow (Katelyn MacMullen), who had just told Michael (Chad Duell) they couldn't have sex for a while. Willow was shocked by Sasha's bountiful energy. Willow was also curious when she noticed that one item of clothing Sasha brought her still had a security tag on it. And somehow Chase knew because he showed up at Willow and Michael's so he could promptly arrest Sasha.