The GH recap for May 17, 2023, has Alexis and Esme becoming a sort of team.
The General Hospital recap features Alexis Davis performing a service she might learn to regret.
General Hospital Recap Highlights
In this episode, Alexis Davis stops by Laura's place and learns a lot about Esme in just a short visit while at General Hospital. Spencer and Trina are ready for her DNA test. Selina even offers Curtis that DNA test, but he refuses. Portia and Ava meet up, and Ava gives her friend some advice. And finally, Holly asks Anna for a favor while Robert tries to find out more about Holly's involvement with Selina. Now, let's dig a little deeper into the details.
General Hospital Recap: Alexis Davis Comes To Visit
Alexis (Nancy Lee Grahn) stopped by Laura's (Genie Francis) with a gift for Big Baby Ace (Jay and Joey Clay), so the two women got to talking about Esme (Avery Kristen Pohl). Just then, the young woman herself headed towards the door with Ace and was not happy when Laura questioned where she was going. Esme was just going out, but Laura wanted to know where she'd get the money for her little adventure. Esme brought up her trust fund but grew frustrated with the idea of not having access to it.
Esme explained that she needed her independence and to stop feeling people were looking over her shoulders, waiting for her to commit a crime. Alexis listened to the whole conversation and got an idea. She offered Esme a receptionist job at The Invader.
General Hospital: Alexis Davis Throws A Lifeline
When Esme balked at such a position, Alexis reminded her she had no college degree or work experience, so she didn't have many choices if she wanted to live her own life. It took a bit of convincing, as Esme suspected Laura put Alexis up to this, but she finally agreed to answer some office phones.
However, she was thrilled to hear The Invader provided daycare so Ace could come to work with her. Before Alexis left, Laura got a messenger delivery that turned out to be an invitation to the reading of Victor's (Charles Shaughnessy) will.
GH Recap: Curtis And Trina Take DNA Tests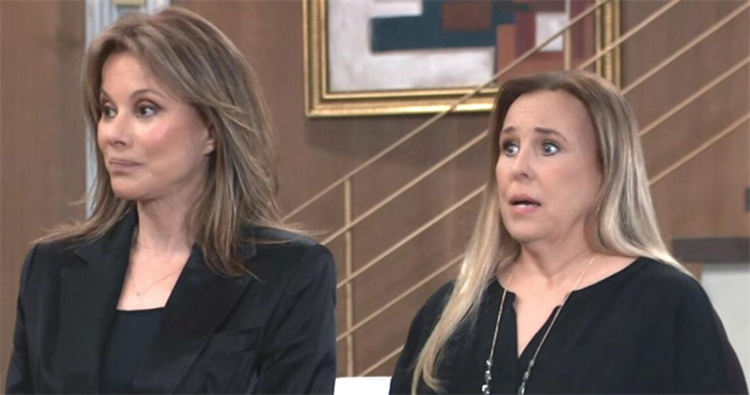 Curtis (Donnell Turner) was reviewing Savoy paperwork when he got another text from the WSB urging him to join the agency. Selina (Lydia Look) soon arrived to chat and offered him whatever DNA test result he wanted. She reminded him that if he wanted an adventure life again, then she could make it so that Trina (Tabyana Ali) wasn't his daughter, even if she was. Curtis told her to leave the test results behind and then handed her a tab from the night before as he walked out.
Spencer (Nicholas Alexander Chavez) and Trina were ready for that DNA test as they waited impatiently at the hospital. Trina stressed that no matter what the results said, Taggert would still be her real dad. The topic then turned to Esme and Ace and how Trina thought they looked like a family when Spencer left the hospital with them last week. Spencer just wanted Esme to give up custody, but Trina actually felt bad for her despite the way she set her up to take the fall for revenge porn last year. When Trina mentioned that Ace was all Esme had, Spencer realized she might give him up if she had another focus in life.
Curtis soon arrived, and Trina overheard him getting assurances that the test results would be accurate. When Portia (Brook Kerr) joined them in the GH halls, it felt like one big, happy family.
Before arriving at work, Portia met up with Ava (Maura West) for breakfast at the Metro Court to discuss all things Trina. Portia wanted some help with her relationship with Trina as well as help convincing Trina she shouldn't be with Spencer. Ava tried to stick up for Spencer and said he had done some growing up, but Portia didn't buy it and figured he was done for with 19 years of bad parenting. Ava was blunt with Portia and told her it would be wise to leave well enough alone. Portia wasn't ready to do that. A messenger handed Ava the same envelope that Laura had gotten.
General Hospital Recap: Holly's Plight
Anna (Finola Hughes) woke up to roses and a card from Valentin (James Patrick Stuart) to learn he already took off to return to work at ELQ. However, Anna's happiness at his note and flowers was short-lived as Holly soon arrived with her own problems. Holly (Emma Samms) needed a job and wanted Anna to put in a good word for her with the WSB. Anna didn't think that was a good idea, but Holly stressed that she needed the money to help Ethan (Josh Ryan) pay back all the money he owed.
Holly didn't like Anna's idea of asking Robert for help, forcing Holly to admit she still loved Robert (Tristan Rogers). Despite that, she was willing to leave town as an agent and let Robert go. Anna warned Holly that getting her back in with the WSB wouldn't be easy. After Holly left, the same man who had a delivery for Ava earlier handed the same type of envelope to Anna. Anna called Laura and found out she got one as well.
Mac (John J. York) and Felicia (Kristina Wagner) also enjoyed breakfast at the Metro Court, but Mac was preoccupied with trying to reach Robert. When Diane happened by, Mac asked if Diane (Carolyn Hennesy) knew what his brother was up to, but she told him to just ask Robert. Diane coldly walked away, alarming Mac, but Felicia did her best to calm her husband down.
As for Robert, he was spending his time at work acting moody to everyone who approached him. When Dante (Dominic Zamprogna) asked him what was going on, Robert announced he was looking into investigating The Savoy for RICO violations. He has seen Selina there one too many times and suspects something dirty might be going on. Dante was concerned because Robert seemed obsessed, so he reached out to Mac and asked him to come to the station.
Mac warned Robert that The Savoy was off limits, but Robert blurted out that this was all about Holly and what she might be mixed up in. Mac finally had to admit he had surveillance in place at The Savoy and would not allow Robert to ruin his operation. Robert didn't care and ran to The Savoy, finding Holly there with Selina.