NCIS: Los Angeles has wrapped on CBS after 14 seasons. The two-part finale started May 14 and concluded May 21. Titled "New Beginnings," it saw an ATF agent go missing and the bureau seek help from the NCIS team to locate the agent and investigate stolen military-grade weapons. On a lighter note, Callen, played by Chris O'Donnell, and Anna, played by Bar Paly, plot their wedding; the sister of Rountree (Caleb Castille) interviews for medical school; and LL Cool J's Sam encourages his father to take part in a drug trial.
"The only thing harder than a pilot is the finale," R. Scott Gemmill, NCIS: Los Angeles showrunner and executive producer, said. "And the longer a show is on the air, the more difficult it gets to tie it up."
Gemmill likens a finale for a 14-season show to a short obituary for a long life well-lived — there's simply not enough time or space to tell the story thoroughly.
"We want the end to be a celebration of our characters and their lives, and hopefully leave them in a place where the audience feels content and can extrapolate what the characters do in the future," he said.
Gemmill, an alumnus of JAG and ER, has been at NCIS: Los Angeles "right from day one," he said. The show was initially envisioned as one about an NCIS agent who conducted long-term, undercover missions. "It's a very different show now," he said, describing it as "a buddy cop show" with lively personalities and fun moments.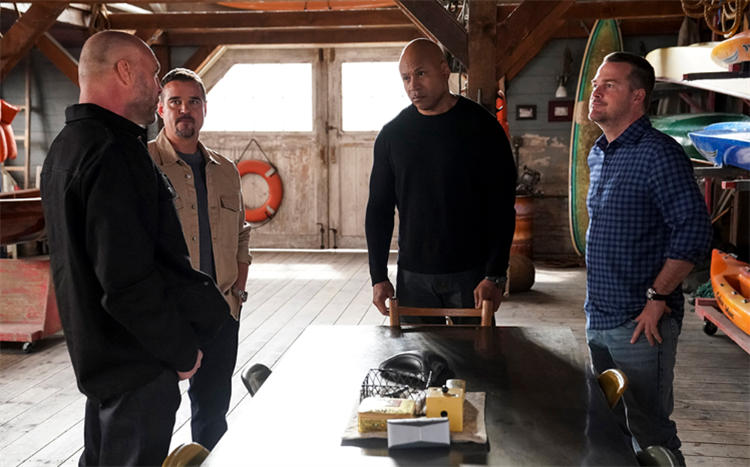 Asked to single out an unsung member of the cast, crew or production team, Gemmill mentioned assistant producer Hillary Cohen, who served as the NCIS: Los Angeles "COVID czar" during the pandemic, overseeing testing and keeping detailed records. "None of us had ever seen a global pandemic," he said. "It's not in the showrunner's handbook."
NCIS: Los Angeles reached episode No. 300 at the end of last season, and averaged more than 6 million viewers in season 14.
Gemmill called a show lasting 14 seasons "a rarity" in 2023. He was reluctant to note how NCIS: Los Angeles may leave its mark on television, but said it consistently served up a big dose of escapism to viewers. While anti-heroes became vogue during the peak-TV era, NCIS: Los Angeles is more about the good guys doing the right thing. "Hopefully it's a show people enjoy tuning into for an hour of fun," he said, "to take their minds off whatever problems are going on in their lives."
Gemmill is not the only NCIS: Los Angeles figure to remain with the show from the beginning. O'Donnell, LL Cool J, Daniela Ruah, Linda Hunt and Eric Christian Olsen have been in the cast for the run of the show, an extraordinary display of continuity.
"That I was there the whole time is testimony to how enjoyable it was," Gemmill said.