The GH recap for May 16, 2023, has Carly and Nina fighting again.
The General Hospital recap features Carly Spencer refusing to budge when it comes to Nina.
General Hospital Recap Highlights
In this episode, Carly heard Nina out and didn't care what she had to say. Sasha at least had a successful time on live TV thanks to Cody. Gladys was alarmed to hear Selina's request and Sasha's decision. Robert asked Anna for advice while Holly and Diane had a friendly chat. And finally, Felicia gave Alexis some food for thought. Now, let's dig a little deeper into the details.
General Hospital Recap: Carly Spencer Won't Bend
Nina (Cynthia Watros) showed up at Carly's (Laura Wright) back door because Carly called her over to finish their conversation from the hospital halls. Although she had her usual angry pout on her face, Carly agreed to hear what Nina had to say. So, Nina launched into an apology to the woman who still never apologized to her for keeping both of Nina's daughters' identities from her.
Carly listened as Nina explained her fears of losing Willow (Katelyn MacMullen) and how they have been influencing her actions of late. She even told Carly she was wrong to blame her for the state of her relationship with Willow. Carly didn't want to accept Nina's apology, and the most un-self-aware character on soaps wondered if Nina needed a blue ribbon for self-awareness.
General Hospital: Carly Spencer Won't Help
Nina was at first thrilled when Carly said she would help her relationship with Willow, but then Carly explained she would not advocate for her. She wouldn't stand in Willow's way if she wanted to one day have a relationship with Nina.
Finally, Carly told an upset Nina that she could improve her relationship with Willow if she didn't stop pushing Willow's boundaries, something that Nina has not done of late at all. In fact, she has been respecting Willow's wishes no matter how much they hurt.
GH Recap: Sasha's Triumph, Gladys's Fears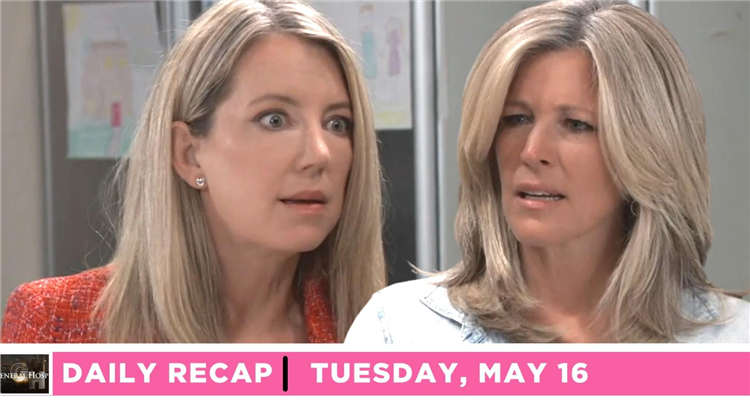 Sasha (Sofia Mattsson) did her best to keep her cool during her Home and Heart segment but the baby crying in her earpiece made it hard. The producers asked for the stage manager to make the crying louder, but Cody (Josh Kelly) showed up and warned them if they didn't cut the sound, he would start streaking. To show he was serious, he began taking off his clothes so the sound was cut and Sasha was able to go on with the show.
As she promoted Deception's Deceptor, Sasha began suspecting that Haven deHaviland (Morgan Fairchild) was trying to sabotage her but performed her job as spokeswoman with finesse. After the segment, Flora Gardens (Susan Batten) was outraged to hear what Haven did to Sasha's earpiece and let her know it in no uncertain terms. As for Sasha, she explained what happened to Brook Lynn (Amanda Setton) and Lucy (Lynn Herring) and how she knew she wasn't hearing things, so she was able to do her duty as promised.
While Lucy went on and on praising Sasha, Brook Lynn spotted Cody trying to make a run for it and went after him. She knew that it was Cody who helped end the crying baby in Sasha's earpiece, but Cody turned down BLQ's invitation to join the Deception ladies for a drink. Sasha was later thrilled when Lucy offered her the opportunity to be Deceptor's spokesperson. Back at the TV studio, Cody threatened Haven, and she wasn't sure if she should take him seriously.
At The Savoy, Gladys (Bonnie Burroughs) wondered how she would ever pay Selina back all the lost poker money, so Selina had a suggestion. Once they were in a private area, Selina told Gladys she wanted her to be a spy inside Sonny's (Maurice Benard) organization. Gladys wasn't sure what to do, but she definitely wasn't happy when she soon heard Sasha talk about ending her conservatorship.
General Hospital Recap: Robert's Dilemma, Alexis's Disappointment
Anna (Finola Hughes) defended her decision to risk it all to bring down Victor (Charles Shaughnessy) and save Valentin (James Patrick Stuart), but Robert (Tristan Rogers) still didn't buy her explanation and was angry at her for not thinking of Robin and her grandchildren. Anna rightly pointed out that Robert would have done the exact same thing. This prompted Robert to admit that Holly seems to want him, but he also now has feelings for Diane.
Robert needed Anna's advice, so she did her best to tell him something sensible. She pointed out that at least he would never have to prosecute Diane (Carolyn Hennesy) for anything, unlike Holly (Emma Samms), a woman who likes to steal things. Anna was just surprised that Robert couldn't make up his mind on his own. She laid out the good points of each woman, which left Robert more torn and confused than ever. At least this got him to leave, which made both Anna and Valentin (James Patrick Stuart) very happy
Diane met up with Alexis (Nancy Lee Grahn) at The Savoy just as Holly arrived to have a drink with Felicia (Kristina Wagner). Both sets of friends had a talk — and Robert was the subject at two different tables. Holly wasn't sure Robert wanted her in Port Charles, and Diane admitted that she told Robert not to call her until he figured out his feelings for Holly.
Things got more complicated when Holly decided to join them. Alexis and Felicia left Holly and Diane alone for a bit as they laid their cards on the table regarding Robert. Diane reiterated that she will not compete with another woman for a man's affection, while Holly admitted she still has strong feelings for Robert. By the end of the conversation, Holly had stated she knew she and Robert could work this time, and Diane wondered if Holly was getting ahead of herself.
At the bar, Alexis and Felicia had a conversation about Alexis's career at the Invader, and Alexis admitted there was more news that needed to be reported than is making it into print. She was doing way too much administrative work, and Felicia tried to encourage her. When Felicia walked away, Alexis clearly had a new idea in her head.