Since it debuted on CBS in 2010, "Blue Bloods" has provided a good mix of hard-hitting action and family drama, as you can expect from a show about a multi-generational law enforcement family from New York. Unlike her police officer brothers Danny (Donnie Wahlberg) and Jamie (Will Estes) and their father, police chief Frank (Tom Selleck), Erin Reagan (Bridget Moynahan) works behind the scenes as a New York assistant district attorney.  She is the middle daughter of the Reagan family, and since the series' beginnings, she has continually served as her siblings and father's legal compass since they are all involved with the New York Police Department to some degree.
Based on her recent comments, it doesn't look like Moynahan's character is going away anytime soon. "We know how lucky we are to be on this show— and such a long-running show at that. It doesn't come around that often, so when you're working with people who express gratitude, it just fuels the show. Everybody wants to show up and do their best work," the actress told Glamour.
So how similar is she to her beloved character on "Blue Bloods"?
Bridget Moynahan has some notable similarities with Erin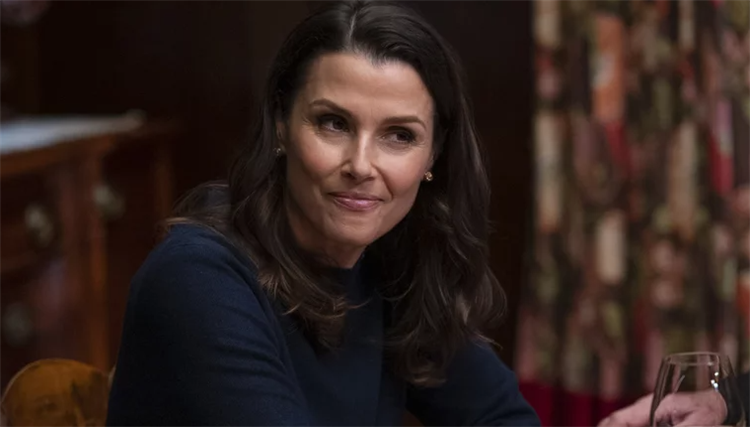 Bridget Moynahan took on the role of Erin Reagan in her late 30s and at the time was a single mom to a 3-year-old son with NFL superstar Tom Brady. While she is not as uptight as her character, she had plenty of other similarities to point out in her interview with Glamour. "Growing up in an Irish Catholic family with all brothers and all boy cousins, I've just been surrounded by men my whole life," the actress explained. "And being a single mom [to onscreen daughter Nicky] as well."
This seems like a great example of life imitating art. We definitely can't imagine anyone else playing Erin Reagan, who never backs down from a fight or allows herself to be looked down upon because she is a woman in a male-dominated field. This was arguably best exemplified in the Season 10 episode "The First 100 Days," where Erin reevaluates her life after a vehicular accident, culminating in an emotional reconciliation with her ex-husband, Nicky's father Jack (Peter Hermann), and an explosive family dinner scene where she calls out her brothers and father for their dark choice of dinner table topics and lets them know that she too deals with extremely stressful situations at work.
Moynahan thinks that she probably would also make a good lawyer if getting a degree wasn't such a daunting task. She added, "I certainly have gotten more appreciation for the law." That appreciation makes a lot of sense considering her character is a New York assistant district attorney, and as noted earlier, the only one in the family who is not in the NYPD in some form.