Tom Selleck has starred in several movies and television shows throughout his career, and he has needed to prepare differently to bring authenticity to each individual part. When it comes to the popular series "Blue Bloods" (via Rotten Tomatoes), the actor made sure to do his research so that everything about NYPD Commissioner Frank Reagan — from his mannerisms to his detail-oriented police attire — felt as real as possible on screen.
Even in its 13th season, the long-running police procedural continues to be a massive hit with home audiences (via The Wrap). The series is still one of CBS's most-watched shows, and many would agree it shows little signs of slowing down (via TVSeriesFinale.com). While there are a vast array of similar programs available to viewers, TV's favorite criminal justice dynasty has managed to maintain its impressive ranks among the other big-name competitors. There are arguably many reasons behind the show's long-standing success on the small screen, and some would argue the accurate depiction of policing shown on "Blue Bloods" is one of those highlights helping the series stand out above the rest.
Of the many impressive players making up the excellent roster of the authentic police procedural, Selleck is one of the most seasoned members of the cast of "Blue Bloods." One of the reasons he has attained such an impressive resume is not only his dedication to worthwhile preparation, but also his attention to detail for things like the awards of his character.
It's important for an NYPD commissioner to square away their ribbons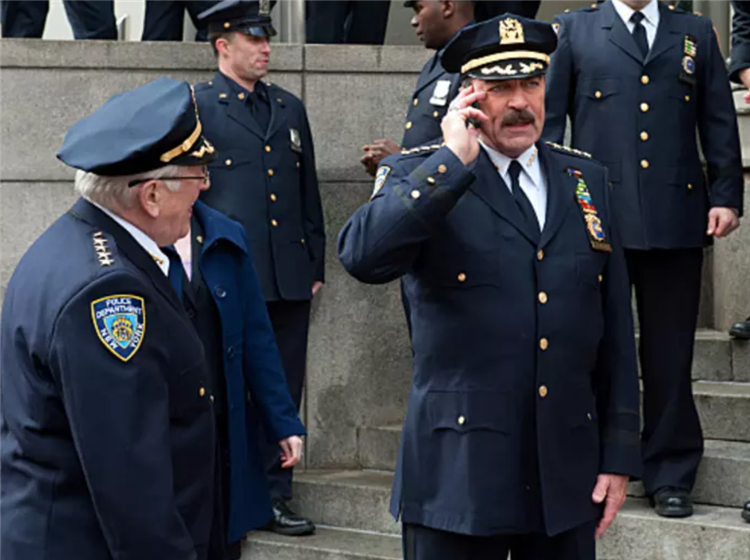 When it comes to making a police series people are interested in watching, certain things have to go right, including wardrobe. It's not hard for viewers to spot counterfeit-looking law enforcement attire on the screen, which would probably tarnish the overall experience. This is why shows usually pull out all the stops when it comes to matching what the real deal wears when serving the community. That's why for Tom Selleck, playing NYPD Commissioner Frank Reagan meant getting everything – including the ribbons — right.
"Trying to be a good actor, as we learn about accuracy, I wanted to get the ribbons right, so I did my homework," Selleck said in a CBS News interview (via YouTube). "It just reminds … all of us of the responsibility." Not only did the actor want to make everything as authentic as possible, but he also wanted to show respect to those that wear ribbons in real life.
There is no denying Selleck has put in an extra amount of effort in bringing Frank Reagan to life onscreen, even looking to former NYPD Commissioner Bill Bratton — a real-world law enforcement official — for inspiration. Selleck's efforts as Reagan have landed him the respect of real law enforcement personnel, with some officers offering the actor a salute when they pass by. Selleck's attention to detail has undeniably added to the experience that fans continue to find entertaining.