"Blue Bloods" Season 13 is in the process of wrapping up, and the minds behind the series have no intention of ending the latest batch of episodes on a low note. As previously revealed, Jennifer Esposito is set to return to the long-running police procedural, reprising her role of Detective Jackie Curatola in the season finale. The actor and her character last appeared in the show's third season, so her return is a pretty big deal for longtime viewers.
As the comeback episode of Curatola inches closer, CBS has given "Blue Bloods" fans a glimpse into what she'll be up to. It seems she'll work with her former partner at the New York City Police Department, Detective Danny Reagan (Donnie Wahlberg), as well as his current partner, Detective Maria Baez (Marisa Ramirez). One of the images, seen below, shows Curatola and Baez shaking hands, bridging the gap between two different eras of "Blue Bloods."
Thankfully for "Blue Bloods" fans eager to see Curatola and Baez work together, the Season 13 finale is right around the corner.
Blue Bloods fans don't have to wait long to see Jackie and Baez team up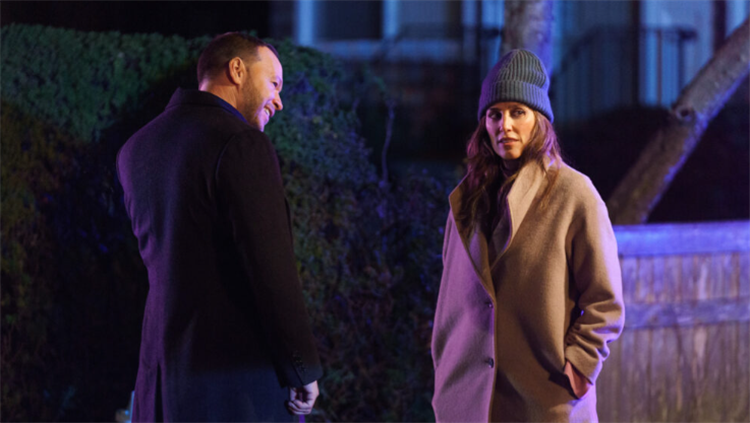 "Blue Bloods" Season 13 premiered on October 7, 2022, and will run for a total of 21 episodes. The last of the bunch, featuring Jackie Curatola's return and titled "Forgive Us Our Trespasses," will reach the airwaves on May 19, 2023. At the time of publication, that leaves only one more installment – "Irish Exits," slated for a May 12 debut — to check out before Curatola's comeback. When the season finale does finally air, it's expected that she'll get plenty to do under the NYPD banner.
Now a chief of police, Curatola has quite the case to crack along with Danny Reagan and Maria Baez. According to TV Line, the trio will investigate a series of murders that seem eerily similar to those committed by serial killer Dr. Leonard Walker (Mather Zickel). Will their search lead them right to Walker so they can end his crime spree? Or will Curatola's added expertise reveal that there's something else going on? We'll just have to see what happens when the episode reaches the small screen.
Even though it's a one-off appearance, for "Blue Bloods" fans new and old alike, Jennifer Esposito's return as Detective Jackie Curatola is more than worth getting excited about.