Even after so many seasons of "Blue Bloods," it remains one of the most consistently top-notch police procedurals of its day, delivering riveting stories week after week. Centered on a family of police officers, the show stars Tom Selleck as NYPD Commissioner Frank Reagan and Donnie Wahlberg, Bridget Moynahan, and Will Estes as his children, who all work in different capacities in the New York law enforcement community. Each week, members of the family hunt down criminals and seek justice for victims on the streets.
Though each episode usually ends with a moral and a lesson discussed over a lively family dinner, the stories themselves are packed with excitement and high drama. From nail-biting chases through the streets of New York and tense shoot-outs to heartfelt moments of family, friendship, love, and loss, "Blue Bloods" runs the gamut.
But one of the show's biggest strengths is also its ability to tug at the heartstrings, delivering moving moments that have brought audiences to tears time and time again. Across the show's many seasons, we've found a select few that stand as the saddest of them all. So grab the tissues as we look back and rank the saddest moments in "Blue Bloods."
15. Addison's lethal mistake
The Season 10 episode "Fog of War" stands out among the later seasons of "Blue Bloods." The story kicks off with a fatal friendly fire police shooting as Officer Addison (guest star Justin Cunningham) mistakes a female undercover cop for an armed gunman.
When the woman dies, Addison blames himself and nearly quits the force, despite being cleared of wrongdoing. Breaking down in front of Frank Reagan late in the episode, Addison says he can't even look other officers in the eye anymore. Unsure of how he'll proceed, Addison has tears in his eyes as Frank expresses his sincere hope that he'll return to New York's streets after a leave of absence, saying that it's cops with a conscience like his that the city needs. A solemn story, this installment shows us Addison's crippling guilt over a senseless death, while also suggesting that only the best of us can rise above our worst mistakes.
14. A doctor's grief
Any story that involves the death of a child is going to hit hard, but the "Blue Bloods" Season 9 episode "Two-Faced" presents an especially emotional tale. It concerns Dr. David Peterson (guest star Armand Schultz), who attempts his own unconventional treatment for his daughter's debilitating autoimmune disorder. But when she dies and it's learned that it's her father's efforts that ultimately killed her, Erin Reagan must weigh whether or not he should be charged with murder.
It's a difficult decision, as Peterson only tried to do what he — as both a father and a doctor — felt was best to ease his daughter's pain, and he's already stricken with the guilt of his actions and the death of his daughter. Ultimately, it's his ex-wife who pushes for charges against him. In a moving, tearful scene, Peterson admits to poisoning his daughter at her own request in an attempt to spare her a life of pain. Ultimately, the doctor accepts whatever punishment he may face, and it's up to Erin to convince his ex-wife to spare him a life in prison.
13. Danny tries to help a fellow vet
The cops of "Blue Bloods" investigate all kinds of cases each week, and they treat them all with the same dedication they would if the victims were their own flesh and blood. But in the Season 4 episode "Unfinished Business," Danny Reagan investigates an assault whose circumstances hit a little too close to home. On top of helping the victims and stopping the perpetrator, Danny finds himself wanting to help the very man who's wanted for beating his wife and abducting his own son.
Alongside his partner Maria Baez, Danny discovers that the man wanted in connection with the assault and kidnapping is John Russell, a military veteran like himself, and one who may be suffering from severe PTSD. Having gone through a similar situation during his time in the armed forces and come out the other side with scars of his own, Danny is determined to get the child returned home safely, while also helping the veteran. It all culminates in a shocking climax and one of the series' saddest moments, with the ex-soldier standing on a ledge, unable to cope with his seemingly endless suffering. Danny gets Russell's son out safely, but despite his best efforts, the man throws himself over the edge, taking his own life as Danny is forced to watch in horror.
12. Finding Joe's killer
When "Blue Bloods" began its run, we met the Reagan family still reeling from the death of Frank's son Joe. His killer was still unknown, and it wasn't until the end of Season 1 that the identity of the trigger man came to light. When it did, it was a sad moment not just because of Joe's death, but because of how it all went down. The truth is revealed in "The Blue Templar," a story that centers on a secret order of police that's been around for decades.
Getting information on Joe's death leads the family to members of the Blue Templar. Not only does the Reagan family finally get closure on the death of their kin in a soul-shattering moment when they get their man, but it's even more devastating to learn that Joe's death came at the hands of a dirty cop — Sonny Malevsky. As the leader of the corrupt Blue Templar, he knew Joe was investigating his secret organization. This episode is both one of the saddest in the show's run and one of the best "Blue Bloods" episodes, capping off the season-long story arc while also confronting issues of police corruption.
11. An anniversary loss
When an episode of "Blue Bloods" has a title like "Officer Down," you know it's not going to have a happy ending. And that's exactly the case with this Season 1 episode, which guest stars Maggie Steele as NYPD officer Michelle Martin. As the episode begins, a group of bank robbers posing commit a daring heist at a diamond exchange. Heavily armed, they take a group of hostages, force a man to get them into the vault, and escape with a major score before Officer Martin intervenes.
Coming upon the scene, Martin draws her sidearm but is gunned down in cold blood by the thieves, who show no mercy and leave her to die on the pavement. The episode deals with the emotional fallout as the Reagans and the rest of the NYPD reel from the death of one of their own. This moment is made all the more poignant by Martin's initial introduction, where we learn that she was preparing for a big night with her husband. It was their wedding anniversary.
Able to draw in the audience even with the death of a momentary guest star, this episode opens with a shocking tragedy and never gets any easier.
10. Frank's regret
Cold cases are such compelling stories that there's an entire series about them. Well, "Blue Bloods" has done them too. Season 1's "Little Fish" sees the return of a decades-old case after new evidence is discovered. The situation becomes particularly tricky because it was Frank Reagan who failed to find the killer in his early days as an NYPD cop.
The discovery takes place during renovations on a home, where among the architectural framework are found the skeletal remains of a 9-year-old boy. The shocking nature of the find is sad enough, but then it's learned that the body is that of a missing persons case from 25 years prior, and it was Frank who'd failed to solve it. The normally steely-stomached commissioner loses his composure, unable to deal with the fact that he let a killer go.
Compounding this reminder of one of his greatest failures is that when the killer is finally found, it's revealed to be the same man Frank had questioned about the crime decades before. Not only that, but the murder weapon is a missing hammer that Frank had noted in his case file.
9. Danny breaks down
The death of a major character is always a candidate for a series' saddest moment. But the death of Linda Reagan — Danny's wife — actually happened off-screen between Seasons 7 and 8 after actor Amy Carlson opted not to renew her contract with the series. As a result, audiences weren't able to feel the weight of her loss by seeing her die in the course of an episode. Instead, we were forced to deal with the aftermath, which, in some ways, was even more gut-wrenching. In the Season 8 premiere, "Cutting Losses," the family tries to keep Danny busy to keep his mind off of the loss.
Though later episodes reveal more about Linda's death and its connection to a notorious criminal, it's the premiere that delivers the arc's saddest moment. Still unable to cope with the death of his wife, Danny breaks down in a mess of tears as he unleashes all of his anguish, finally confronting his feelings in a moment that anyone who's ever lost a loved one can understand.
8. A murder of mercy
Losing a spouse or significant other is among every person's worst nightmares. The "Blue Bloods" Season 7 episode "Love Lost" presents the story of Emily, a woman found suffocated in her bed whose husband is overcome with grief. But when it comes to light that the husband stood to gain a financial windfall thanks to a recently purchased life insurance policy, he becomes the prime suspect.
There's one more revelation, though, as it comes to light that Emily only had about a month to live after a late-stage cancer diagnosis when she was murdered. That's when her husband reveals the truth. Unwilling to let his wife live out her remaining days in pain and sickness, he chose to honor her request to help her end her life. It's a choice that, obviously, nobody should ever have to make, and his confession is absolutely heartbreaking to hear.
7. A young tragedy
Cases involving children might be the saddest of all, even when they don't involve their death. In the "Blue Bloods" Season 5 episode "Home Sweet Home," we meet T.J., a young teen found sleeping in the entrance of a local bank. When questioned, T.J. reveals his heartbreaking story. He was living in Baltimore when his mother was locked up on drug charges and sent him to New York with a stash of money to be looked after by his unhoused aunt.
After hustling with his aunt cashing in empty bottles for pocket change, T.J. was left all alone when she disappeared, presumably killed by her boyfriend. Afraid that he might be the killer's next target, T.J. gives a tearful confession to Jamie and his partner and awaits being processed into foster care. Not ready to watch T.J. get lost in the system, Jamie decides to take it upon himself to help the boy while also trying to find his aunt's killer and get justice for them both.
But seeing a young man all alone on the streets isn't the end of this sad story. It's eventually learned that T.J.'s aunt is very much alive, having abandoned him after stealing the very money he brought from Baltimore with him.
6. Potter's killer revealed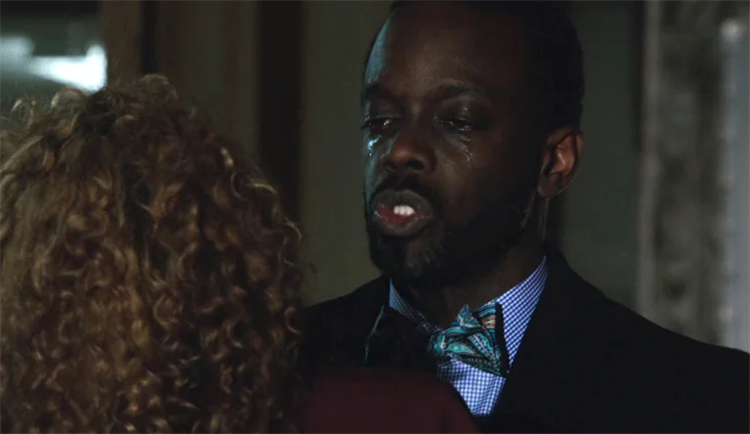 Like any police procedural, "Blue Bloods" has seen its share of gut-wrenching deaths, whether it be a momentary guest star or a series regular. But few in its run have been as downright painful as the loss of Michael Potter (Leon Outlaw Jr.), the son of Reverend Darnell Potter (Ato Essandoh). As a frequent critic of NYPD policy, the elder Potter had often collided with Commissioner Frank Reagan, but their feud is briefly suspended in the Season 7 episode "Unbearable Loss" after Michael is shot dead in the street.
In one of the most emotionally wrought scenes the series has ever produced, Potter's wife comes upon the police tape in the street and breaks down in agony, desperate to know if what she sees is true. Darnell, eyes streaming with tears, clutches his wife close and helps her to accept the loss of their son.
But the sorrowful mourning isn't over there. After extending a hand to Frank, who investigates Michael's death, Darnell learns that the killer is someone much closer to home — a young man who he himself once helped years before who strayed and turned to crime. This adds another tragic twist to the already heartbreaking story.
5. Javier takes a bullet
"Fringe" and "12 Monkeys" star Kirk Acevedo becomes a member of the "Blue Bloods" family in Season 4 but unfortunately only lasts for a pair of episodes. The actor plays Javier Baez, the brother of Danny Reagan's partner Maria. But unlike his sister, Javier has struggled to stay on the straight and narrow. In the Season 5 premiere, "Partners," he claims to be working undercover with the DEA on the bust of a notorious drug cartel.
When Maria and Danny get involved in the case, however, they soon learn that Javier is involved with the cartel too, and when the bust goes down, he has to make a choice when his sister comes under fire. Making the family call, he takes a bullet for his sister and dies with Maria clutching his hands, while Danny can do nothing but watch as his partner loses her brother. When it comes to deaths in "Blue Bloods," there are plenty of candidates for the most devastating, but watching Maria stare into her brother's dying eyes after he saves her life might be the worst of them all.
4. Jamie's good deed goes bad
It can be tough for the cops and lawyers on "Blue Bloods" to deal with failure when they're unable to get justice for victims or stop a crime before someone gets hurt. But in one of the saddest moments the series has ever seen, Jamie Reagan has to deal with the horrifying effects of his success on the streets after stopping a hostage situation. It happens in the Season 4 episode "Lost and Found," where Jamie finds himself caught up in a terrifying ordeal while off duty.
Out of uniform, Jamie successfully convinces a hostage taker at a jewelry store to let everyone go, feeling sympathy for the personal struggles that have driven him to commit an act of desperation. Jamie tries to convince his sister to go easy on him, but it's no use, and he watches helplessly as the distraught man is arrested and charged. But just when it looks like the situation couldn't get worse, Jamie learns that the man has taken his own life while locked up behind bars.
3. A mother's choice
"Blue Bloods" has had episodes dealing with just about every kind of tragedy, but the thought of a parent ending the life of their own child is truly the most unspeakable act imaginable. Tragically, that's exactly what happens in the Season 3 episode "The Bitter End."
The episode concerns a deadly gang called Los Lordes, and more specifically, the wife of one of its members, Noni (Ana Nogueira), who wants out. Seeking to prevent her baby from becoming a gang member himself when he grows older, Noni does the unthinkable. Jamie and Vinny arrive at the scene of a call to find the woman cradling her infant son and threatening to jump off the roof of a highrise apartment building. As tears roll down her cheeks, she tells them there is no other way, and Jamie's promise to help falls on deaf ears. Unable to convince her, they can only watch in horror as Noni jumps from the roof with her child in one of the series' most brutal on-screen moments.
2. Wrongly accused
Despite Tom Selleck being the leading star of "Blue Bloods," Frank Reagan is often relegated to supporting player. In fact, it's Selleck's co-stars like Donnie Wahlberg, Bridget Moynahan, and Will Estes who often get the meat of the series' best stories. But Selleck takes center stage in "Innocence," a Season 2 episode that sees the NYPD commissioner faced with the ramifications of a case he worked on nearly 20 years earlier.
While the episode's "A" story is no picnic — revolving around the murder of two teens — the "B" plot is the most emotionally unnerving. It sees Erin presiding over the case of Miles Thomas (guest star Josh Burrow), an innocent man who'd been convicted of a vicious sexual assault. In a horrific twist of fate, it's revealed that he spent the last 18 years behind bars for a crime he didn't commit. In a surprising turn of events, it was Frank Reagan who made the arrest, and it's he who must now bear the guilt of the wrongful sentence. To make matters worse, Frank must also deal with the knowledge that the real perpetrator got away and the statute of limitation for the crime has expired.
1. Jenny's tragedy
Topping our list of saddest moments in "Blue Bloods" is an episode no fan can forget. The Season 6 installment "With Friends Like These" opens with police partners Jamie and Eddie stopping a young woman in the middle of a busy city street. In clear distress, the woman is disheveled and seems confused, and it soon becomes clear that she isn't well. Her name is Jenny Strong (guest star Anna Baryshnikov), and it's learned from her father Joseph (Brian O'Neill), that she has suffered from severe mental illness, including bouts of extreme paranoia, after the death of her mother.
Mounting financial problems and systematic red tape have left Joseph unable to get his daughter the treatment she needs. While Jamie attempts to get her help, Jenny violently attacks her father and is nearly killed in the ensuing police intervention. But even though Jamie is able to get placement for her in a care home, he's told the heartbreaking news that Jenny has taken her own life.