It is easy to make friends at work; you spend so much time doing your job that it is almost impossible not to bond with people. The entertainment industry is no different, and when you work on a TV show with the same actor for a long time, it is easy to become lifelong friends. Larry Manetti ("Magnum P.I.," "Hawaii Five-0"), who played Rick on the former show, made lifelong friends with the series star Tom Selleck. This ended up landing him a guest spot on Selleck's newer hit, "Blue Bloods," along with some great Italian food and a pretty sweet dressing room setup.
In an interview with Parade Magazine, Manetti said Selleck went to his producer and told him he wanted to get a spot on the show for his friend. "Tom Selleck said to the main executive producer, Kevin Wade, 'I'd like to find a role for my friend Larry Manetti,'" he says. "That was a year or two years ago. Kevin Wade had an accident and hurt his neck and was operated on, so he was cruising television and watched me on several different shows and said to his writers, 'This Manetti, I'd like to get him on the show. He's a great character.'"
But just getting him on the series wasn't enough, as Selleck rolled out the red carpet for his old friend, both with his dressing room and his nightly meal.
Manetti says they broke the mold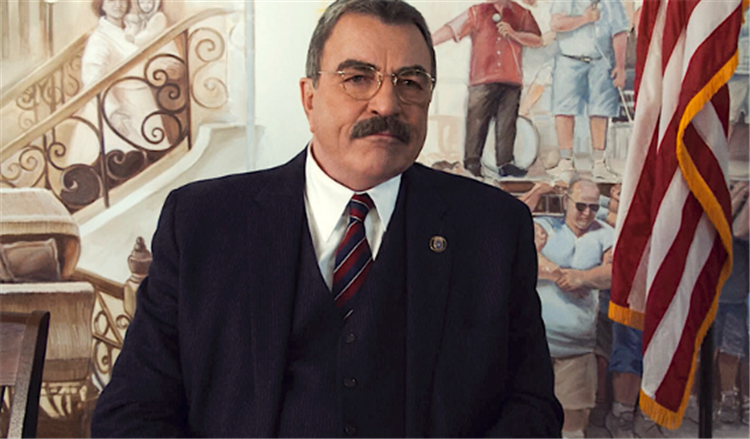 When you are a big star and the series lead, you presumably get treated pretty well with your own trailer and the many other perks of anchoring a TV series like "Blue Bloods." When you are a guest, you most likely get much less in the way of perks and benefits. But that wasn't good enough for Tom Selleck when it came to hosting his long-time friend, as Larry Manetti told Parade that he shared his office dressing room with not just his former co-star but also his wife.
"No other star in a show or a movie does that, and I've been in the business 50 years," Manetti said. "They broke the mold when they made him. We speak without doubt once or twice a week and have since 1978. He's like my brother. He's the most. He's like a sweet bar of chocolate." Selleck showed that brotherly love when he welcomed him with open arms onto the set of his hit TV series and even did the same after the cameras stopped rolling.
On top of treating him well on set, the actor said that Selleck also had dinner with them every night at his favorite Italian restaurant while he was in town. Selleck was not only trying to get Manetti on the series with him but apparently was looking to host him throughout his days in the city while filming his single-episode guest appearance.
The two unfortunately didn't have any scenes together
During his 158-episode run on "Magnum P.I.," Larry Manetti played Orville "Rick" Wright, the street-savvy owner of the King Kamehameha Club, a private beachfront club in southeast Oahu. He was often a good source of comic relief and wore ridiculous costumes while assisting Thomas Magnum (Tom Selleck) with his cases. He spent three tours of duty with Magnum in Vietnam and stayed with him ever since. While Manetti returned to the "Magnum" world, he played Nicky "The Kid" DeMarco in two episodes as Zachary Knighton ("Flash Forward," "The Hitcher") plays Wright in the reboot.
In Season 13, Episode 8, "Family Matters," Manetti takes on a different kind of role as Sam Velluci. He plays a former police officer and grieving grandfather who decides to act as a vigilante going after fentanyl dealers after losing his grandson to an overdose. In typical "Blue Bloods" fashion, the issue was handled with a characteristic nuance for which the series has become known. At the same time, Selleck's Frank Reagan also deals with a similarly nuanced situation as he tries to find resources to care for and police immigrants being bussed into the city.
Unfortunately, their very different roles left them no opportunity for Selleck and Manetti to appear in a scene together. But, it definitely shows that Selleck is a class act and that decades after he stops working with someone, he will still roll out the red carpet to take care of his friends.