Sasha Gilmore Corbin suffeed a horrible fate all at the hands of her greedy mother-in-law.
The General Hospital recap for July 21, 2023, features Sasha's life going from bad to worse because Gladys needed to play poker.
General Hospital Recap Highlights
Sasha's struggles continued as Dr. Montague put a proverbial nail in her coffin. Sonny and Nina's double date continued as Sonny remained suspicious of Austin. Carly paid a visit to Drew and learned all about his life in Pentonville before he confronted Cyrus. And finally, Curtis was horrified to learn he would be paralyzed. Now, let's dig a little deeper into the details.
General Hospital: Sasha's Sad Plight
Poor Sasha (Sofia Mattsson) was brought into GH in a confused state, where her shady psychiatrist met her. Gladys (Bonnie Burroughs) was clearly alarmed and finally realized she teamed up with the wrong person, and this was all her fault. Dr. Montague was the one to see Sasha, and she clearly didn't remember what had happened. She was further alarmed when the doctor injected her with something that was intended to make Sasha's condition worse.
She finally started to remember and described what happened, still believing she saw Cyrus (Jeff Kober). Dr. Montague also made sure to record the entire thing on his phone. At least Sasha had a good lawyer on her side. Diane (Carolyn Hennesy) walked in and told Sasha to stop talking right away and the doctor to stop recording. Diane seemed to know that Dr. Montague was the problem, but her hands were tied as to Sasha's current fate.
Ava (Maura West) and Austin (Roger Howarth) continued their double date with Sonny (Maurice Benard) and Nina (Cynthia Watros) at The Port Charles Grill, where Sonny tried to trip up Austin. Sonny wondered how he got along with Avery (Ava and Grace Scarola), and Austin could do nothing but praise the little girl. Austin and Sonny also embarked on a vague battle of wits that confused Nina and Ava. When Austin left to take a call, Nina told her friend she really didn't see her and Austin as a couple. At least Nina liked Austin more than she liked Nikolas.
When Austin returned, things got awkward again, but then Gladys called to interrupt the dinner. As soon as Nina learned Sasha was in trouble, they rushed to the hospital, leaving Austin and Ava alone.
Gladys didn't even know what to tell Sonny and Nina when they wanted to know what happened. Sonny seemed to also suspect that something was off with this entire scenario. He quickly brought up Sasha's desire to end the guardianship and Gladys's desire to keep it going. Sadly, the argument came to an end when Diane told them that Sasha was being sent to Ferncliff. As Sasha was wheeled away, Sonny promised her she wasn't alone.
General Hospital Recap: Carly And Joss' Eventful Day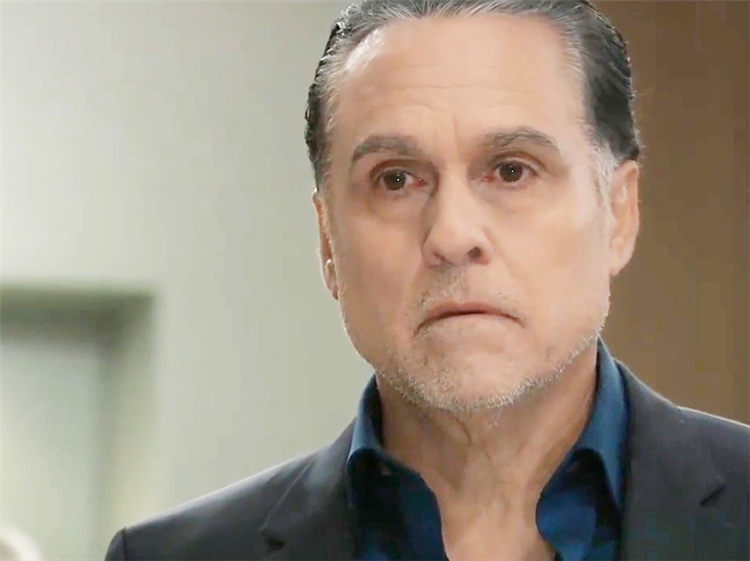 Drew (Cameron Mathison) was surprised but pleased to find Carly (Laura Wright) in the brand-new Pentonville visitors' set. She hadn't planned on coming so soon, but she missed him. Carly was surprised to hear all about Drew's run-in with Cyrus (Jeff Kober), and Carly insisted that he stay away from him. Drew assured her he would be fine because Sonny was taking care of him.
The subject later turned to Carly's SEC fine, so Drew made another offer to sell Aurora and blow up his daughter's legacy for Carly's sake. Carly insisted that he couldn't because it would look bad if she accepted money from him, Michael (Chad Duell), and Sonny. He once again tried to talk her out of selling her house. Drew was also alarmed to hear that Curtis had been shot. After Carly left, Drew finally approached Cyrus.
Joss (Eden McCoy) and Dex (Evan Hofer) settled in for an afternoon at the pool that just had a near-drowning, a shooting, and a stabbing — and was still open on the same afternoon as the stabbing. She at least acknowledged a shooting took place there and sternly told Dex that the bullet was meant for Sonny and not Curtis. Dex assured her that Anna (Finola Hughes) or Curtis (Donnell Turner) really could have been the target. Sonny interrupted their pool time to ask Dex to keep an eye on Austin. While sunning herself alone, Joss suddenly got a surprising phone call.
GH Recap: Curtis Can't Walk
Curtis was hysterical upon realizing that he couldn't feel his legs, and the doctor explained it could be temporary. He just had to wait and see because the anesthesia could be causing the loss of sensation. Curtis wasn't buying it and found it hard to be optimistic. He was grateful to be alive but was desperate to walk out of the hospital on his own. He also told Portia (Brook Kerr) that he wanted to make their marriage work.
TJ (Tajh Bellow) and the doctor met alone, where TJ learned that Curtis's condition was most likely permanent. Portia broke down in tears when TJ told her the prognosis. She had the heartbreaking task of telling Curtis the truth. She assured him that doctors can be wrong, but Curtis didn't want to hear it.